American Bullador
American Bulldog / Labrador Retriever Hybrid Dogs
Information and Pictures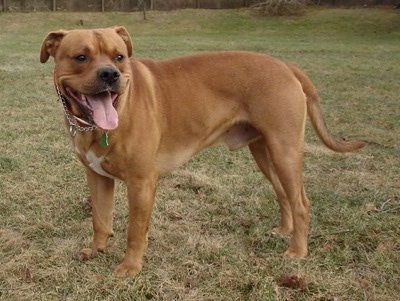 "This is Hector, our American Bulldog / Black Labrador mix. He is a wonderful dog, obedient but not subservient with a big prey drive. He is very well balanced and can go anywhere with us. He weighs 85 lbs. but is quick and agile. I wish we could find 10 more just like him. Best dog we've ever had. We are big fans of Cesar."
Other Names
--
Description
The American Bullador is not a purebred dog. It is a cross between the American Bulldog and the Labrador Retriever. The best way to determine the temperament of a mixed breed is to look up all breeds in the cross and know you can get any combination of any of the characteristics found in either breed. Not all of these designer hybrid dogs being bred are 50% purebred to 50% purebred. It is very common for breeders to breed multi-generation crosses.
Recognition
ACHC = American Canine Hybrid Club
DRA = Dog Registry of America, Inc.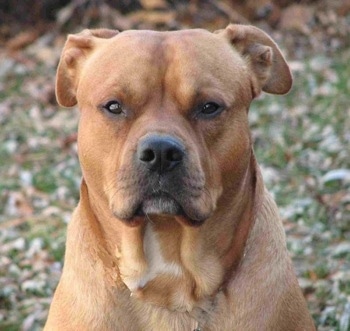 Hector the American Bulldog / Black Labrador mix breed dog (American Bullador)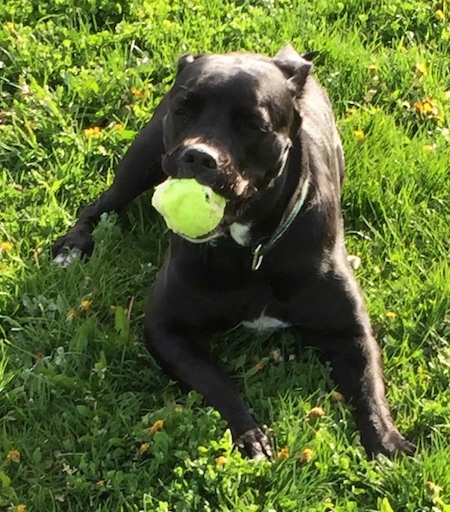 "Miss Google our American Bulldog and black Lab mix is is full of energy and loves the ball launcher."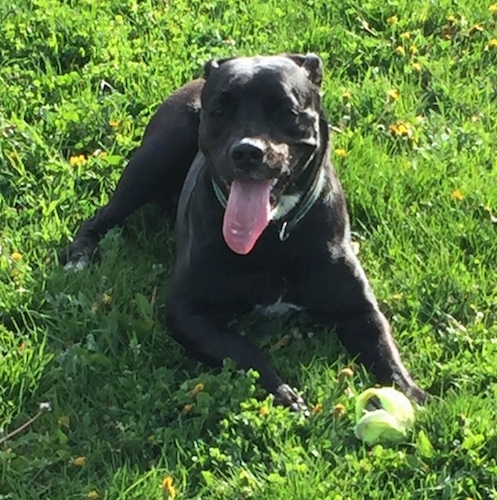 Miss Google the American Bulldog / Black Labrador mix breed dog (American Bullador) at 9 months old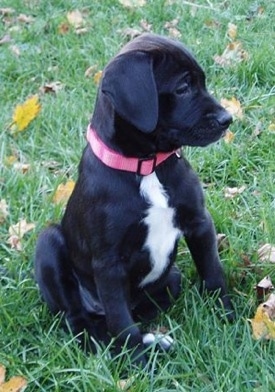 "This is our 8-week-old American Bullador female; her name is Mylie. She weighs approximately 19 lbs. The mother was a pure (75-lb.) American Bulldog (primarily white) and the father was a pure black Lab (approx. 80 lbs.). This is her sitting in the yard (1/2 acre) watching the finch birds in our cherry tree the first night we had her home. She already is showing signs of advanced intelligence and alertness to her surroundings. She eats a good deal, and sleeps a lot! Our other dogs, a purebred black Schnauzer Mini, and a Beagle / Pomeranian / Pekingese mix and Mylie get along great as if they've been together for years. Mylie seems to understand the rules about potty time and has only had accidents when she first wakes up and we for some reason are either not awake yet with her or don't see her get up and can't let her out."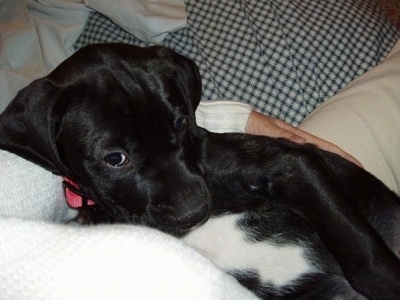 "This is Mylie lying with us while we were watching TV."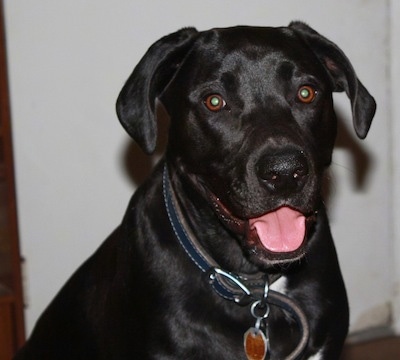 "This is my American Bullador, Hugo shown here at 11 months old. His mother (who was senselessly killed by some unknown person) was an American Bulldog and his father was a black Labrador Retriever. Hugo has turned out to be a handful as he is energetic and loves to play. My wife and I fell in love with him the moment he crawled out of the litter pile to greet us. He was 2 weeks old at the time and we had to wait until he was 8 weeks before we could take him home. He's not as fast as other dogs, but Hugo easily makes up for this in his strength, as I'm reminded of this constantly when I take him for a walk, lol. He is incredibly smart and can sense pretty much anything we do. Hugo is probably the best dog my wife and I ever had and hopefully he is with us for a very long time."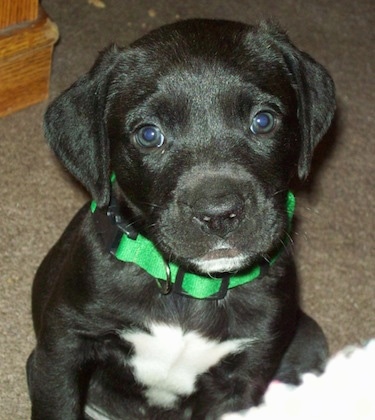 Hugo as a puppy at 8 weeks old