American Bulldog Shepherd
American Bulldog / German Shepherd Hybrid Dogs
Information and Pictures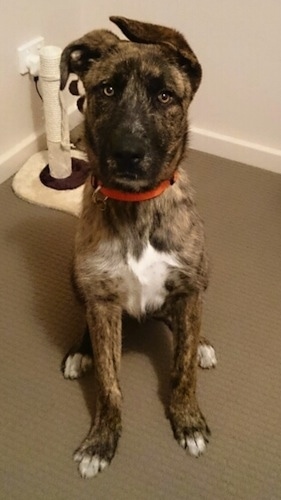 Jake the American Bulldog / German Shepherd mix at 6 months old—"Jake is an AM Bulldog x GSD rescued from a shelter at 5 months of age. She and her 2 siblings and mother (American Bulldog) were surrendered to the shelter. The puppies had absolutely no socialisation with people and other animals. Since bringing her home and enrolling in obedience training, her confidence has soared. She is pretty stubborn, does not respond much to food treats. She gets distracted easily but her hearing is impeccable and recall is instantaneous. She likes her house very quiet. She is very protective of me. My loud, clumsy husband sometimes receives loud barking and growling for slamming a door or being too loud. She will bark and growl deeply at visitors at the door but settles when told to. She is very energetic yet very lazy. She loves a run in the park but can also sleep all day under our feet. She will allow us to dress her up in costumes, wrap her in towels and touch and groom every part of her body. She gets on great with our 2 cats. When she gets worked up while playing, she snaps her jaws loudly. At 6 months she weighed 46 pounds (21kg) and stands at 26" (66cm) tall."
Other Names
--
Description
The American Bulldog Shepherd is not a purebred dog. It is a cross between the American Bulldog and the German Shepherd Dog. The best way to determine the temperament of a mixed breed is to look up all breeds in the cross and know you can get any combination of any of the characteristics found in either breed. Not all of these designer hybrid dogs being bred are 50% purebred to 50% purebred. It is very common for breeders to breed multi-generation crosses.
Recognition
DRA = Dog Registry of America, Inc.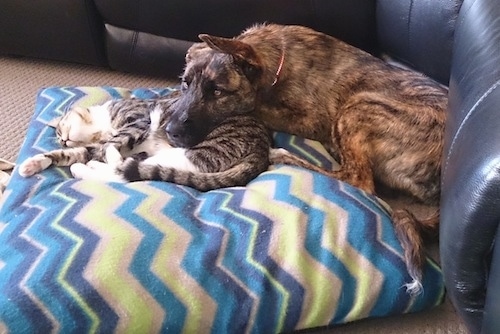 Jake the American Bulldog / German Shepherd mix at 6 months old with the cat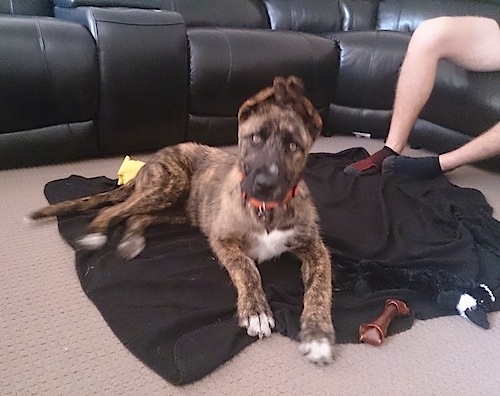 Jake the American Bulldog / German Shepherd mix at 6 months old