Beabull
Beagle / Bulldog Hybrid Dogs
Information and Pictures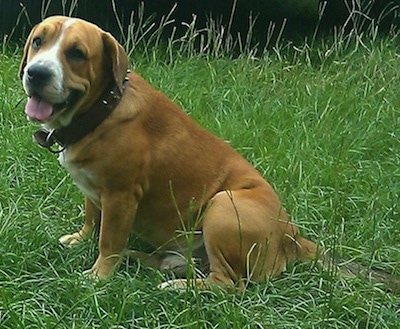 Big Boy the Beabull at 4 years old—"This is Big Boy. He is my first dog. He is a mix between an English Bulldog and Beagle. I raised him since he was first born. Very loving, smart and outgoing. He is very lazy, but loves to play outside when he is feeling hyper. I love his howl. He guards our home and is a member of our family."
Description
The Beabull is not a purebred dog. It is a cross between the Beagle and the Bulldog. The best way to determine the temperament of a mixed breed is to look up all breeds in the cross and know you can get any combination of any of the characteristics found in either breed. Not all of these designer hybrid dogs being bred are 50% purebred to 50% purebred. It is very common for breeders to breed multi-generation crosses.
Recognition
ACHC = American Canine Hybrid Club
DBR = Designer Breed Registry
DDKC = Designer Dogs Kennel Club
DRA = Dog Registry of America, Inc.
IDCR = International Designer Canine Registry®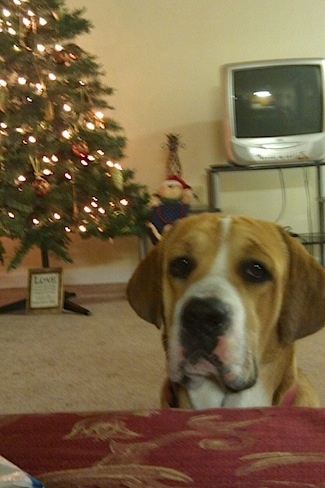 Big Boy the Beabull at 4 years old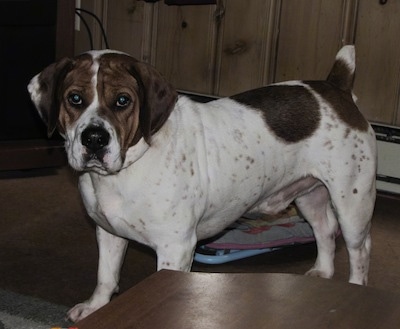 Ollie the Beabull as an adult dog—"This is Ollie, my big sweetie. He is a 60/40 mix. He loves to lie in traditional Bulldog style, taking up most of whatever area he is in. Ollie is three years old and weighs 63 lbs. If he even thinks he heard you say "rope" he is on a dead run to find it and play."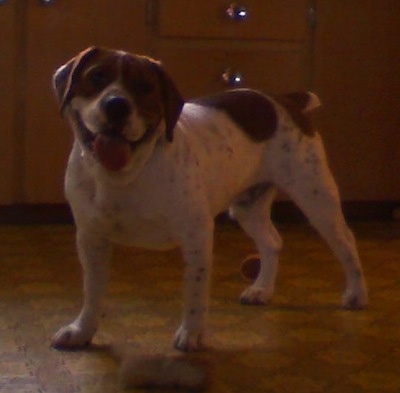 Ollie the Beabull as an adult dog smiling at the camera.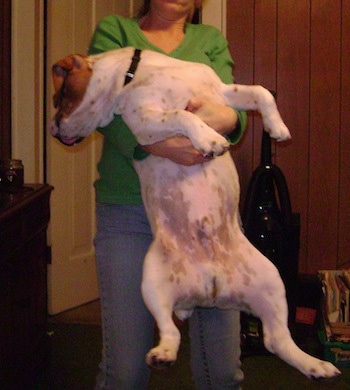 Ollie the Beabull as an adult dog being held by his owner.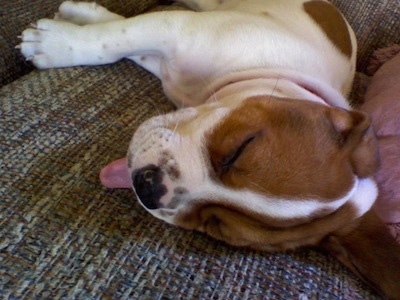 Ollie the Beabull as a puppy sleeping with his tongue sticking out.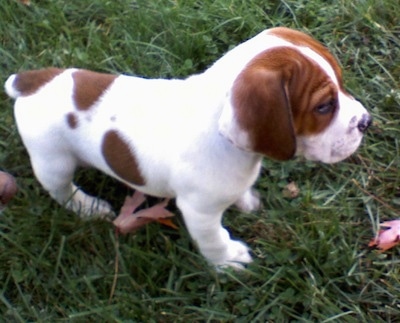 Ollie the Beabull as a puppy outside in the grass.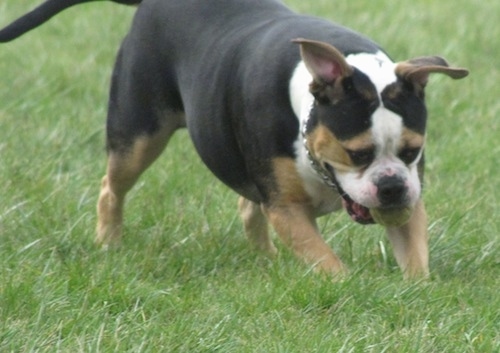 Claudette the Beabull at 3 years old—"Claudette had been returned to the shelter three times and was on death row when we found each other. Claudette is a clown who loves to wiggle into the heart of everyone she meets. She loves to hike, ride in the car and snuggle. Claudette has two brothers and one sister furbaby and lots of dog friends. And above all else loves to play soccer and will retrieve soccer balls and basket balls as long as someone will kick them."
"This is my dog Rooney. He is a Beagle / Bulldog mix. He is absolutely hilarious. He loves to go for walks, so much as have to spell it out w-a-l-k. He lies with his feet flat on the floor, typical of Bulldogs. He knows how to sit, stay, shake and roll over, and we have watched the Dog Whisperer together and now he has to wait to eat his food until we say "okay." He doesn't like vegetables or fruit, but he will beg for them and he loves to swim in pools."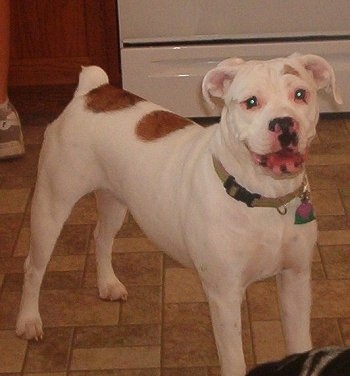 "This is my dog Maggie at 11 months old. She is an English Bulldog / Beagle mix. Maggie is purely 50/50 of her breeds. Although very hyper like a Beagle, she can be lazy too like a Bulldog. She chews on anything and everything. But at the end of the day, exhausted from playing, she can be VERY loveable! I love this hybrid and am very happy with having her in the family!"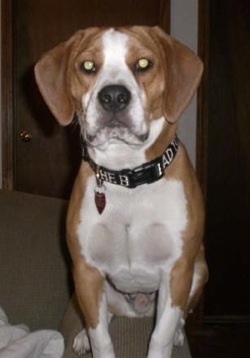 "This is Duke, my 10-month-old Beabull. Duke is an excellent dog. He loves to run in the yard and cuddle in the house. He is very stubborn and was difficult to train because he had his own ideas of training. He is incredibly intelligent and will try to out-smart you with everything. If you hide his toy duck in the house and take him outside for hours, he will come in the house and find the duck right away. Duke has the body of a Bulldog, head of a Beagle, and the attitude of the Bulldog. He is very loving and wants to always be near you. He does best with having a daily walk and frequent trips outside. He currently weighs 54 lbs. and is very healthy. He does not bark, but will sometimes give you the Beagle howl. He is very observant and will lie like a Bulldog while watching TV."
"Lola, our Beagle / Bulldog mix at 1 year old—her mother was an English Bulldog and her dad was a neighboring Beagle...this was a love connection apparently! Lola is a little over 1 year old now and weighs about 50 lbs. She's got a great temperament! Eager to please us, playful and loving. This is the best dog I've ever owned!"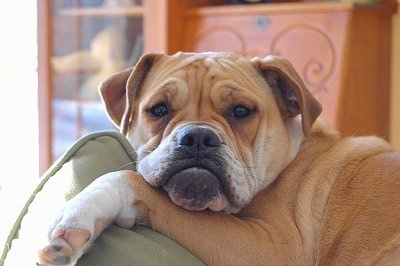 Lola the Beabull (Beagle / Bulldog hybrid dog) at 1 year old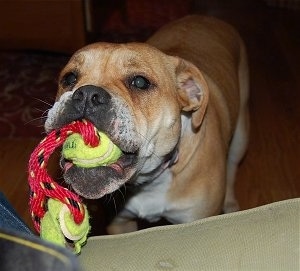 Lola the Beabull (Beagle / Bulldog hybrid dog) at 1 year old wanting to play!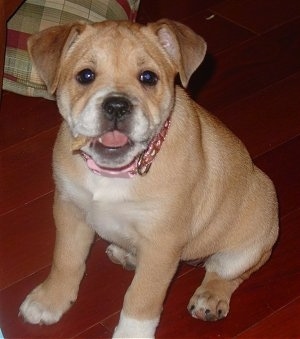 Lola the Beabull (Beagle / Bulldog hybrid dog) puppy at 3 months old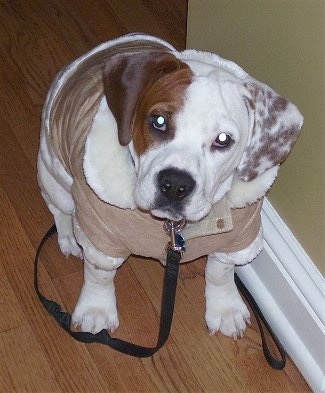 Murphy the English Bulldog / Beagle hybrid dog (Beabull) at about 1 year old, weighing 50 lbs.—"This was his first excursion into the cold snow and we had to put his coat on."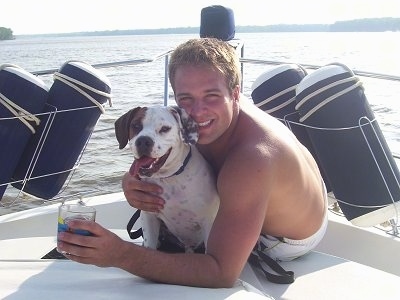 Murphy the English Bulldog / Beagle hybrid dog (Beabull) at about 1 year old weighing 50 lbs.—"This was his first birthday party out on the boat with daddy."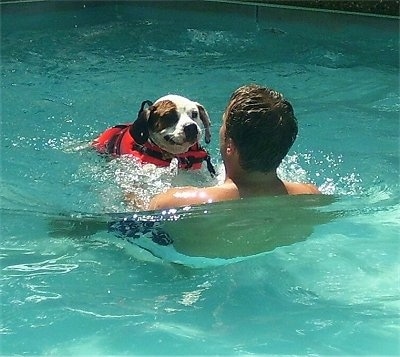 Murphy the English Bulldog / Beagle hybrid (Beabull) at about 1 year old weighing 50 lbs.—"He is learning how to swim in his aunt's pool. He needed a life jacket!"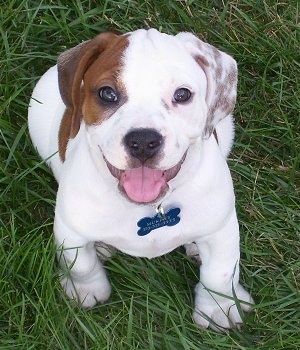 Murphy the English Bulldog / Beagle mix as a puppy at 6 months old
"This is Cooper. He's a 1-year, 5-month-old, 61-pound Beabull and full of energy. He loves to go on walks and go for rides in the car. He loves it so much that we have to spell out W-A-L-K and R-I-D-E; we don't dare say the words unless we mean it! He also loves the ice cream man…when he hears the tune playing from the ice cream man's truck, he knows an ice cream sandwich is coming his way."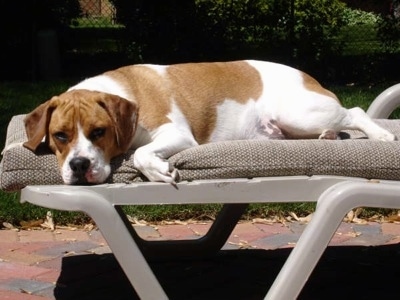 "Cooper also loves to sleep in our bed and lounge outside in the sunshine. In the winter, Cooper goes crazy for freshly fallen snow in the yard by running laps. Cooper can sit, stay, lay, and loves to play fetch with just about anything. He definitely knows how to get our attention by running off with a shoe or a hat or opening up kitchen cabinets or the refrigerator."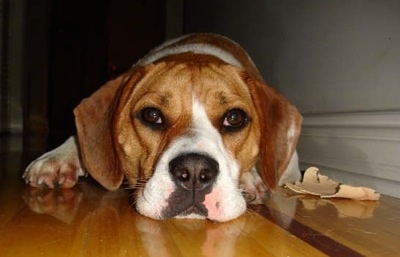 "Coopers favorite past time is chewing a hoof; there are about 20 of them all over the house. He's a great companion but stubborn at times. We have learned from The Dog Whisperer how to walk well on a leash and how to enter and leave the house appropriately before and after a walk. We love Cooper and can't imagine life without him!"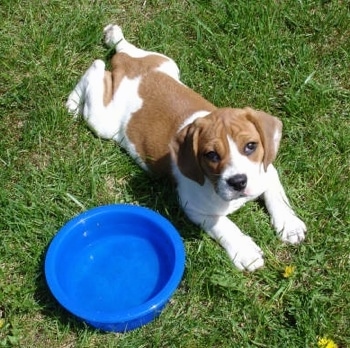 Cooper the Beabull as a puppy (Bulldog / Beagle hybrid dog)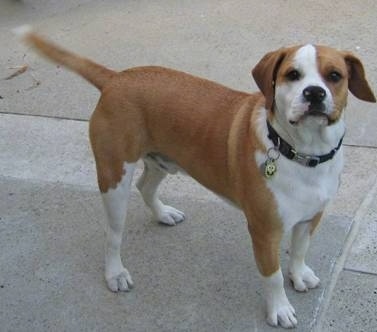 "Buddy Boo is 16 months old and weighs 50 pounds in this picture. He loves to play and chew and loves to garden (that's where the chewing comes in). He also loves to give Buddy hugs and kisses, he is very affectionate. His only dislike is our swimming pool, he won't go near it."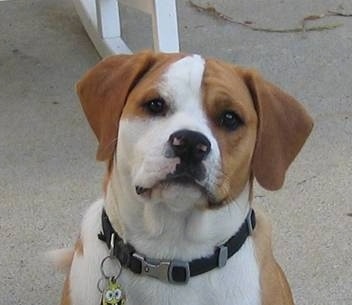 Buddy Boo the Beabull at 16 months old weighing 50 pounds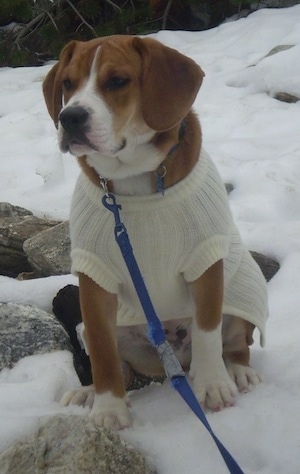 "This is our Beabull "Rusty". He is 7 months old and weighs 38 lbs. He is extremely smart, but very stubborn! If he does not want to do something for you he won't no matter what kind of reinforcement he is offered. This makes it very difficult when it comes to training, but with enough persistance he will finally get tired of protesting and give in. After 5 months with him we have finally mastered "sit", "lay", "drop it", "catch", and "heel", but we are still working on the rest. He is definitely very playful and will gladly bring you a toy to play fetch with. He is also surprisingly athletic for his bulky bulldog build. He can even outrun some of the labs at the dog park! Since he resides with us in our apartment, one thing that is very important for him is getting a lot of exercise. We have to walk or jog him every day before we leave to go anywhere or else he will get bored very quickly and start tearing things up. (As can be seen in the middle pic!). He is very protective of us, but not mean. He will bark when someone is at the door just to let us know that someone is there, but as soon as we open the door he gives our guest their space and is very friendly. He loves other dogs and people (especially kids!). At the end of the day he becomes the laziest dog on earth and wants nothing more than a belly rub and to fall fast asleep atop the down comforter at the foot of our bed! :o)"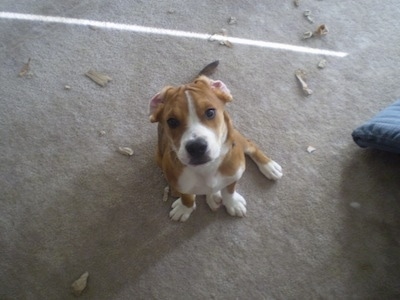 Rusty the Beabull as a puppy caught in the act of chewing things up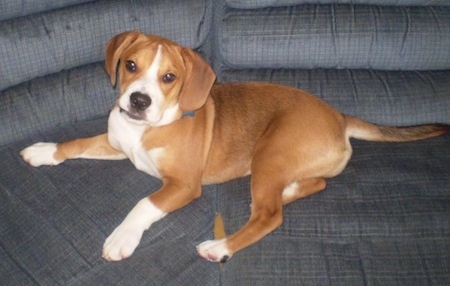 Rusty the Beabull as a puppy laying down on the couch.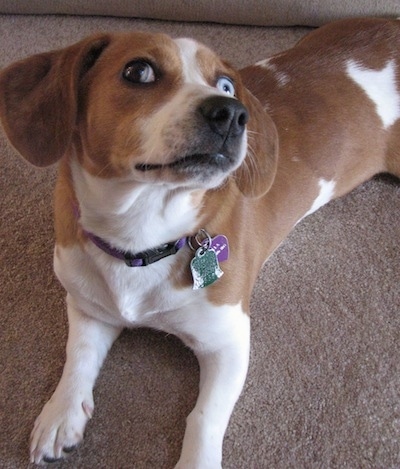 Bella the Beabull at 1 year old weighing 17 pounds—"Our Beabull, Bella, is the sweetest, most loving dog I have ever owned. She's very playful! She enjoys walks, eating, playing with ice, playing fetch, and tug of war. She dislikes baths, rain and suprisingly car rides. She is very smart and picks up on things quickly!! We have managed to teach her numerous tricks (which she loves to perform for treats). My favorites are waving hello and goodbye and covering her eyes in shame. Everyone that meets Bella, loves her. They love her eyes-one blue, one brown. She definitely has distinct characteristics of both the bulldog and the beagle. As of one year old she only weights about 17 lbs. She was the runt of the litter though. Bella has been a tremendous joy and a blessing!"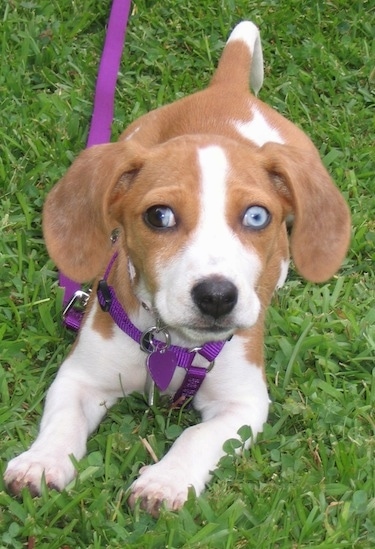 Bella the Beabull as a puppy at 6 months old weighing 10 pounds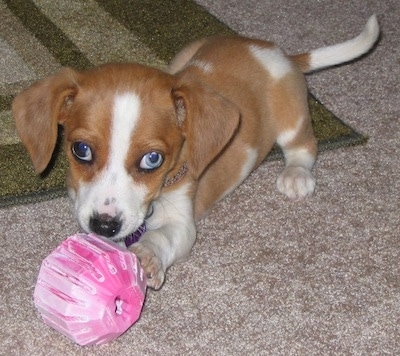 Bella the Beabull as a puppy at 3 months old weighing 3 pounds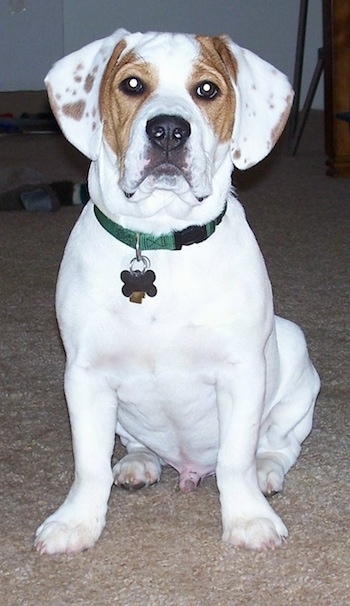 Rockne the Beabull at 6 months old pretending to be a watchdog—"This is my dog Rockne, named after the legendary Notre Dame football coach Knute Rockne. He is part English Bulldog and part Beagle. He is the friendliest dog I have ever had. A bit too nosey at times, loves to watch other people and see what they're doing. At 6 months old he already weighed 40 lbs. He get's along great with my parents dogs which he gets to play with on a daily basis while I'm at work. He even get's along with my 6-year-old cat Gordie. Although the cat is still a little standoffish towards him. He has a very friendly temperament, though is very sensitive. Just raising your voice will send him scurrying so I had to watch how I scolded him when I was house breaking him. He never barks, but every once in a while he will howl and it is something that when he does it, it seems to even surprise him, cause he will look around like " where did that come from". Like I said he doesn't bark, I think I've heard him bark twice in the 2 months I've had him, and I live in an apartment so there is noise all around. As far as exercise goes, we don't get out as much as we should, I try to take him for walks but with winter it was hard, which is why he goes over to my parents almost everyday to play with there two dogs. And to conclude I guess I'll just say that he is definitely a lover and a snorer (Woo hoo can that dog saw some logs) but I'm so glad I adopted him... he's great!!!"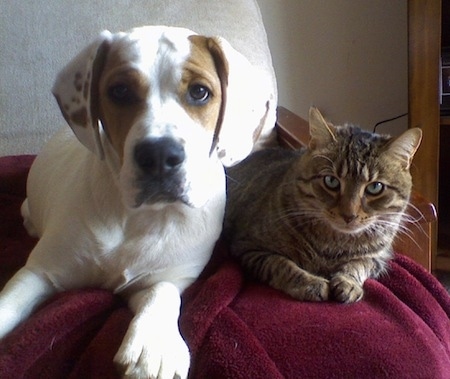 "Rockne the Beabull and my cat Gordie"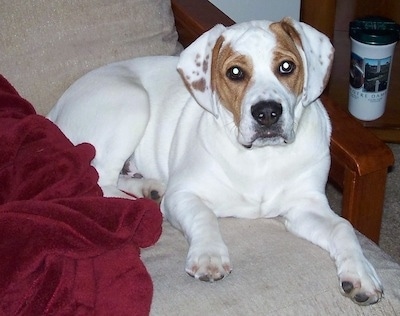 Rockne the Beabull as a 6 month old puppy on the couch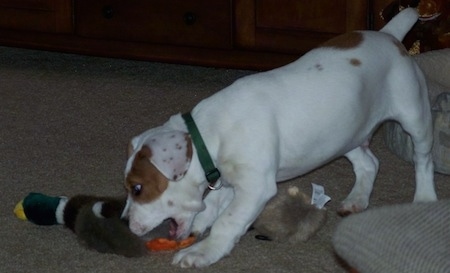 Rockne the Beabull as a 4 month old puppy playing with his new duck toy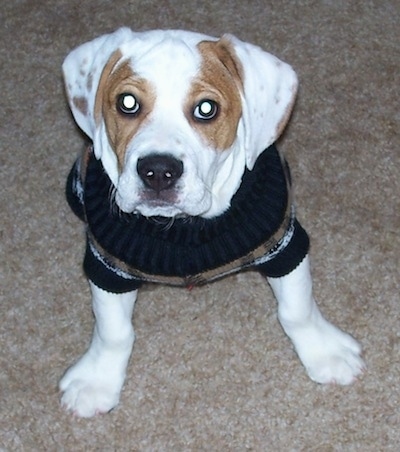 This is Rockne the Beabull as a 4 month old puppy getting ready to go outside in the cold (wind chill of 7 degrees) with his new sweater.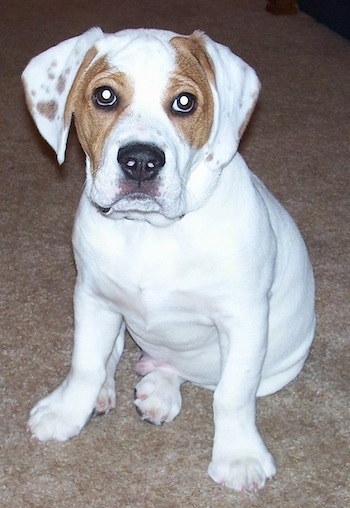 Rockne the Beabull as a 4 month old puppy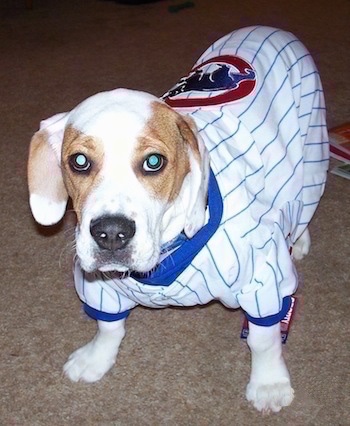 Rockne the Beabull as a 4 month old puppy is not happy in his new Chicago Cubs jersey. Might be a sign!!!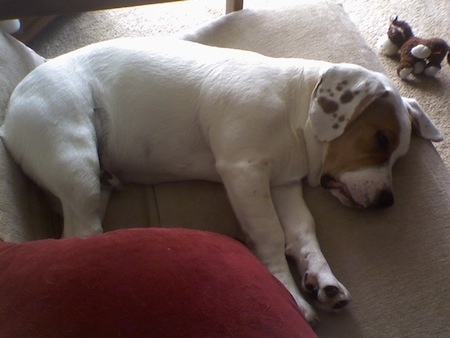 Rockne the Beabull as a 4 month old puppy sleeping on the couch.