Border Beagle
Border Collie / Beagle Hybrid Dogs
Information and Pictures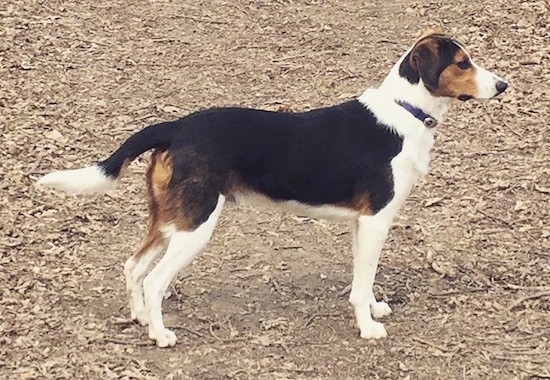 Meeko the Border Beagle at 1 year old—"Meeko is half Beagle half Border Collie. He is the best dog I've ever owned! He is cuddly, playful, athletic and smart. He doesn't bark and is pretty well mannered. He has a lot of energy and his main vice is jumping on people when he's excited."
Description
The Border Beagle is not a purebred dog. It is a cross between the Border Collie and the Beagle. The best way to determine the temperament of a mixed breed is to look up all breeds in the cross and know you can get any combination of any of the characteristics found in either breed. Not all of these designer hybrid dogs being bred are 50% purebred to 50% purebred. It is very common for breeders to breed multi-generation crosses.
Recognition
ACHC = American Canine Hybrid Club
DRA = Dog Registry of America, Inc.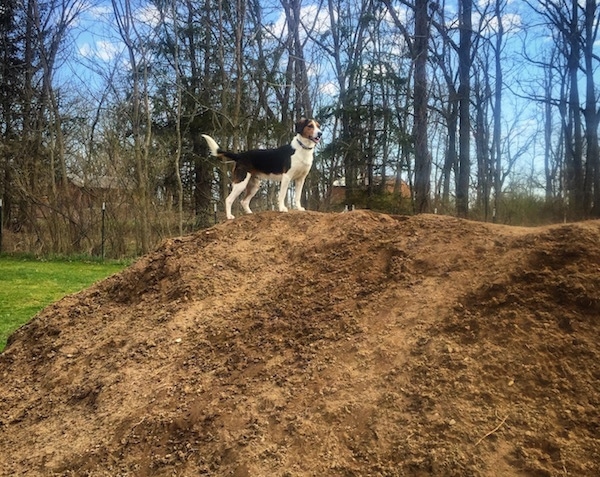 Meeko the Border Beagle at 1 year old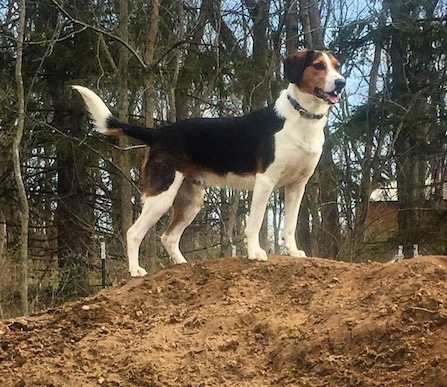 Meeko the Border Beagle at 1 year old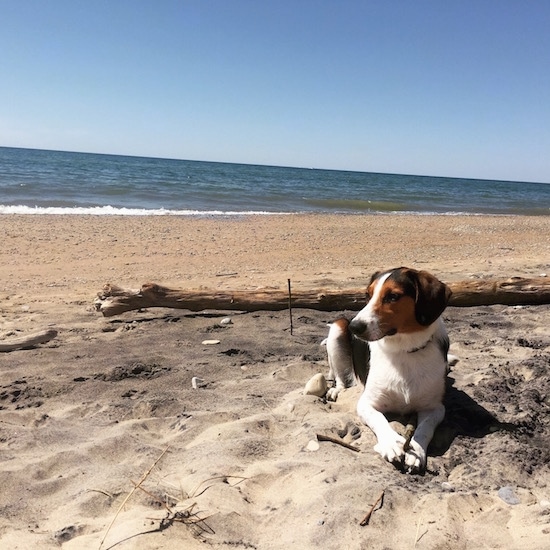 Meeko the Border Beagle at 1 year old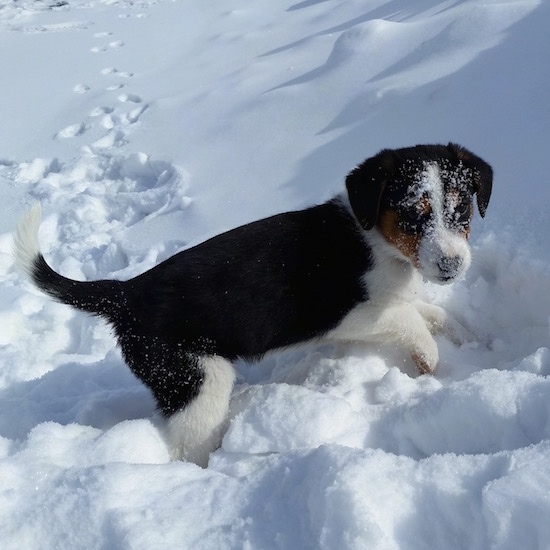 Meeko the Border Beagle as a puppy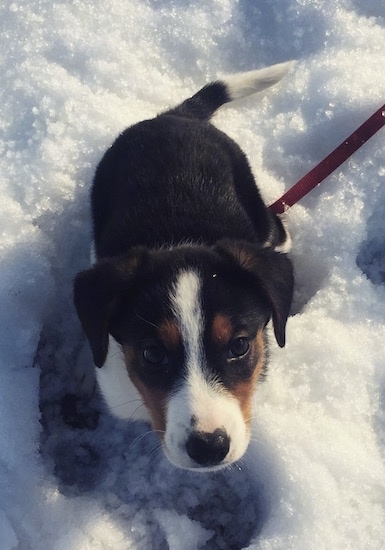 Meeko the Border Beagle as a puppy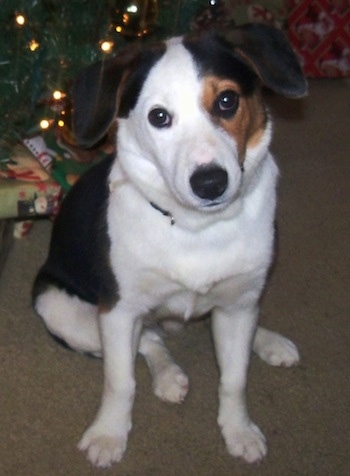 "This is a picture I took of our new Border Collie / Beagle mix, Scruffy. Scruffy is a female, approximately 6-7 months old. We have had her for a month. She was "rescued" from a family that was not treating her well, never walking her and allowing the children to be absolutely abusive to her. The family claimed to be getting rid of her as she was "untrainable" and could not even be housetrained. When I went to look at her I immediately fell in love with those Beagle eyes, sad but so intelligent. We brought her home as an early birthday present for my grandson who lives with us."
"I don't feel that my dog is a balanced canine...yet. We're working on it, though. Scruffy is often timid and has a lot of fears, especially of loud noises and strange people. She has come a long way in the month that she's been with us. I don't know a lot about the first 5 months of Scruffy's life but I do know that she is in a good, loving family now. She is a playful, active pup but never aggressive. Anyone can reach right into her food bowl while she's eating and she'll just back up so you can share her kibble. I am a clueless trainer, not having lived with a dog in over 12 years, but she and I are learning together. Within a week of coming to us she was fully housetrained, and a month later can sit, lie down, sit up, drop it and leave it on command. We are working on heeling and walking on a leash. I am also learning to treat her as a dog, not a human and not to put the pressure of being the pack leader on her little shoulders."
"Scruffy is a fast learner but easily distracted. I think she had to be fully on guard in her old home to keep from being injured by their children. I have a 3-year-old boy who is learning to be gentle and not love Scruffy too enthusiastically. She is very playful with him but we watch carefully that neither of them gets carried away. We put a halt to play when either of them does. They are quickly learning to co-exist and be friends."
"I have watched Cesar Millan's show Dog Whisperer a few times in the past and I love his methods for rehabilitating dogs...and training people. I watch every chance I get now! I have just finished Cesar's book "Cesar's Rules" and can't wait to begin implementing some of the things I've learned. The first thing is to give Scruffy more exercise and more walks. I have been hesitant to take her for walks in the neighborhood as she hasn't been socialized much and needs a lot of leash work. I've recently found some walking trails near my home that are not used much this time of year so starting tomorrow I will be taking my boy and my dog on a "pack walk" daily. We also play fetch in our fenced-in backyard every day and she plays "chase" with my grandson nonstop, indoors and out."
"So far, Scruffy seems to be happy just to have a soft place to lie and kind voices to hear. She love, love, loves to eat! My 3-year-old has become her partner in crime, sneaking her extra treats every chance he gets. Her absolute favorite food in the world is cheese! She will do anything you ask of her for a sliver of cheese. It's hilarious to take her through her paces...down, stand, sit, sit up...and watch my 3-year-old perform right alongside her for his piece of cheese, too."
"I'm so glad we decided to take in this little dog. She's already given much more to each of us than we can ever give to her. I don't know how we lived without a dog for so long!"