Bostchon
Boston Terrier / Bichon Frise Hybrid Dogs
Information and Pictures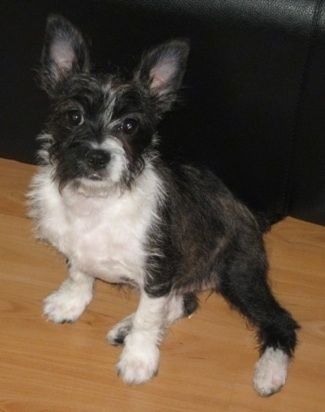 "Dixie the Boston Terrier x Bichon hybrid dog (Bostchon)—her father is a Boston Terrier and mother a Bichon. She likes to chew and dig. When she is worn out, she is very affectionate and quiet. Her hair does grow but with a good grooming it is very soft. She is very easy to train and learns quickly (only 1 and a half days for pee pad training). She does well with kids, as they both like to run and play. She gets along well with all other dogs, large and small. Everyone who has met her loves her temperament and how she looks."
Other Names
Boston Frise
Description
The Bostchon is not a purebred dog. It is a cross between the Boston Terrier and the Bichon Frise. The best way to determine the temperament of a mixed breed is to look up all breeds in the cross and know you can get any combination of any of the characteristics found in either breed. Not all of these designer hybrid dogs being bred are 50% purebred to 50% purebred. It is very common for breeders to breed multi-generation crosses.
Recognition
ACHC = American Canine Hybrid Club
DBR = Designer Breed Registry
DDKC = Designer Dogs Kennel Club
DRA = Dog Registry of America, Inc.
IDCR = International Designer Canine Registry®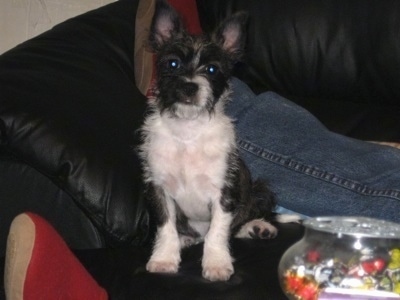 Dixie the Boston Terrier x Bichon mix breed dog (Bostchon)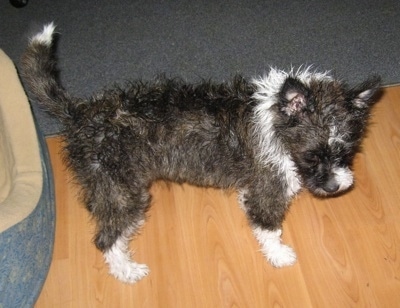 Dixie the Boston Terrier x Bichon mix breed dog (Bostchon)