Boston Chin
Boston Terrier / Japanese Chin Hybrid Dogs
Information and Pictures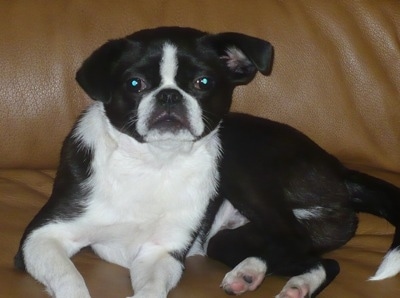 "This is Max, our Boston Chin (Boston Terrier / Japanese Chin hybrid). He is a wonderful mix of two good natured dogs. The Boston side is very recognizable in his coloring. The Chin is recognizable in his face. His coat is a mixture of the two dogs. He is not as short and coarse as the Boston, but not as long and fluffy as the Chin. He has a soft, medium coat. His tail is also a curiosity in that he actually has one! He is black with a white tip. His ears flop down instead of staying up like a Boston's."
Description
The Boston Chin is not a purebred dog. It is a cross between the Boston Terrier and the Japanese Chin. The best way to determine the temperament of a mixed breed is to look up all breeds in the cross and know you can get any combination of any of the characteristics found in either breed. Not all of these designer hybrid dogs being bred are 50% purebred to 50% purebred. It is very common for breeders to breed multi-generation crosses.
Recognition
ACHC = American Canine Hybrid Club
DRA = Dog Registry of America, Inc.
IDCR = International Designer Canine Registry®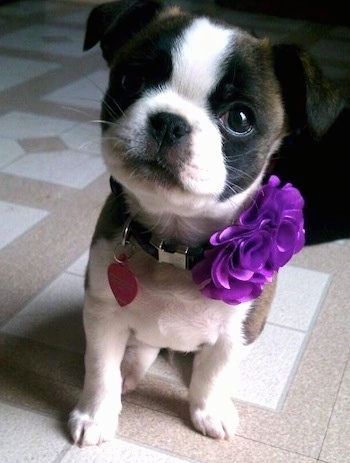 Quinn the Boston Terrier / Japanese Chin puppy—"This is our puppy Quinn. She is a hybrid Boston Terrier / Japanese Chin. In the picture she is just 1 month old and is only 3 pounds! She is a brindle white and brown. When she was 5 months old she weighed 11 pounds. She is VERY smart. Within the first three weeks that we had her, she learned to sit, lie down, shake, dance, give kisses, stay, come and BANG (when you pretend to shoot her with your finger pointed and she falls and plays dead). She loves everyone she meets: people, dogs and even our three cats. She has a lot of energy and she is the fastest dog in the dog park."