Boston Yorkie
Boston Terrier / Yorkshire Terrier Hybrid Dogs
Information and Pictures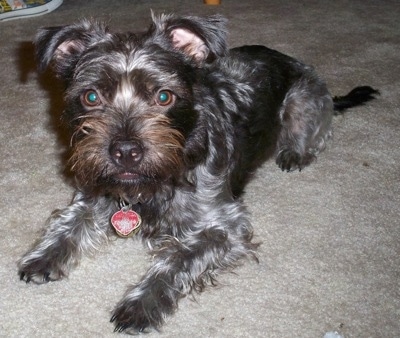 "Biff at just over a year old—he's very smart and loves to be included with all family activities. He loves to be around other dogs and people. He is a Boston Terrier / Yorkie Terrier mix."
Description
The Boston Yorkie is not a purebred dog. It is a cross between the Boston Terrier and the Yorkshire Terrier. The best way to determine the temperament of a mixed breed is to look up all breeds in the cross and know you can get any combination of any of the characteristics found in either breed. Not all of these designer hybrid dogs being bred are 50% purebred to 50% purebred. It is very common for breeders to breed multi-generation crosses.
Recognition
ACHC = American Canine Hybrid Club
DRA = Dog Registry of America, Inc.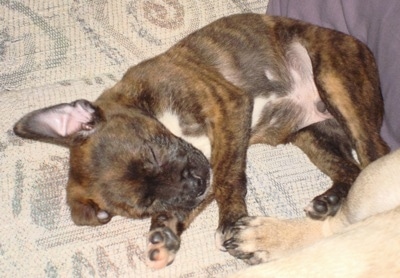 "Chip is a mixed breed of Boston Terrier (brindle, brown) and Yorkshire Terrier. He is shown here at 8 weeks old. At this age his coat is smooth like the Boston, but soft like the Yorkie. It seems his coat is going to be mostly smooth, though this could change in the next 6 months. It also seems like he isn't going to be a huge shedder like the Boston. He is mostly brindle but does have the white belly like the Boston Terrier. He also has pretty long legs, so I think he is going to be on the taller side, and maybe about 15-20 lbs. Time will tell :)"
"He has quite a spunky attitude; playful and very cuddly. He gets along with my other dogs, which are a Pug and a Yorkshire Terrier. This dog has no fear and is highly determined to accomplish anything he can do. The second day he was here, he was trying to get on the couch. I told him if he could get up on his own, he could sit on the furniture, and lo and behold, 10 minutes later he was up on his own. He learned how to run up and down the stairs in 5 minutes. He also seems to get along with our kitty, Booger. He loves to go outdoors and play in the grass, and chew cow ears. He is definitely a family type of dog. He loves everyone in the family and is very accepting of strangers. His mouth has a scissor bite and very sharp little teeth. The inside of his mouth is half black and half pink. He does also have a little bit of white on his front paws and his nails are black and white. The breeders of this little "oops" also did not dock his tail, so it's long, not short and stumpy. I actually think this is very cute on him!"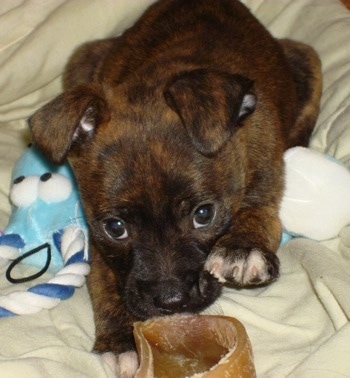 "One of the few toughies is that he is so little (4½ lbs.) so that right now he pees all the time, like every 20 minutes, so you have to be on your toes for going outside for his training. Though, he can hold it all night long once he is in bed."
"I do work part time, so his activity is limited during the day. For his protection, I do gate him in a small area of the house away from the Pug. Pugsely is almost 35 lbs., not fat, just on the large side. For the most part he is gentle, but he is soooo much bigger than him, he has hurt him a little from just being so big, not intentional. But when I am home in the middle of the day, we do go outside to play and pee. During my lunch hour he gets a little snack, and play time with Pugsely and me. The Yorkie, Pootie, is much older than the other 2, so she kind of stays to herself. Pugsley is almost 2 years old and Pootie is 8 years old."
"After work when my husband and I are home together for the evening, it is usually a full night of play, fetch and bones and treats, and of course training. He is exceptionally smart; he already has learned the command of "come" and happily does it. Our next form of training will be the "sit" command. Of course we are working on going outside for pees and poops, but that will come in time."