Bullypit
American Bulldog / American Pit Bull Hybrid Dog
Information and Pictures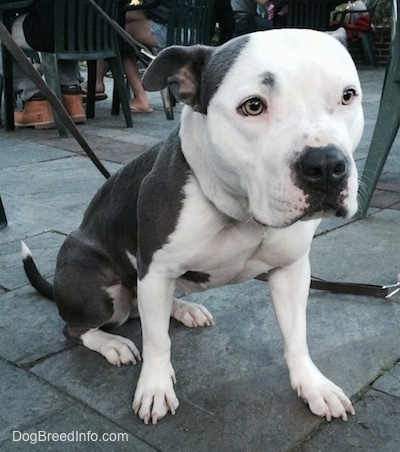 Ellie the American Bulldog / Pit Bull mix at 3 years old—"Ellie, enjoying a nice afternoon with her owners at Four Dogs Tavern. Total sweetness, no aggression, no fear."
Other Names
Colorado Bulldog
Note: The purebred American Bully is also sometimes called the Bullypit
Description
The Bullypit is not a purebred dog. It is a cross between the American Bulldog and the American Pit Bull Terrier. The best way to determine the temperament of a mixed breed is to look up all breeds in the cross and know you can get any combination of any of the characteristics found in either breed. Not all of these designer hybrid dogs being bred are 50% purebred to 50% purebred. It is very common for breeders to breed multi-generation crosses.
Recognition
ACHC = American Canine Hybrid Club
BBC = Backwoods Bulldog Club
DDKC = Designer Dogs Kennel Club
DRA = Dog Registry of America, Inc.
IDCR = International Designer Canine Registry®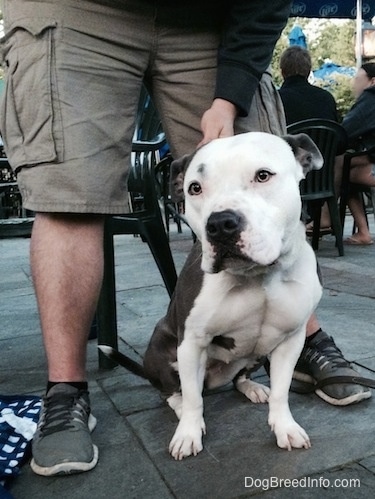 Ellie the American Bulldog / Pit Bull mix at 3 years old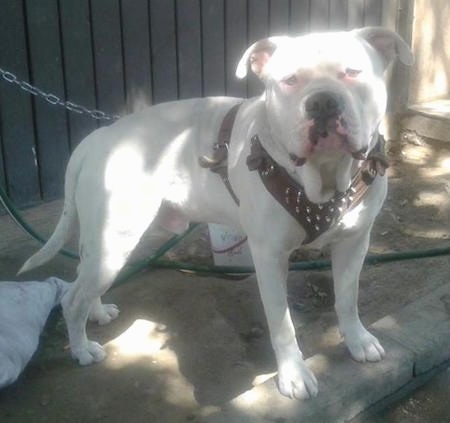 Caine the American Bulldog / Pit Bull mix (Bullypit) at 1 year old —"I grew up with Pit Bulls and always been fond of American Bulldogs. I had gotten Caine when he was only 3 weeks old. He was so tiny. Hands down, this hybrid breed has got to be one of, if not the best crossbred ever. He's so protective of me and my loved ones. His personality is undescribable. No doubt about it, he's the best friend anyone can have. He loves to wrestle, his strenghth is amazing. When we go to the lake he tries his hardest to catch the ducks."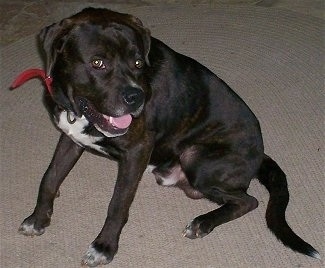 "This is Vejita the Bullypit hybrid at 14 months and still growing. He weighs about 80 lbs., is very well behaved, and was especially easy to train."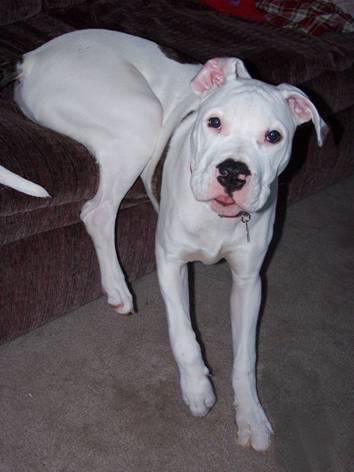 "This is our rescued American Bulldog / Pit Bull Terrier mix, Deuce at 6 ½ months old, weighing 55 lbs. and 23" to the shoulder. His mom is Am. Bulldog and his dad is a Pit. His litter, including his parents, was rescued by our rescue organization. They have all found great, responsible families."
"Deuce is very comical, incredibly intelligent, though a big goofball! Training is very important to us and should be for any responsible owner of a bully breed that typically scares people that do not understand them. We foster dogs to help keep him well socialized and bring him to training classes and doggy day care once a week for some fun! He will chase the cats and then turn around so they can chase him!!"
"He loves to play and loves to snuggle. He thinks he is a lap dog. He is wonderful with our children and anyone else's for that matter. He is NO guard dog, he'll let anyone in! Sshhhh!!"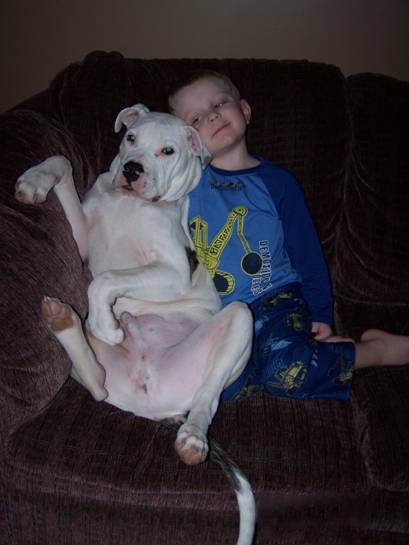 "You need to have patience with training this type of dog, they are very smart and willing to please, but also are very friendly, so they may decide to say hello when you'd rather have them sitting!! LOL. They need a pack leader-type of owner, not someone who will let them get away with everything. Owners need to start training their dogs so they will show all the 'non-believers' how great these dogs really are!!!"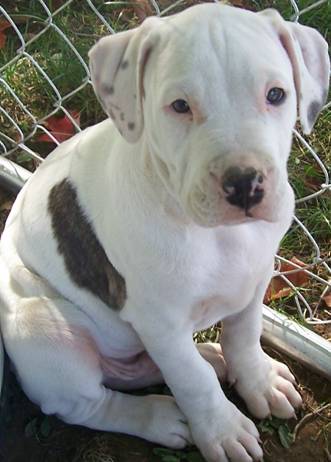 Deuce the American Bulldog / Pit Bull Terrier mix as a 9-week-old puppy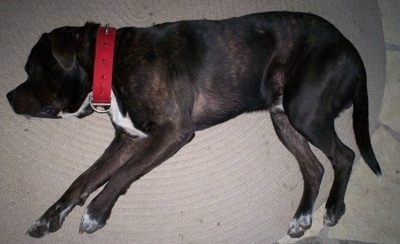 Vejita the Bullypit hybrid dog (American Bulldog / Pit Bull mix breed)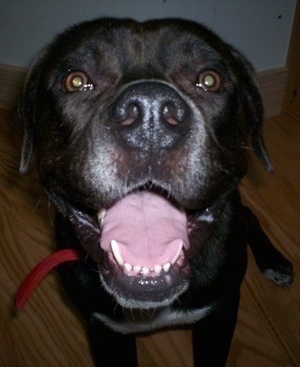 Vejita the Bullypit hybrid dog (American Bulldog / Pit Bull mix breed)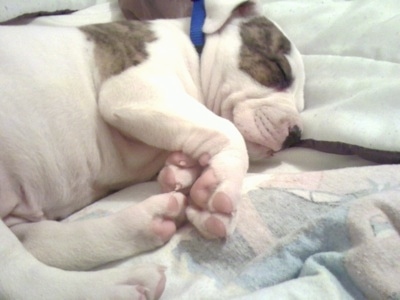 "This is Isyss my Bullypit puppy at 6 weeks old. She is an American Bulldog (her dad) and Pitbull Terrier (her mom) mix. She likes to explore and she bites everything and everyone including our other dog, Maye (a 2-year-old Pitbull Terrier). She's already getting the hang of going to the bathroom outside and hasn't had any accidents in 2 days."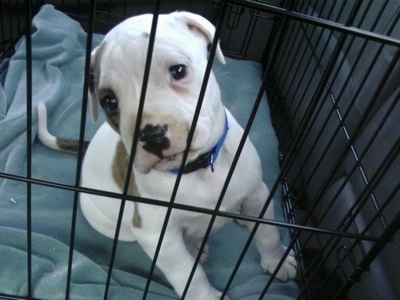 Isyss the Bullypit puppy at 6 weeks old in his crate.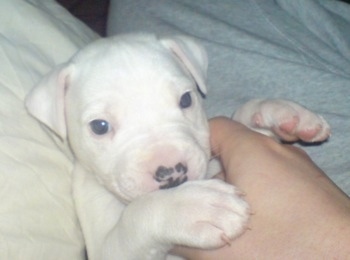 "These are pics of my Bullypit (American Bulldog / American Pit Bull Terrier mix) puppy. His name is Sirus. He is 6 weeks old in these pics. He is a great dog, very energetic. We are toilet training him at the moment and we have had a few accidents. His dad is a Hines type American Bulldog and his mum is an American Pitbull Terrier out of Sarona, Alligator and Chinaman lines."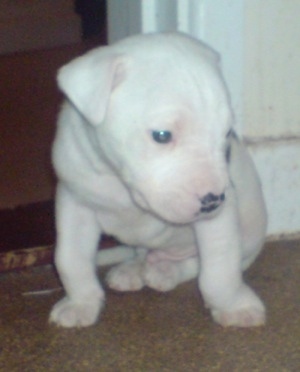 Sirus, a Bullypit (American Bulldog / American Pit Bull Terrier mix) puppy at 6 weeks old
Sirus, a Bullypit (American Bulldog / American Pit Bull Terrier mix) puppy at 6 weeks old