Bassugg
Basset Hound / Pug Hybrid Dogs
Information and Pictures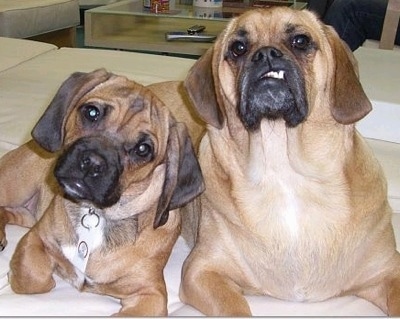 "Meet Guinness and Molson, Pug / Basset Hound dogs that live in Warren, MI. Guinness (the larger one of the two) is the big brother and his little sister Molson adores him more than anything. "Guinny," as we affectionately refer to him, is extremely loving, smart and very mellow. "Molie" is a bit spunkier and loves to steal whatever her brother has...a rawhide, roll of toilet paper, stuffed animal, whatever. We couldn't ask for two better dogs—we truly believe it's one of the best mixes around. Affectionate, easily-trained and they want nothing more than to be where you are! They are my babies and we love them!"
Other names
Pugglehound
Bassug
Description
The Bassugg is not a purebred dog. It is a cross between the Basset Hound and the Pug. The best way to determine the temperament of a mixed breed is to look up all breeds in the cross and know you can get any combination of any of the characteristics found in either breed. Not all of these designer hybrid dogs being bred are 50% purebred to 50% purebred. It is very common for breeders to breed multi-generation crosses.
Recognition
ACHC = American Canine Hybrid Club
DDKC = Designer Dogs Kennel Club
DRA = Dog Registry of America, Inc.
IDCR = International Designer Canine Registry®
Recognized Names:
American Canine Hybrid Club = Bassugg
Designer Breed Registry = Bassug
Designer Dogs Kennel Club = Bassugg
International Designer Canine Registry® = Bassugg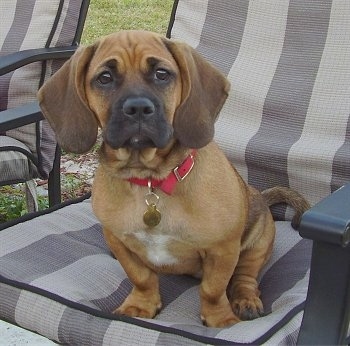 Sadie, a Bassugg (Basset Hound / Pug hybrid) at 5 month old— "He is an extremely smart dog. Sadie is very lovable but also very independent."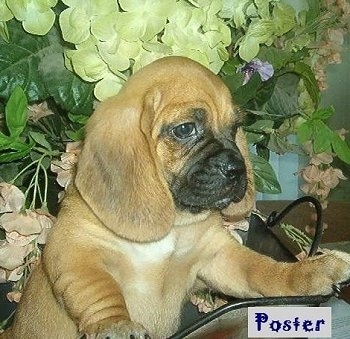 "This is a pic of a Bassugg (Pugglehound) puppy that we bred. This was the absolute pick of the litter. Look at those ears. His name is Poster and he was 7 and half weeks old when this picture was taken. He has grown into a 30-pound absolute sweetheart. Loves to be with people, is a comedian in his antics, but can be stubborn."—Photo courtesy of Amy at Puggletown Puggles
Poster the Bassugg almost full grown—"The puppy was so cute they called us to have it put in a TV commercial. Ron Livingston was the actor involved; very nice guy. It was a fun day to watch a commercial being shot. There were two puppies involved, our Bassugg and someone else's Puggle. The Puggle was squirmy and not interested in being good; our Bassugg just lay in the actor's arms the whole time and was right on cue about doing what was needed. Made us feel proud."—Photo courtesy of Amy at Puggletown Puggles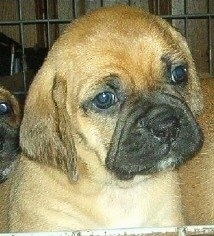 Four-week-old Bassugg puppy, photo courtesy of Puggletown Puggles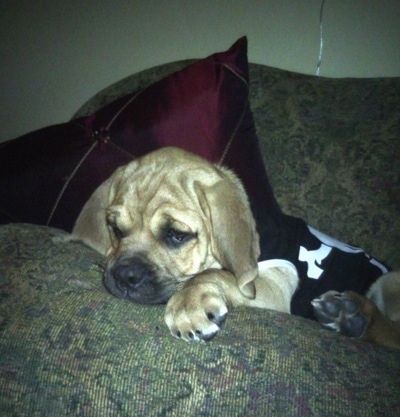 "Poopsie is a 3-month-old Pug / Basset Hound mix puppy. She thinks she is a much bigger dog than she really is. She loves to bark at the cats and play with my old dog. Every time they play Poopsie sounds like she is mad; she growls and barks and shows her little puppy teeth. She has too much skin for her own good; when she puts her head in the right place all her extra skin falls on to her face and makes her look grumpy. Her droopy eyes and eye liner make her look sad all the time."