Whelping and Raising Puppies a Full-Term Preemie (Premature in Development)
Puppy with fading puppy syndrome which developed at one week old.
A fading one-week-old preemie puppy. This pup was small for gestational age, and premature in development.
Feb 7th—Jaz the dam shed her mucous plug.
Feb 8th—Began taking temperature two times a day. Temperature ranged between 99.9° – 100.5°F.
Feb 13th, 7:00 p.m.—Slow drop in temperature has begun (99.2°). Began to take temp every four hours.
Feb 14th, 4:00 p.m.—Temperature dropped to 98.2°.
Feb 15th, 5:00 a.m.—No sign of labor yet. Nesting, sleeping, no signs of distress. Did internal—could not feel a pup. Kept my sight on her every minute. Napped with her by my side.
11:00 a.m.—The dam began clucking like a chicken (LOL).
11:10 a.m.—Champagne-colored female, 5.4 ounces born (very small placenta—preemie??).
11:54 a.m.—Black and white parti male, 7.13 ounces was born.
12:23 p.m.—Gold sable with black markings female, 7.87 ounces was born.
All very healthy and strong. Latched on to mom right away.
Pups were consistently gaining weight. Weighed two times a day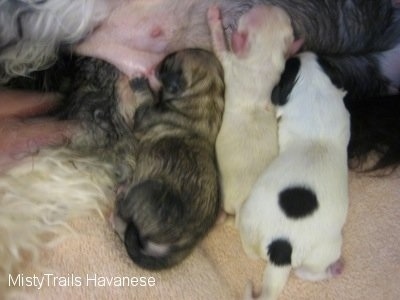 In this full-term litter of puppies, one definitely looks premature, as there is no hair on the head, ears or feet. Two bigger puppies are 7 oz., and this small blonde girl is 5 oz. When a sire and dam breed, the eggs all ripen at the same time. If a dog breeds on day 12, 15, or day 17, all the eggs ripen at the same time, and you do not get a litter of pups that are of different ages, but you can get one that is premature in development from a poor latch-on site.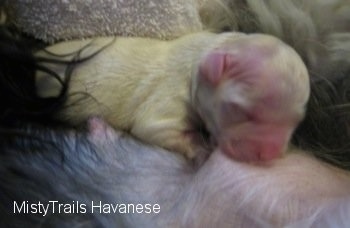 If you get a small premature puppy it needs HEAT, or it will not survive. It is not ready to be born, and should be in the dam where it is 100 degrees Fahrenheit. Heat is VERY, VERY important to a preemie puppy; be careful not to dehydrate him/her. Remember, being premature in development is the same as being born too early; some are just not ready.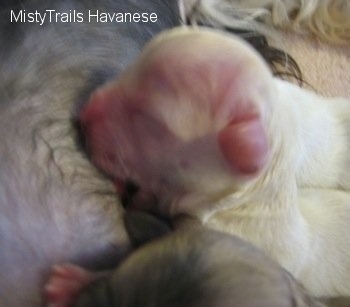 Weigh the puppy a few times a day with a very accurate scale, and make sure she/he does not lose weight. Supplement with puppy milk replacer or goat's milk if necessary. It is normal to have puppies of different sizes, and generally this has to do with where the puppy is latched on to the womb via the placenta. A big vein and good supply of blood will make for a bigger puppy. Often puppies are different sizes, and you could have a smaller puppy. Lack of hair is a sign that it is indeed a preemie puppy, small for gestational age and premature in development.
A small puppy means it could have a health problem, lacked nourishment in utero. Be sure to give these little ones extra care.
Day 3—the preemie is thriving, up to 7.20 oz. in the morning and gaining steadily. The breeder of this litter is sleeping in the whelping area, putting this pup on a teat every 30 minutes, rather than supplementing, and keeping the puppy in a warm box. She tucks the pup into her mom, who is a first-time mommy, so extra supervision is needed. You do not want a puppy like this to separate from the dam and chill; some dams could push the puppy away as well, causing the pup to chill. The puppy needs to stay warm.
With weights like this, we know the preemie is doing great...
Date
Champagne-female (Preemie)
Parti-male
Gold Sable-female
Feb 15th
5.4 oz.
7.13 oz.
7.87 oz.
Feb 16th
6.14 oz.
6.49 oz.
7.51 oz.
7.90 oz.
8.47 oz.
8.85 oz.
Feb 17th

7.20 oz.
7.55 oz.
8.85 oz.
8.78 oz.
9.59 oz.
10.16 oz.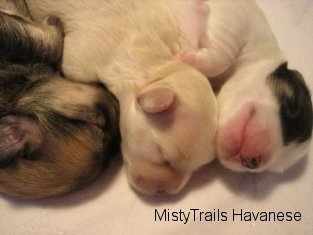 Preemie puppy at one week old in the middle, looking very good! They can catch up quite quickly.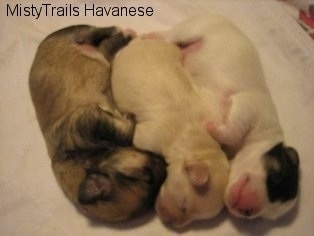 Preemie puppy at one week old in the middle.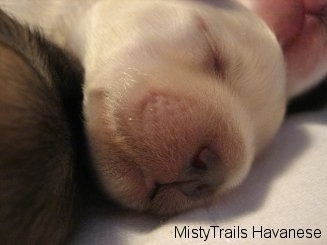 Preemie puppy at one week old. Very healthy-looking.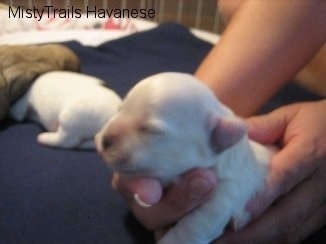 Preemie puppy at one week old.
Pups were consistently gaining weight. Weighed two times a day.
Feb 22nd - 1 week old
9:00 a.m.—Champagne female – 11.85 oz.
Noticed throughout the day she did not nurse. Refused to latch on to mom despite my efforts. Gagging reflex, cries more often today. Something wrong?? Extracted mom's milk and gave to her in dropper to keep hydrated. Continued to assist in helping her feed on mom. This pup had developed fading puppy syndrome.
3:00 p.m.—Champagne female – 11.50 oz.
The pup was making coughing, sneezing, gurggley sounds. Something definitely was NOT right. Called vet for antibiotics. Placed the pup on a heating pad. Vet says this was not a good sign.
4:30 p.m.—Began 1cc of Clavamox twice a day for five days.
Began tube feeding w/Esbilac (1cc per 1 oz. of weight which was 11.60 oz.)
A puppy needs 1 cc for every ounce of body weight every 2.5 to 4 hours.
Placed pup into my bra—only way that I knew she would be kept warm.
6:30 p.m.—Refused mom. Second tubing…11.90 oz.
8:30 p.m.—Refused mom. Third tubing…12.24 oz.
9:30 p.m.—The pup began to nurse on her mom (whew)…12.59 oz.
Placed pup on mom every 45 minutes, then back into my bra. Slept with pup in my bra, feeding every 45 minutes for the next three days.
Champagne female consistently gained back weight and became stronger.
By Feb 25th the pup's lungs sounded clear.
Feb 23rd
12.80 oz.
Feb 24th
13.37 oz. to 14.29 oz.
Feb 25th
14.78 oz. to 15.06 oz.
Feb 26th
15.45 oz. to 15.84 oz.
Feb 27th
16.51 oz. to 17.00 oz.
Feb 28th
17.67 oz. to 18.34 oz.
Now that I feel we are out of the woods...I can catch up on sleep.
Acting fast is what saved this puppy. This pup needed heat, antibiotics and tube feeding. At this young age one cannot wait till morning to call a vet.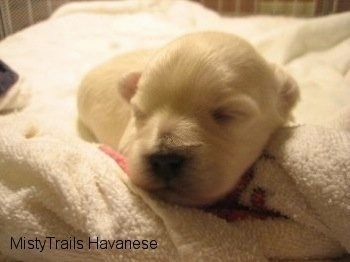 Preemie pup at two weeks old.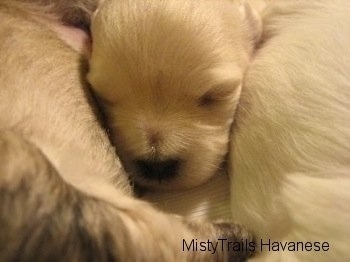 Preemie pup at two weeks old.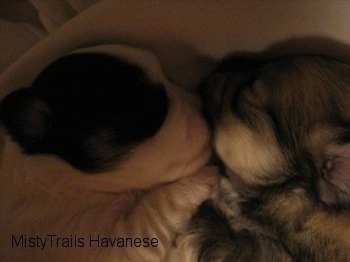 Littermates at two weeks old.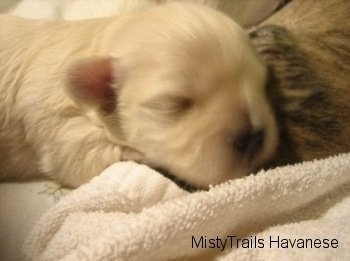 Preemie pup at two weeks old.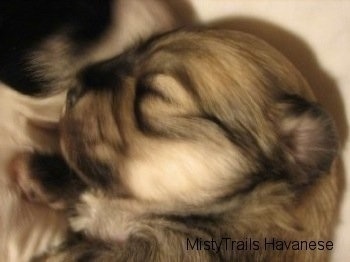 Littermate at two weeks old.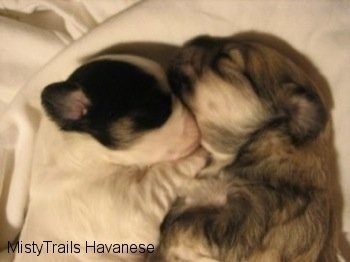 Littermates at two weeks old.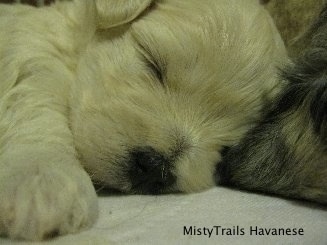 Preemie pup at three weeks old.
Pictures submitted by Pam of Havanese N'Paradise.
Courtesy of MistyTrails Havanese and Havanese N'Paradise
Although this section is based on a whelping of an English Mastiff, it also contains good general whelping information on large-breed dogs. You can find more whelping information in the links above. The links below tell the story of Sassy, an English Mastiff. Sassy has a wonderful temperament. She loves humans and adores children. An all-around mild mannered, wonderful Mastiff, Sassy, however, is not the best mother toward her puppies. She is not rejecting them; she will nurse them when a human places them on her to feed, however she will not clean the pups or pay any attention to them. It is as if they are not her puppies. This litter is getting mom's milk with major human interaction, manually giving each and every pup what they need. In return, the pups will be super socialized and will make remarkable pets, however the work involved is astounding. It takes one dedicated breeder to keep this situation healthy. Thankfully this litter has just that. Read the links below to get the full story. The pages within include a wealth of information that everyone can appreciate and benefit from.
Whelping: Close-to-Textbook Case