Whelping a messy litter of pups
MESSIER than normal.... Some litters make minimal mess; this one was very messy. It had me a little worried but all is 100% fine.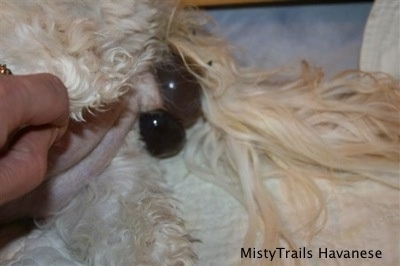 Two horns, both trying to come out first—she broke them both so that sped up the decision; they then could retract back and one pup could decide who is to come first, as both cannot come at the same time.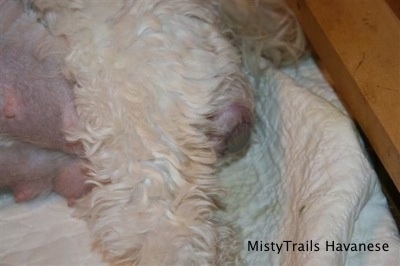 Presentation of the first pup; it took LOTS of pushing to get it here, but that is as far as she could get on her own. She almost needed an episiotomy because it would only come this far; she would push, and back in he would go.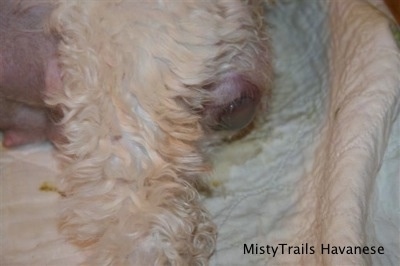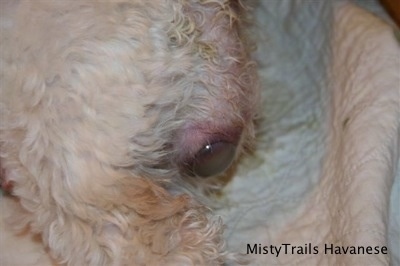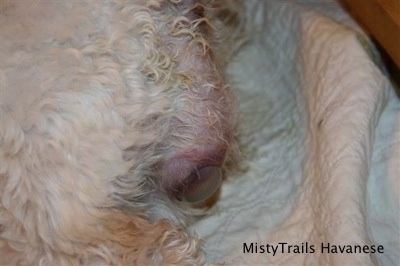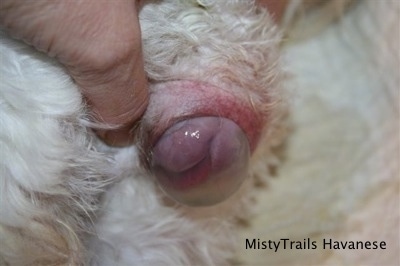 I had to help get the head out. The tongue was still pink so no worries yet.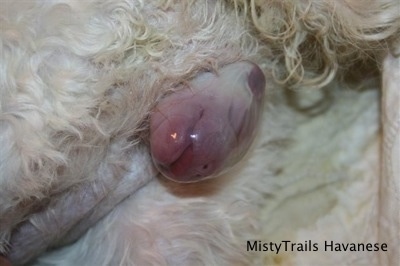 The head is out, yippee! The sac is still on. I will now break the sac get the puppy going, and then try to get the rest of the body out. Kinda neat, he is in a bubble.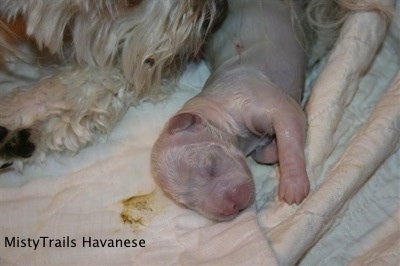 A white male is OUT. He weighs 9 oz. I properly removed the dewclaws, did the cord care, and then he was nursing.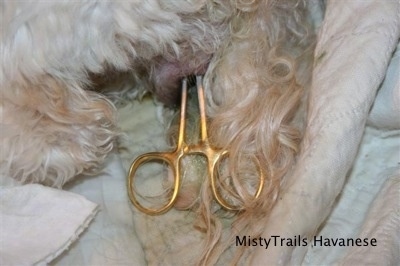 I have a hold of the placenta, but the hemostats sucked back inside of the dam. This is fine because I want to make sure I get four placentas out.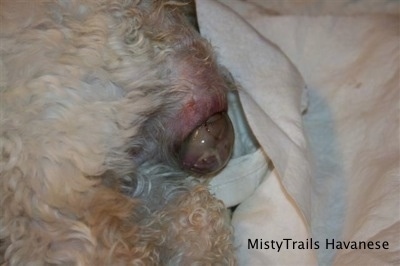 Here comes the biggest pup, number two, a tan male weighing 9 oz.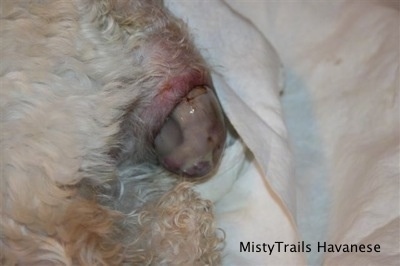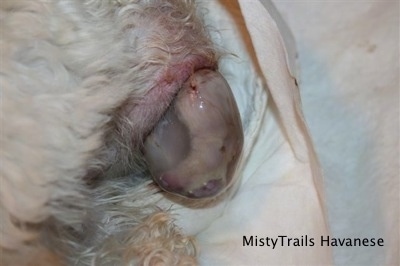 This is about as far as she is able to get him out on her own.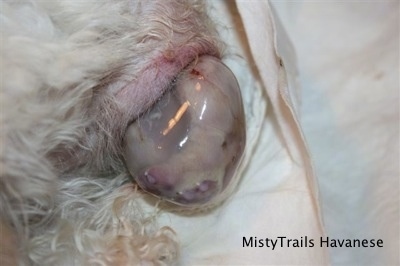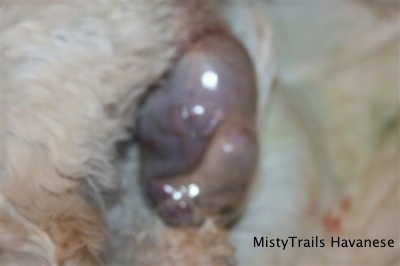 I pull...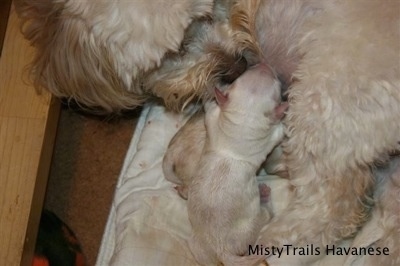 ...he is out.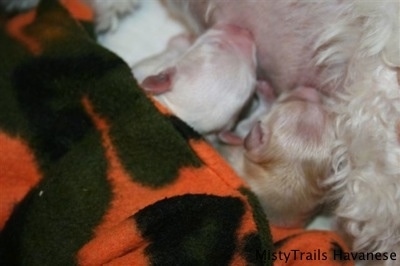 Both pups are under a hot rice pad, both nursing.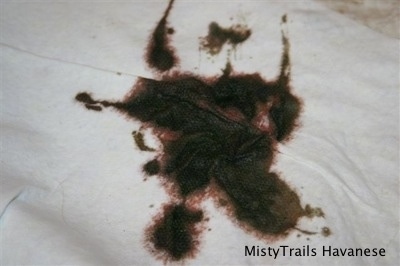 OH YUCK. Green discharge. I don't like this. The third pup is taking an HOUR to get out. I am starting to worry.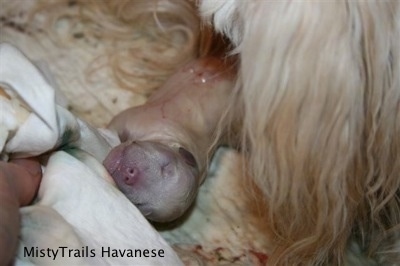 Finally boy three comes, weighing 7.5 oz. It was fairly easy to get him out, but messy.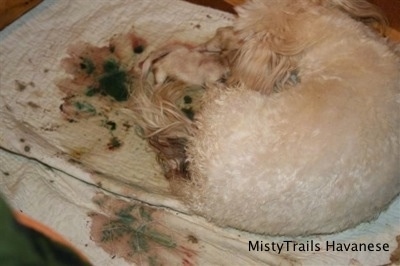 Told you he was a MESS MAKER! I had to work to get him out. I am not sure what happened, but I knew I had limited time if this green meant his placenta detached.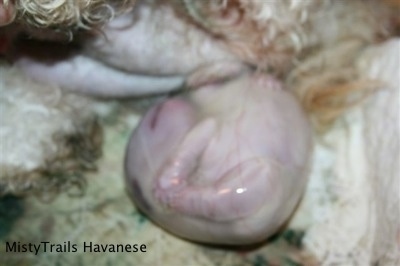 After another hour pup number four arrives weighing 8.5 oz. This pup was fairly easy. He is still in the sac in this picture.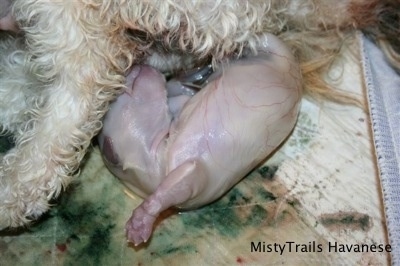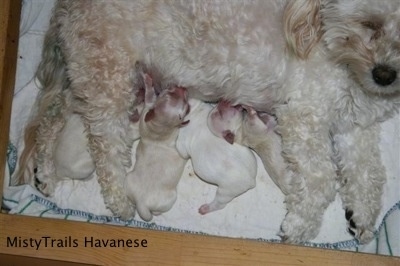 All is happily ever after...xo. All cleaned up and Mom is happy.
Courtesy of MistyTrails Havanese
Although this section is based on a whelping of an English Mastiff, it also contains good general whelping information on large-breed dogs. You can find more whelping information in the links above. The links below tell the story of Sassy, an English Mastiff. Sassy has a wonderful temperament. She loves humans and adores children. An all-around mild mannered, wonderful Mastiff, Sassy, however, is not the best mother toward her puppies. She is not rejecting them; she will nurse them when a human places them on her to feed, however she will not clean the pups or pay any attention to them. It is as if they are not her puppies. This litter is getting mom's milk with major human interaction, manually giving each and every pup what they need. In return, the pups will be super socialized and will make remarkable pets, however the work involved is astounding. It takes one dedicated breeder to keep this situation healthy. Thankfully this litter has just that. Read the links below to get the full story. The pages within include a wealth of information that everyone can appreciate and benefit from.
Whelping: Close-to-Textbook Case