Raising a Puppy: 30th week in his new home
A day in the life with Bruno the Boxer puppy. Bruno's 30th week—36 weeks old, 78 pounds, 24 1/4 inches from the ground to the highest point of the shoulders (the withers).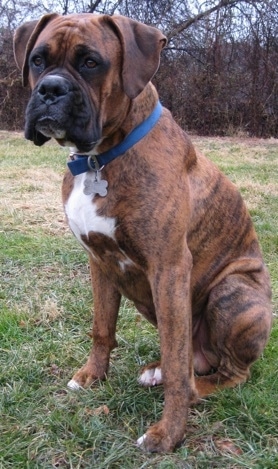 8 months old.
Bruno and the Cat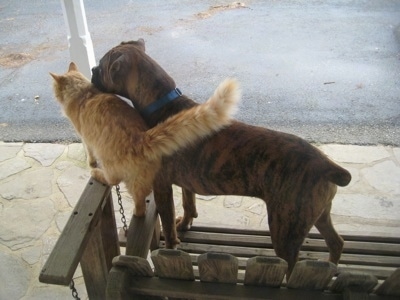 Waffle the cat actually seems to like Bruno; he was rubbing all over him, which is how a cat claims something. They rub their scent all over it. Bruno you have been claimed by the cat.
Trash Picker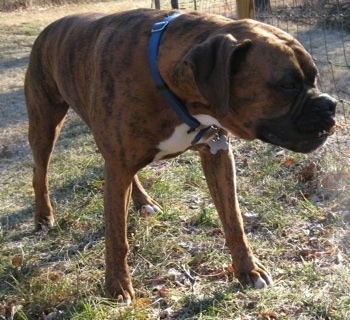 Out on a walk Bruno picked something up in his mouth. "Drop it." Bruno spit it out. It was an animal bone. Bruno, where do you find this stuff?
The Tongue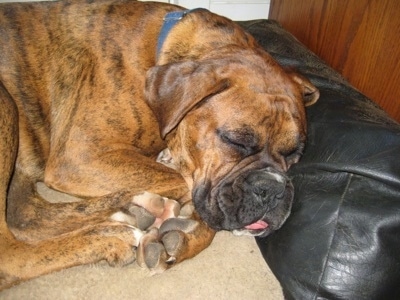 Bruno, more often than not, sleeps with his tongue sticking out.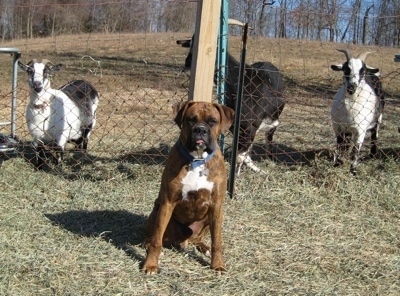 Bruno, what's with the tongue? Is it too long for your mouth?
Medicine
Time to apply Bruno's monthly Revolution treatment to prevent a slew of different parasites, including mange from the local fox.
The Fox
Speaking of the fox, while out on one of our hikes I spotted a fox that would have very much loved to snatch up one of our chickens or guinea hens. The fox was in ear-shot of the birds and may have had lunch on his mind. The dogs were off-lead in an area I knew was safe. Allie, Bruno's older sister has done her share of saving the birds from the fox. She knows the word "fox" and will look for it if we say the word "fox." Bruno has not yet learned this. Watching the fox get closer to the chickens, I said, "Allie, look, there's the fox!" Allie stopped dead in her tracks and started looking. She spotted it! "There's the fox!" I said again, and Allie took off running with Bruno right behind her. I let them chase the fox until they were out of sight then called them back. Allie always comes when called. She came right back, but where was Bruno? I called him again and Bruno showed up from behind me. You silly puppy, you were all over these woods like a bolt of lightning! Now that was a workout, and all birds were safe for another day. What fun Bruno had. He is starting to learn one if his jobs is to chase the fox away. I have seen my share of dead chickens, guineas and ducks, I watched a fox carry off my favorite white guinea a couple of years back, snatched it up right in front of me. We will be working on teaching Bruno the fox is something that needs to be chased away.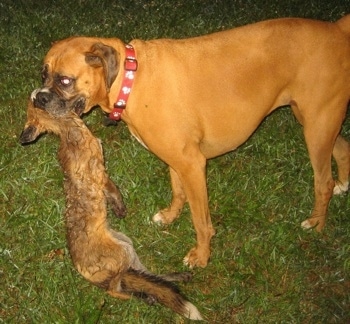 This is Allie just two days before we adopted Bruno. Amie had noticed Allie barking up a storm and lunging at something right in the front yard. It was dark and from a distance she thought it was one of the neighbors' cats. "Allie, NO!" Allie listens very well to commands from both adults and the kids. Allie took a few steps back, but was pointing at the animal that was backed up against the stone wall. As Amie got closer she started second-guessing herself as to it being a cat. Allie was still pointing, shaking in anticipation; whatever it was, she wanted it, and she wanted it bad! Yet, she waited for Amie to give a command. As soon as Amie realized it was the fox, she said, "It's the fox, get it!" and Allie grabbed it and shook it. Our guinea hens had just hatched about 30 baby keets and the fox could hear them chirping. Amie knew there was only one reason why that fox would be this close—he was looking for dinner. A fox that will come this close to your house when you keep birds such as chickens, guinea fowl, ducks and peafowl, is a fox you do not want around.
Bruno, Allie and the Great Pyrenees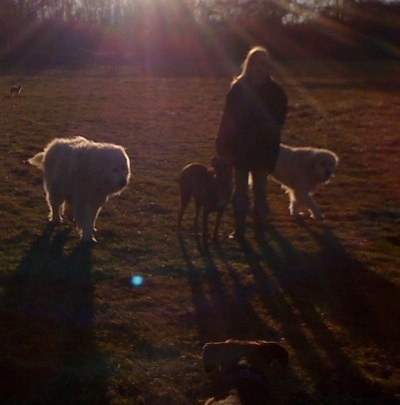 Amie confidently walks Allie through the horse field where Bruno, Tundra and Tacoma are playing with no problems. Just a short six months ago Allie would have attacked them for sure. Allie used to pick a fight with them whenever she could, even horrible fence fights. She has really come a long way.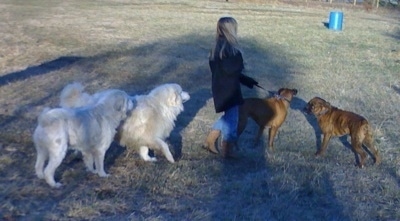 Tacoma, Tundra, Amie, Allie and Bruno
Horses With Amie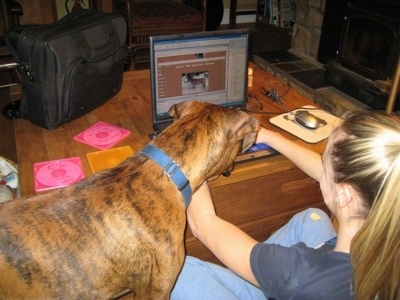 Bruno visits Amie while she works on her horse website HorsesWithAmie.com.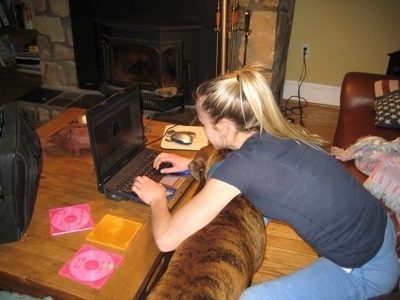 "Bruno, you're making it hard to type...."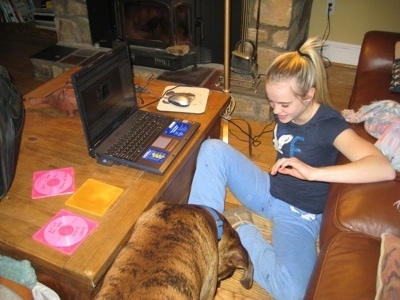 "Oh Bruno, you just slobbered on me!"
Walking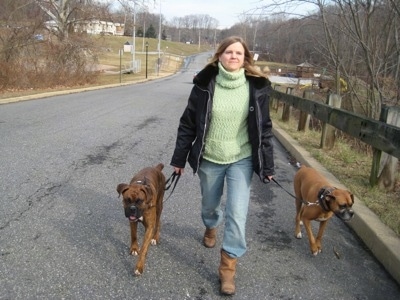 Bruno out on a walk without his backpack; he did very well in regards to not pulling. I'll still use the backpack a lot of the time to give him more of a workout. Allie had a hard time finishing this walk (bad knees, hips and a bit too much excitement the day before chasing a fox) so she started walking slower. The backpack will definitely help equal out the two dogs' exercise demands.
Running Water
Bruno has a fascination with running water. From hoses, sink faucets, rushing pipes to someone dumping liquid from a cup, Bruno wants to lick it up as the water is moving.
It had just rained all day long and had finally stopped. I took the dogs out for a nighttime hike to burn off some of their energy. This is the runoff pipe coming from the pond. The water was rushing out into a stream. Bruno very much enjoyed trying to eat the water.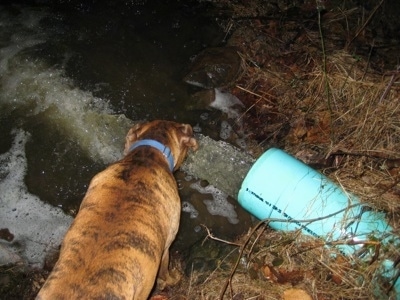 And he thought the garden hose was fun!
Bad-Puppy Moments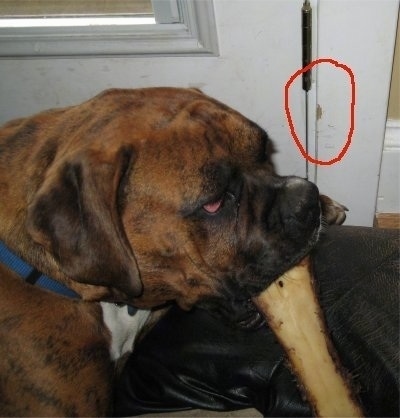 Welcome to the world of owning a dog! Oh Bruno, what did you do to the door frame? It does not necessarily look chewed, but scraped up perhaps from his bone rubbing against it?? Or did you chew that??!! You're not making daddy very happy.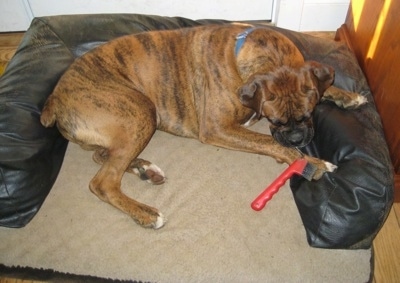 Bruno came walking into the house carrying something in his mouth. "Bruno, what do you have?" He took it to his bed. It was a horse pick, used to pick the mud off of the bottom of the horses' feet, and boy did it smell like a horse. No wonder you like it. "Bruno, give me that." I looked outside. The horse trailer door was closed. Just where did you get that? And just who left it lying outside anyway? Thanks for finding it Bruno, but no, sorry, you are not allowed to chew it up.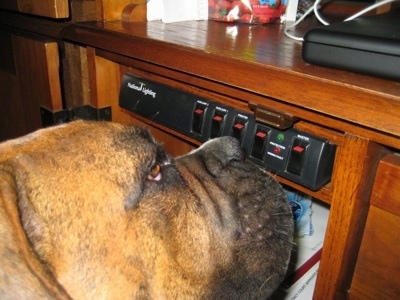 Bruno will often come over and stand or sit right by me. This particular day Bruno was standing next to me while I was working at my desk. Out of the blue he started to chew on the underside of my desk. I tapped him on his head.... "Hey, NO!" Bruno looked at me and stopped chewing. This is another place no one ever told this 8-month-old pup he was not allowed to chew.