Raising a Puppy: 46th week in his new home
A day in the life with Bruno the Boxer puppy. Bruno's 46th week—52 weeks old, 85 pounds, 24 1/2 inches from the ground to the highest point of the shoulders (the withers).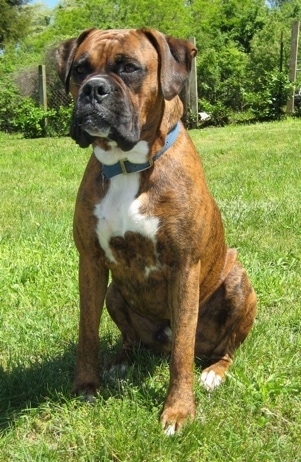 1 year old!
Bruno and Trouble the Cat
Seems Bruno and Trouble the cat have developed quite a relationship. I often look out to find Bruno lying with her. Trouble makes all the calls; she controls the situation, and since Bruno has no problems allowing the cat to be the boss, they get along great. Bruno seems to know his limitations and if he gets out of line, one paw in the air from Trouble and Bruno immediately calms down and does what the cat wants. Proves size means nothing. We have an 85-pound Boxer and a ten-pound cat and the cat is, without question, the boss of the relationship.
Happy First Birthday Bruno!
May 25th!
Bruno starts off his special day with a 1:00 a.m. hike. Boy, did he enjoy that!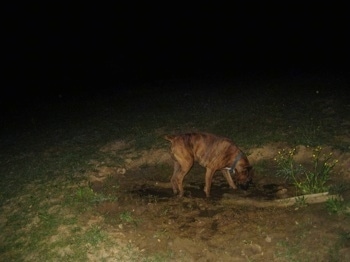 Bruno stopping at a pig's mud hole to get a drink. Yuck...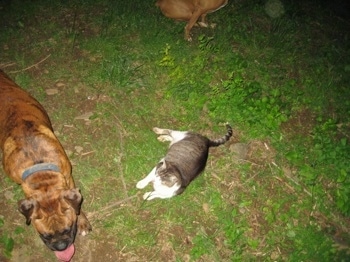 Trouble the cat decided to come along on the middle-of-the-night walk.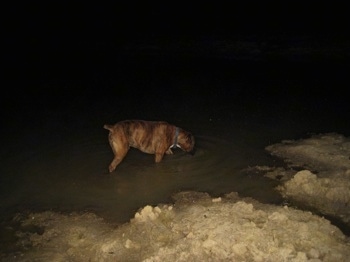 Bruno getting a drink in the pond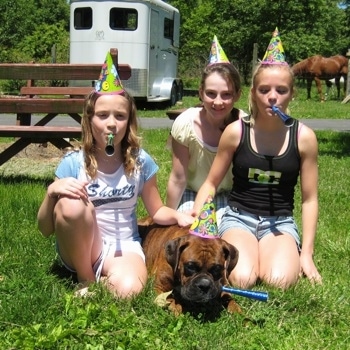 Happy First Birthday, Bruno! Bruno gets a party hat and a noisemaker.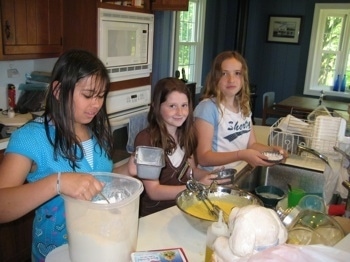 The kids decide to make Bruno a cake.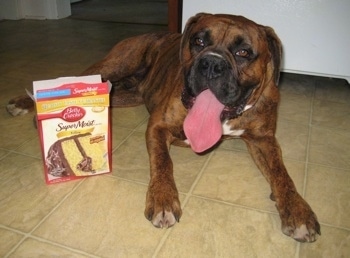 Bruno lies down and waits for them to finish. He's tired; he had just gotten back from chasing the golf cart around the fields. Just as he had gotten back from that run, he spotted Stephen riding away on the quad and took off chasing him through the woods. All of that running combined with his middle-of-the-night hike, and we have one tired pup!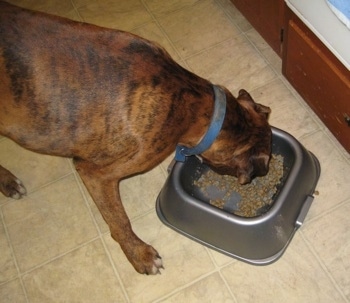 After Bruno cools down, he gets to eat some lunch.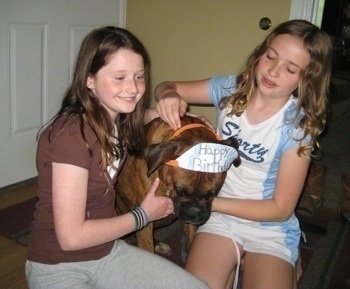 Bruno gets his own handmade party hat.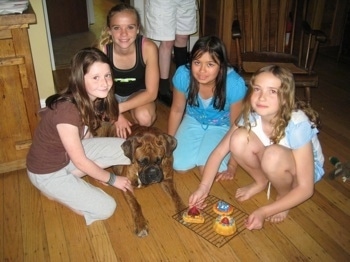 The kids finish some of their cakes. "No Bruno, these ones are not for you to eat."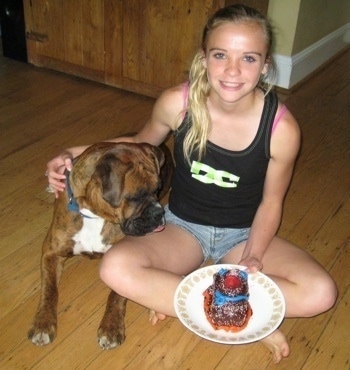 No Bruno, this cake is not for you to eat either. It's chocolate, and you are not allowed to eat chocolate.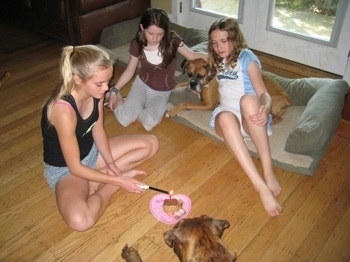 Now THIS cake is for you...it's vanilla with peanut butter icing. Topped off with a Milk Bone that is coated in pill-pocket treats. Time to sing Happy Birthday Bruno!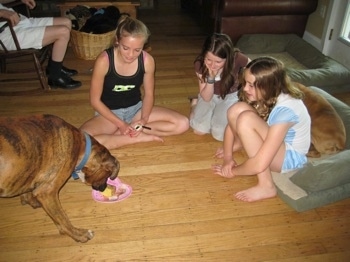 Bruno loves his cake!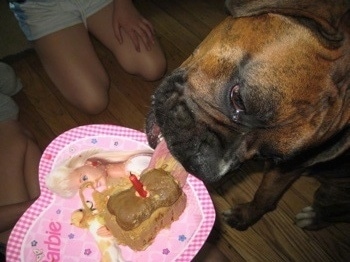 Yum! Peanut butter with a pill-pocket coated Milk Bone! Couldn't get much better than this!
Bruno has no problem finishing off his cake.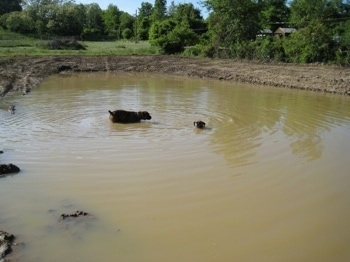 Later on, Bruno goes for a swim in the pond and romps around with Allie in the horse field while the kids catch frogs.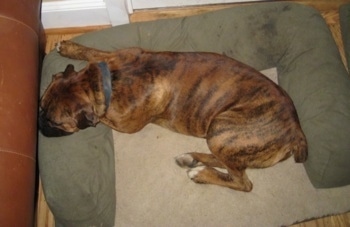 By the end of the day, Bruno is one tired pup. A tired dog is a good dog, and Bruno is one good dog! I believe he had a wonderful first birthday.