Raising a Puppy: Socialization
Puppies should be well socialized. Besides the almost three-hour trip home from his breeders the day we adopted him, Bruno the 7-week-old Boxer puppy has already attended a 40th birthday party, where he was doted over constantly. He took a long two-hour car ride to a camp, where he was once again doted on. We dropped off two of our three kids and drove two hours back home again. At the end of this week he'll be making the same trip up to the camp to bring the kids back home. Tomorrow he visits the vet. Bruno was a bit afraid of odd noises when we first got him (i.e., the sound of a tractor trailer starting up at a rest stop) but is realizing this big scary world is not so scary.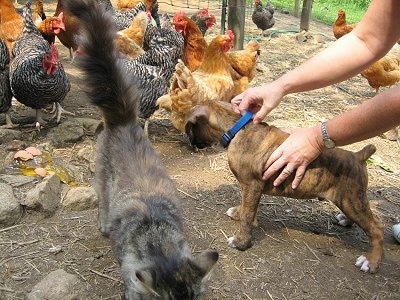 At 7 weeks Bruno is also introduced to the chickens. When he first spotted them he let out a puppy growl and barked, but soon acted more curious then anything. We'll have to take him down to see the chickens often to get him used to them. We are hoping he will not be a chicken killer like his sister Allie, our full-grown Boxer.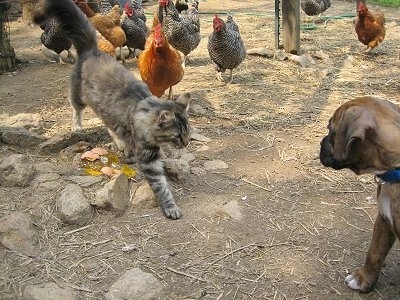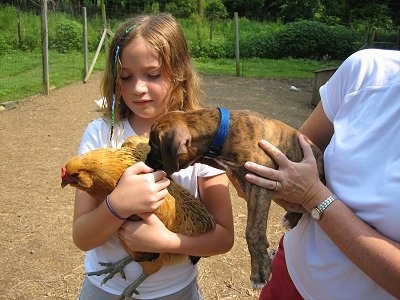 Bruno gets to smell a chicken up close. We did not let Bruno free in the coop, because he was sure to have chased them all over the place.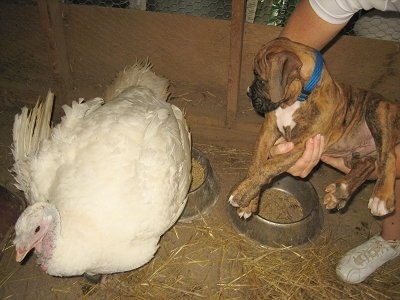 Bruno meets Wendy, our pet turkey, which reminds me I must go back down to the coop and put fly spray on Wendy's poor little head.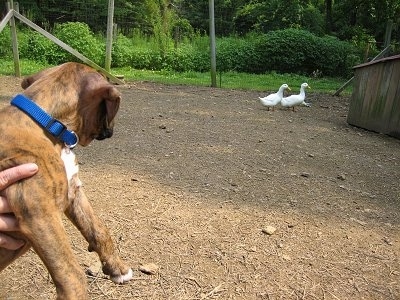 Bruno spots our ducks, Mork and Mindy. The ducks didn't want to have anything to do with the Boxer pup. They stayed as far away as they could. Smart ducks!
8 weeks and 6 days old—in his new home for 1 week and 6 days
We continue to take Bruno out on most of our errands. He comes with me to pick the kids up from karate and any other place we can manage to bring a puppy (one of us often waits outside with him). Bruno LOVES people, always greeting anyone who will get their face close enough with a kiss. Loud noises no longer freak him out. Bruno has been going somewhere in the car every single day with us since we got him. His car manners are really improving. He had a great time at a family reunion and really enjoyed a picnic at a friend's house. He also rather enjoyed all his vet visits, coming along for the ride when our other dogs had appointments. He's going to be one well-socialized pup.