Raising a Puppy: Training Basic Commands
We have only had the puppy for four days and he is now only 7 weeks old, however, I already I see the importance of teaching the pup basic commands—Sit, Stay and Come. Until I do this, Bruno will not know what it is I want from him.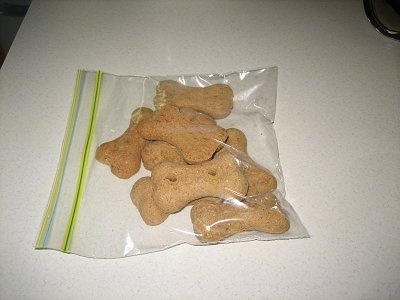 In order to teach Bruno some basic commands I needed a reward for him, something other than his dog food. I put some Milk Bone dog biscuits in a plastic Ziploc bag and beat them with a spoon to crush them in tiny pieces. Bruno is still pretty small and one of those bones would not only take a really long time to eat, but would fill his tummy and make him no longer interested in the reward.
In the beginning when teaching a puppy how to sit, stay and come, I do not move very far away from the dog. However, as they improve, I begin to move farther away and eventually can disappear out of the dog's sight and still have it obey the command.
Bruno did well and by the end of our short session made some good progress. I will have to go over these commands with Bruno several times a day in short sessions for the next week or so. Most dogs have a very short attention span, and it is not wise to have long training sessions. You will get more out of several short ones rather than one long one.