Chatham Hill Retriever
Flat-Coated Retriever / Cocker Spaniel Hybrid Dogs
Information and Pictures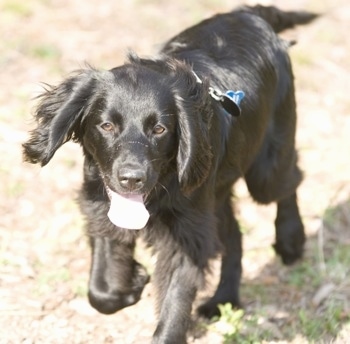 "This is Belle, one of my three Chatham Hill Retrievers. She is our black female, shown here at 6 months old. We took the picture at home on our farm. My dogs love to run free and always return to those they love. They are Flat-Coated Retrievers in every sense of the word, just smaller like the Cocker Spaniel. They love to play and are loyal to the family that loves them. They enjoy swimming and all of the human attention they get."
Other Names
Chattie
Flat-Coated Cocker Retriever
Miniature Retriever
Description
The Chatham Hill Retriever is not a purebred dog. It is a cross between the Flat-Coated Retriever and the American Cocker Spaniel. The best way to determine the temperament of a mixed breed is to look up all breeds in the cross and know you can get any combination of any of the characteristics found in either breed. Not all of these designer hybrid dogs being bred are 50% purebred to 50% purebred. It is very common for breeders to breed multi-generation crosses.
Recognition
DDKC = Designer Dogs Kennel Club
DRA = Dog Registry of America, Inc.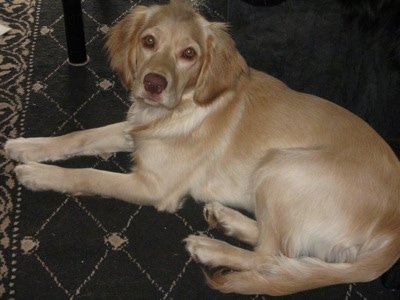 "Dory is our yellow female Chatham Hill Retriever, shown here at 7 months old."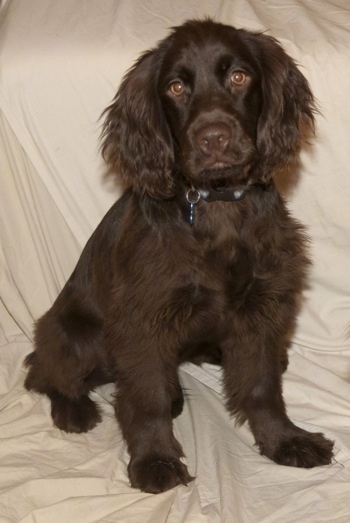 "Duncan is our brown male Chatham Hill Retriever, shown here at 5 months old."