Cojack
Jack Russell Terrier / Pembroke Welsh Corgi Hybrid Dogs
Information and Pictures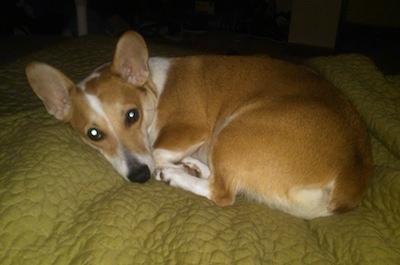 Winston the Cojack (Pembroke Welsh Corgi / Jack Russell Terrier hybrid dog) at about 1 year old—"This is Winston! He has the face of a Jack Russell Terrier with the legs of a Corgi! As a puppy, he was a little difficult to manage but after his "baby stage" he now loves to cuddle every night (and some lazy days), follow us everywhere, and is even able to go outside without a leash! For the first six months we came very close to giving up on the potty training because it seemed to be getting nowhere, but one day out of nowhere, bang, it all clicked.... So if you're a fellow owner and having trouble, do not give up! Someday without warning it will happen. Winston is such a fun-loving, energetic dog. One of his many quirks is putting his behind in the air when getting love or attention, especially from new people! We also found a "tickle spot" on the back of his neck that sends his back leg racing! He loves playing with his toys, he has quite a few, and playing with our other dog, Charlie! Charlie is a seven-year-old Bichon Frise, and an old fart to say the least. Whenever Winston is in an out of control mood, which is always, he loves to play with Charlie, even though Charlie just growls and tries to get away from the craziness that is Winston!! If you are considering a Cojack, get ready for a lot of energy!! Offset by even more love than you could imagine."
Other Names
Welsh Cojack
Cacki
Corki
Description
The Cojack is not a purebred dog. It is a cross between the Jack Russell Terrier and the Pembroke Welsh Corgi. The best way to determine the temperament of a mixed breed is to look up all breeds in the cross and know you can get any combination of any of the characteristics found in either breed. Not all of these designer hybrid dogs being bred are 50% purebred to 50% purebred. It is very common for breeders to breed multi-generation crosses.
Recognition
ACHC = American Canine Hybrid Club
DBR = Designer Breed Registry
DDKC = Designer Dogs Kennel Club
DRA = Dog Registry of America, Inc.
IDCR = International Designer Canine Registry®
Recognized Names
American Canine Hybrid Club = Cojack
Designer Breed Registry = Welsh Cojack or Cojack
Designer Dogs Kennel Club = Welsh Cojack
International Designer Canine Registry® = Welsh Cojack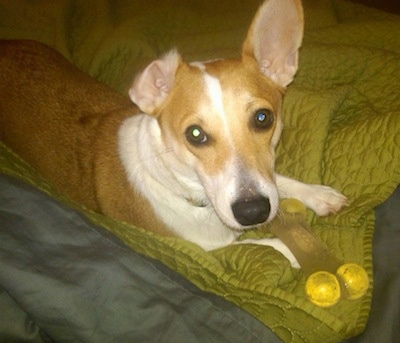 Winston the Cojack (Pembroke Welsh Corgi / Jack Russell Terrier hybrid dog) at about 1 year old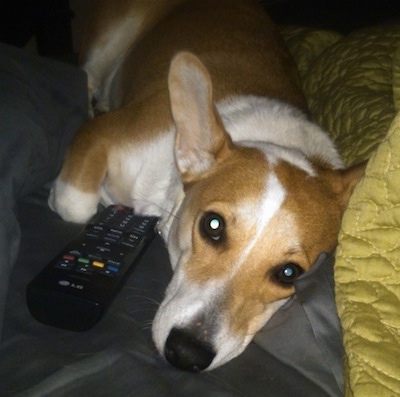 Winston the Cojack (Pembroke Welsh Corgi / Jack Russell Terrier hybrid dog) at about 1 year old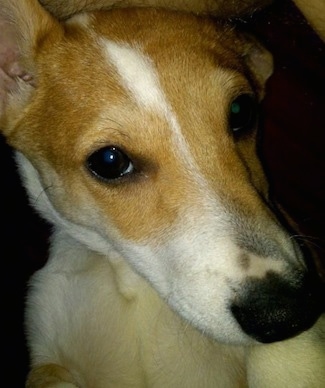 Winston the Cojack (Pembroke Welsh Corgi / Jack Russell Terrier hybrid dog) at about 1 year old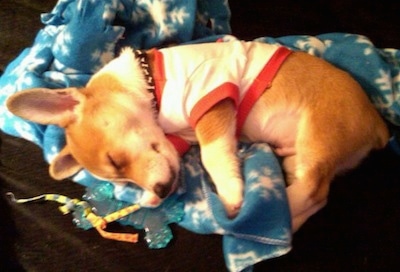 Winston the Cojack (Pembroke Welsh Corgi / Jack Russell Terrier hybrid dog) as a puppy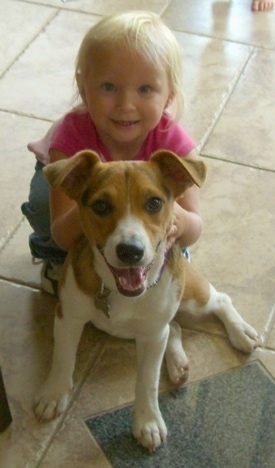 "Tory is half Corgi and half Jack Russell. She came to me at about 4 months of age, as a stray. She looked like a Beagle mix. I became so attached to her by the time her previous owner showed up, negotiations were made; I was able to keep her (very lucky day!). Discovered at that time, she's a Cojack, bred purposefully. I understand why people are breeding these hybrids. These are fantastic dogs! Tory is about a year old now and I don't know what I would do without my pal. This girl was easy to obedience train; the trick is to make training seem like a game! She knows hand signals as well as whistle recall. You can see how happy she is to perform. She has an interesting MO when she plays with other dogs, she swings her back end around and uses it to block. She jumps straight up in the air when she's excited. She's agile and so fast! When she runs after something she's curious about, she cocks her ears up, and almost hops on her back feet to get a better view. Seems she can run for miles without a rest. Tory loves the water, and is always the life of the party. As long as I keep her exercised, she's the perfect little girl. Our main exercise, I ride, she runs along side my mountain bike, or I let her pull me on a Razor scooter. She goes nuts at the beach or dog parks. Loves to play with other dogs. She's the sweetest, no aggression ever, she's learning to stand up for herself; she would rather play or move on if there's no interest. I can trust her around all ages of kids and cats. Tory is very social and although she's independent, she does notice when mom is out of sight! Super smart, I would love to have another dog like her. I had her spayed at the appropriate age, as I don't believe in breeding dogs...but I can see why it would be tempting. This Cojack barks when appropriate, never yappy, but she does go into "crazy mode" when she wants to play, she lets me know in no uncertain terms, very vocal, but she makes me laugh! If it's not possible to play, she settles down on command but lets me know her frustration with a groan. She travels easily and always the perfect guest, crate trained and knows the program. I can't say enough about my special dog. Read something about the perfect mix of two breeds, and I couldn't agree more. However this dog isn't for everyone. These hybrids need a ton of exercise or they become destructive, toys are a must too. Something of their own to chew. As long as you have the time and the means to keep them tuckered out though, you have the best companion you'll ever want. I think Cojacks are the bomb!"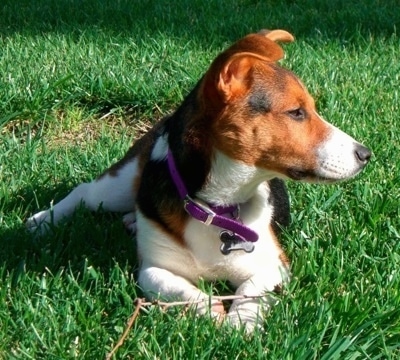 Tory the Corgi / Jack Russell mix breed dog (Cojack)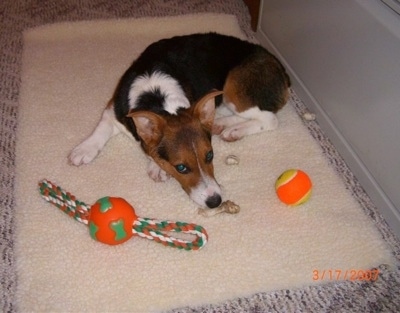 Tory the Corgi / Jack Russell hybrid dog (Cojack) wiht her toys.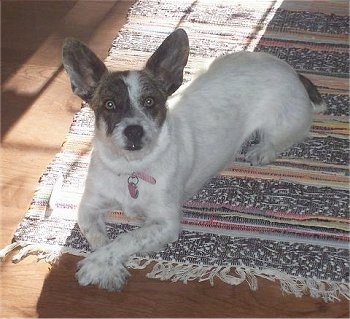 "I looked up a "JaCorgi" mix, that is what my friends and I call it, but found out that I was wrong. It was known as the Cojack!! This is my Jackie! She is a Cardigan Welsh Corgi mixed with a Jack Russell. I believe she has exactly half and half of both her parents. She is extremely sweet! Loves people and having all the attention. Total Jack Russell personality, loves to wrestle with her toys and throw it across the room then run after it and "Kill it"!! She is extremely vocal, every night I ask her "do you have to go pee-pee??" If she has to go she will answer with a big growl and if not a bark! giggle giggle! She is not vocal in the sense of a yapper but more of groans and growls. She is a beggar!! I try to teach her to stop but she stands upright on her two back legs and twirls around and can stand up for a while, she has really good balance. She weighs about 21 lbs. Loves to herd things, a Corgi trait, any other dog does not matter; twenty times bigger than she is, she will boss it around. Gets along wonderfully with other dogs and cats. Can jump about four feet in the air when she is excited! Her coat is like a perfect mix between wire hair and smooth. It is a medium coat length and sheds a bit year round. She is a bit stubborn and sometimes I just think she is too smart for her own good! Jackie is simply a high-energy, people-loving, extremely smart Cojack! I love her to death, I love that she is a perfect mix between the two breeds!"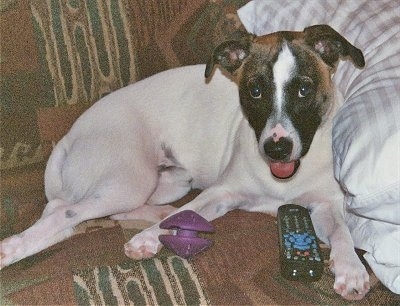 Toby the Cojack hybrid at 8 months old—"He's a Corgi / Jack Russell mix. He's very gentle and shows traits of the terrier family. He got the JR colors, but the Corgi body. He's very long and is still growing. "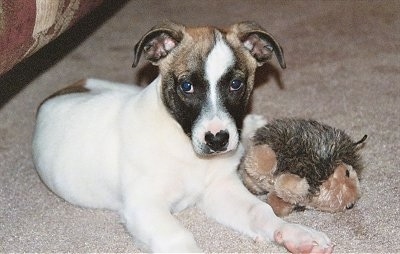 Toby the Cojack hybrid at 8 months old (Corgi / Jack Russell mix)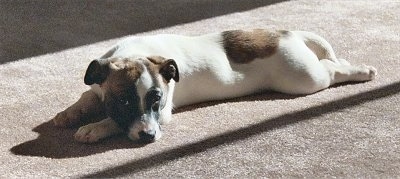 Toby the Cojack hybrid at 8 months old (Corgi / Jack Russell mix)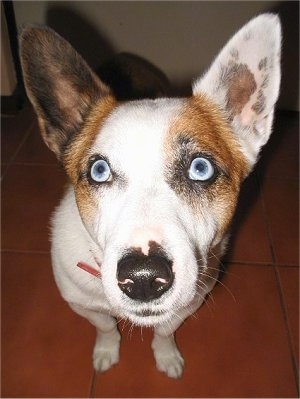 Russell the Cojack hybrid dog at 8 years old—"He is a Jack Russell x Corgi with blue eyes!"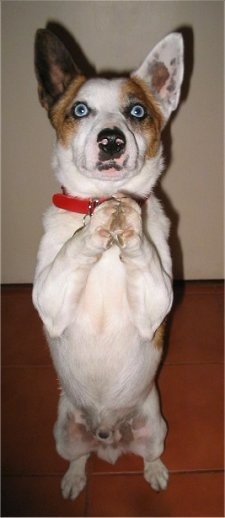 Russell the Cojack hybrid dog (Jack Russell Terrier / Corgi mix breed) at 8 years old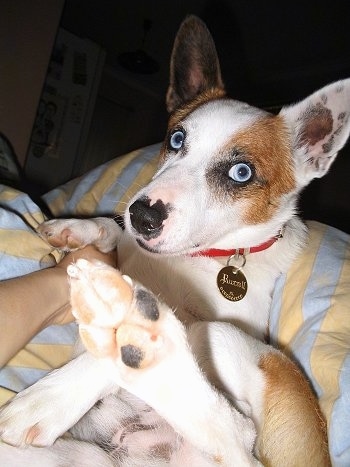 Russell the Cojack hybrid dog (Jack Russell Terrier / Corgi mix breed) at 8 years old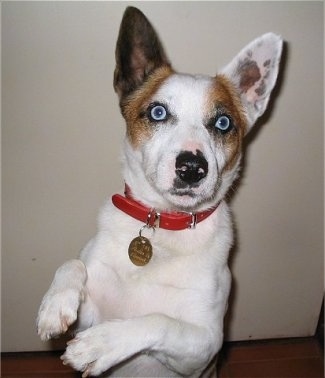 Russell the Cojack hybrid dog (Jack Russell Terrier / Corgi mix breed) at 8 years old