Crested Beagle
Chinese Crested / Beagle Hybrid Dogs
Information and Pictures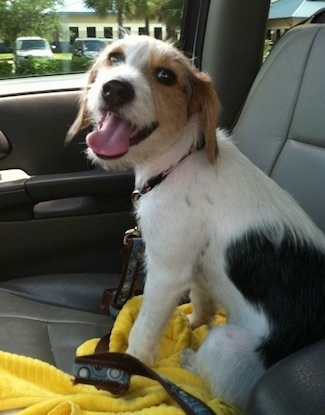 Kenya the Crested Beagle (Chinese Crested x Beagle mix) at 13 months old—"Kenya came from a puppy store in Sarasota, Florida. I walked in the door and locked eyes with the ugliest dog I had ever seen. This puppy was so ugly and strange looking...it made her downright adorable! I was 18 at the time, still living at home with parents who hate little dogs. I was at the puppy store with my two best friends who of course convinced me to buy this little mutt, and well I decided not to mention it to my parents. It's easier to ask for forgiveness than for permission. Well, my dad didn't speak to me for about 2 months, which was alright because I was graduating and moving to Orlando for school. Buying Kenya was the greatest decision of my life. She is the most special thing to me; it's almost pathetic how much I love this dog. Her eyes are cock-eyed so whenever she looks at you it melts your heart because it's just so goofy looking. She follows me around like I have a piece of meat attached to me, and whenever I'm upset and crying she wanders over to me then cuddles with me. She is the greatest companion I could ever have wished for. Such a loyal dog. And so curious!!! She definitely has a Beagle's knack for adventure! Overall, just an incredible creature, and I love her more than I could ever say!!!"
Description
The Crested Beagle is not a purebred dog. It is a cross between the Chinese Crested and the Beagle. The best way to determine the temperament of a mixed breed is to look up all breeds in the cross and know you can get any combination of any of the characteristics found in either breed. Not all of these designer hybrid dogs being bred are 50% purebred to 50% purebred. It is very common for breeders to breed multi-generation crosses.
Recognition
DRA = Dog Registry of America, Inc.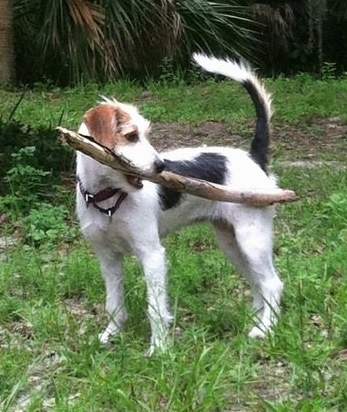 Kenya the Crested Beagle (Chinese Crested x Beagle mix) at 13 months old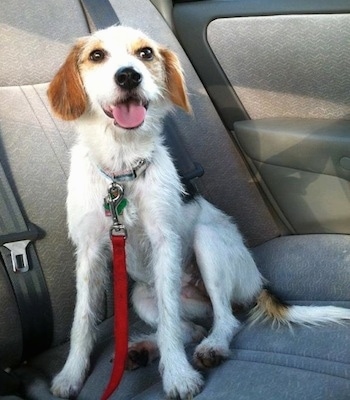 Kenya the Crested Beagle (Chinese Crested x Beagle mix) at 13 months old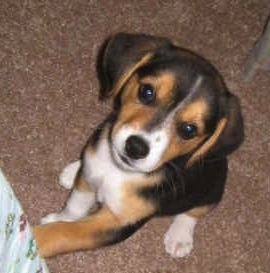 Bailey the Crested Beagle as a puppy at 2 months old—"This is my puppy Bailey. He is mixed with Chinese Crested powder puff (mom) and a tricolor 15-inch Beagle (dad). He loves to talk and tattle on our other pup. He is a very bright dog. He learned very quickly and aims to please. He was housetrained at 2 months old! He is our Little 'Nugget'."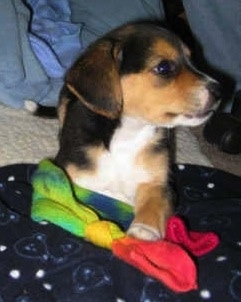 Bailey the Crested Beagle as a puppy at 2 months old