Crested Schnauzer
Chinese Crested / Dachshund Hybrid Dogs
Information and Pictures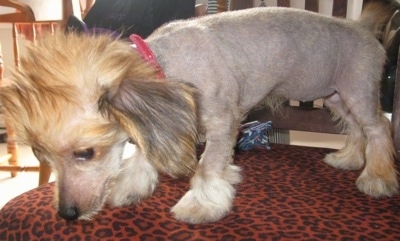 "This is my dog Soya as a 10-week-old puppy. Her mother was a Chinese Crested and her father was a longhaired Dachshund. She listens very well and understands what I want or do not want her to do. She learns new things quickly and likes to learn new tricks. She adores children and gets along well with other cats and dogs."
Other Names
Crested Doxie
Description
The Crestoxie is not a purebred dog. It is a cross between the Chinese Crested and the Dachshund. The best way to determine the temperament of a mixed breed is to look up all breeds in the cross and know you can get any combination of any of the characteristics found in either breed. Not all of these designer hybrid dogs being bred are 50% purebred to 50% purebred. It is very common for breeders to breed multi-generation crosses.
Recognition
ACHC = American Canine Hybrid Club
DRA = Dog Registry of America, Inc.
IDCR = International Designer Canine Registry®
Recognized Names
American Canine Hybrid Club = Crestoxie
International Designer Canine Registry® = Crested Doxie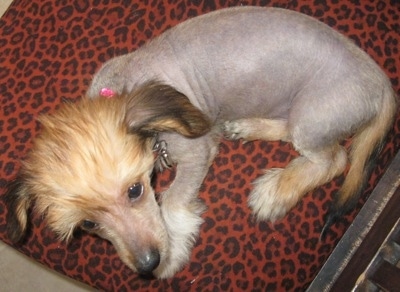 Soya the Chinese Crested / Dachshund mix puppy at 10 weeks old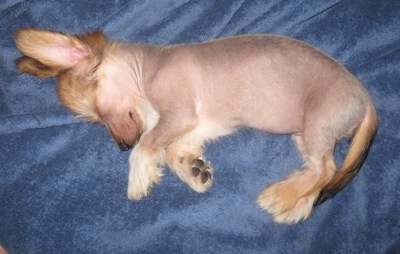 Soya the Chinese Crested / Dachshund mix puppy at 10 weeks old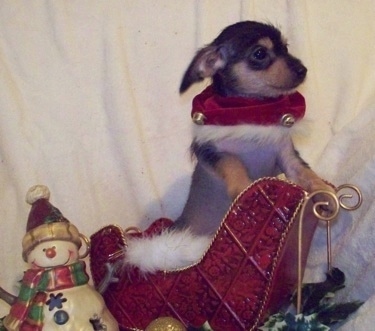 "This picture is Tiny Puppy Tales Raisinet, shown here at 8 weeks old. She is 1/2 hairless Chinese Crested and 1/2 Dachshund (Crestoxie hybrid). Raisinet should weigh around 4 lbs. full grown. Her body is hairless except for her feet, head and tail. Raisinet has a wonderful personality; she is smart and lovable and very sweet, as are both the Crested and Doxie breeds." Photo courtesy of Tiny Puppy Tales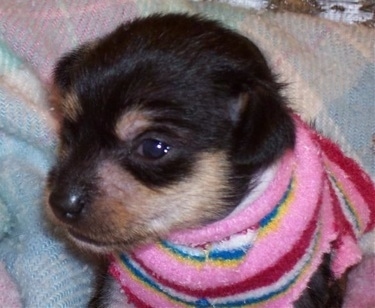 "Tiny Puppy Tales Raisinet is 1/2 hairless Chinese Crested and 1/2 Dachshund, shown here at 4 weeks old." Photo courtesy of Tiny Puppy Tales