Ambiguous Genitalia in Dogs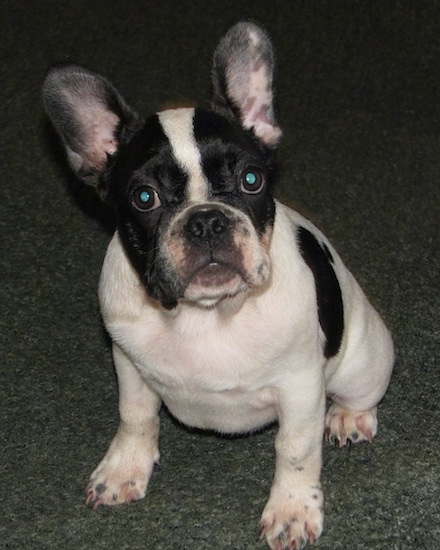 "These are pictures of our French Bulldog puppy, Moe, who we bred and later adopted out to a good home. We think he is more "boy" than "girl". He was born with "ambiguous genitalia", or say it more understanding way, he is a hermaphrodite, meaning he possessing characteristics of both male and female. He is perfectly adorable! This condition happens in all species, including homo sapiens (humans). We whelped him and raised and he was adopted, went to Las Vegas to live with his new owner and he was supposed to be a Mascot for LGBT Volley Ball Team!"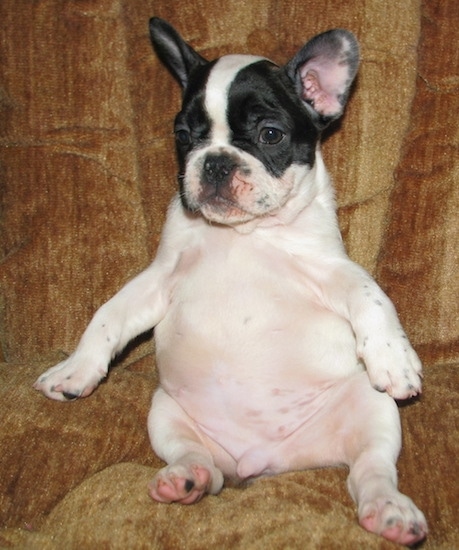 "Moe's condition does not affect his ability to go pee-pee in any way. The good thing is that puppies born with this defect are always sterile with no chance of perpetuating the problem."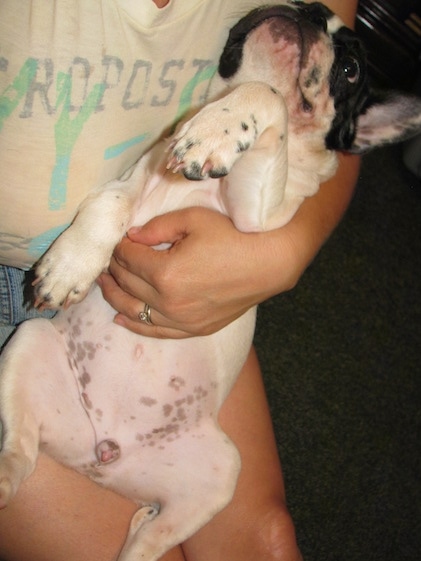 "We believe he has more "male" characteristics than "female". However his "wee-wee" was located in-between where the male and female parts are normally located. It was not exactly where the male part would be, but not where is female parts would be either, rather in-between."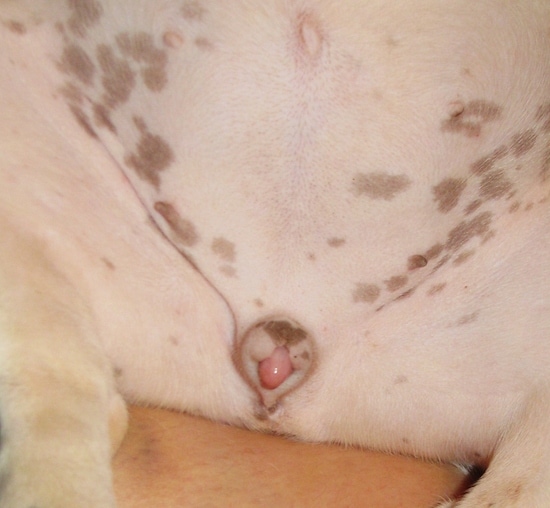 "Visually his organ was appearing as a "vulva", but you can clearly feel a little "bone" where it would be if it was a male part. He never had testicles. As he grew up the "thing" which was looking like something in-between a male part and clitoris started popping out of his sheath. It was not "hanging out" all the time, just like you can see in male dog's at times."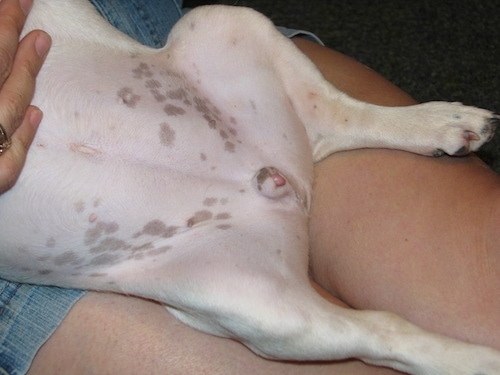 "He is now an adult dog and unfortunately I lost contact with the person who adopted him. I do not know if there were any problems caused by this inner male/female exposing itself or if he is just fine. I read in severe cases if the "thing" exposing itself was too much without going back it might have to be surgically corrected."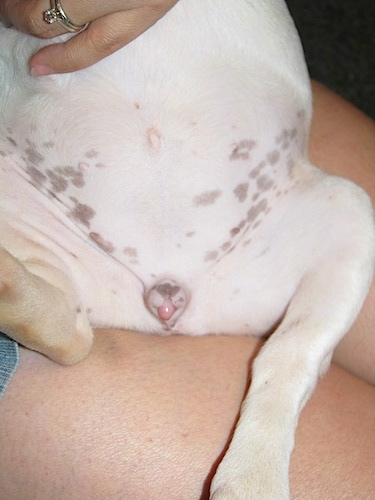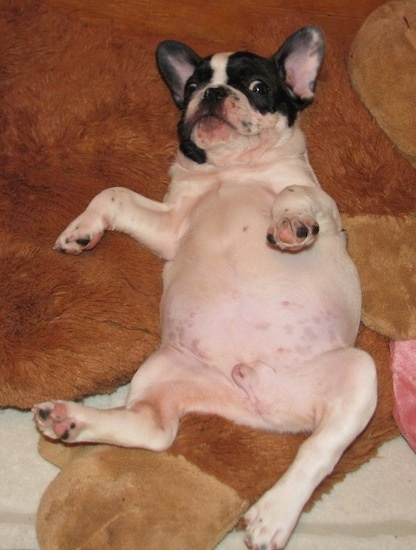 "I never thought about it this way... God gave me an amazing puppy with "ambiguous genitalia". Amazing Rainbow Moe now stands up for Equality. All puppies are cute and equal... boys and girls... and those that are in "between" even more cuter than anyone else! God is Great! Amen."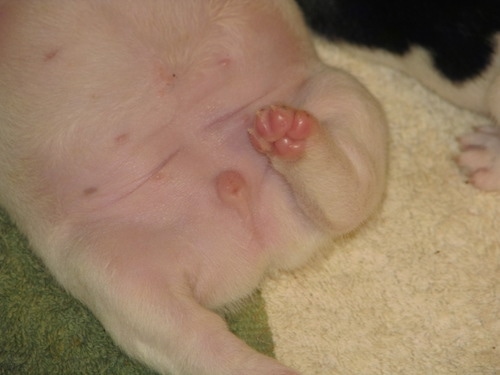 French Bulldog with ambiguous genitalia as a young puppy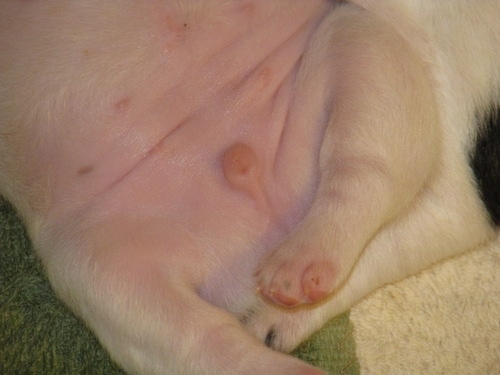 French Bulldog with ambiguous genitalia as a young puppy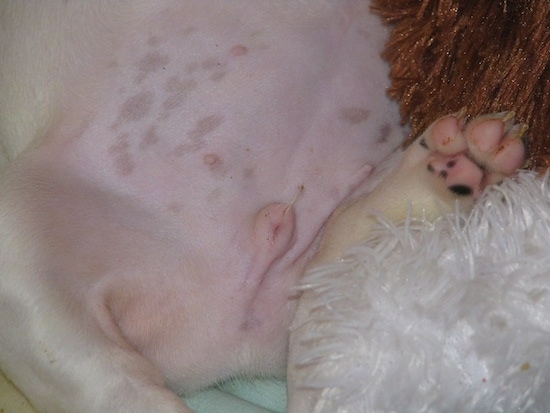 French Bulldog with ambiguous genitalia as a young puppy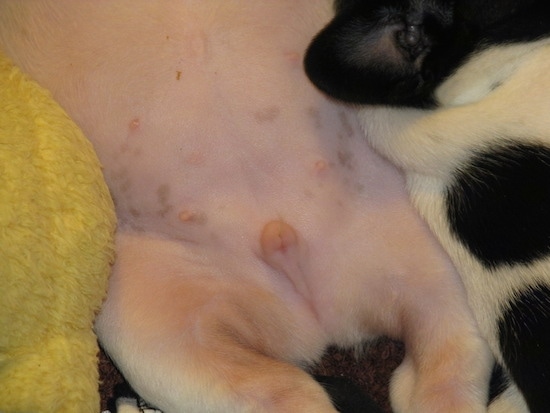 French Bulldog with ambiguous genitalia as a young puppy
Although this section is based on a whelping of an English Mastiff, it also contains good general whelping information on large-breed dogs. You can find more whelping information in the links above. The links below tell the story of Sassy, an English Mastiff. Sassy has a wonderful temperament. She loves humans and adores children. An all-around mild mannered, wonderful Mastiff, Sassy, however, is not the best mother toward her puppies. She is not rejecting them; she will nurse them when a human places them on her to feed, however she will not clean the pups or pay any attention to them. It is as if they are not her puppies. This litter is getting mom's milk with major human interaction, manually giving each and every pup what they need. In return, the pups will be super socialized and will make remarkable pets, however the work involved is astounding. It takes one dedicated breeder to keep this situation healthy. Thankfully this litter has just that. Read the links below to get the full story. The pages within include a wealth of information that everyone can appreciate and benefit from.
Whelping: Close-to-Textbook Case