Cava-lon
Cavalier King Charles Spaniel / Papillon Hybrid Dogs
Information and Pictures
Mickey the Cava-lon at about 2 years old, weighing 14 pounds—"We took 3 courses from a local trainer, including "Good Neighbor." She also trains "companion" dogs. She uses a "positive reinforcement" method of training. Then we learned about The Dog Whisperer and started using his methods. Then someone told us about a local trainer who teaches Cesar's methods so we went with the private trainer. Mickey (by that I mean me and my wife) went through over a year of training, and of course, it never ends. At first he was very excitable. As a rescue dog we didn't know his background for his first year of life. While he didn't bite anyone, he sort of nipped while excited and caught a few little noses on the neighbor kids. We learned (from Cesar) to teach the kids to keep Mickey calm, keep their faces away from him, and to be the pack leader! We taught the kids to tell Mickey to sit, stay, come and they love it! And so does Mickey! And that keeps them from giving him hugs, which gets him excited and puts their faces near his teeth. It was up to us to train the kids! Now they all love him and he loves to perform when they play with him."
Other Names
Cavallon
Pomalier
Description
The Cava-lon is not a purebred dog. It is a cross between the Cavalier King Charles Spaniel and the Papillon. The best way to determine the temperament of a mixed breed is to look up all breeds in the cross and know you can get any combination of any of the characteristics found in either breed. Not all of these designer hybrid dogs being bred are 50% purebred to 50% purebred. It is very common for breeders to breed multi-generation crosses.
Recognition
ACHC = American Canine Hybrid Club
DDKC = Designer Dogs Kennel Club
DRA = Dog Registry of America, Inc.
IDCR = International Designer Canine Registry®
Recognized Names
American Canine Hybrid Club = Cava-lon
Designer Dogs Kennel Club = Cava-lon
IDCR = International Designer Canine Registry® = Cavallon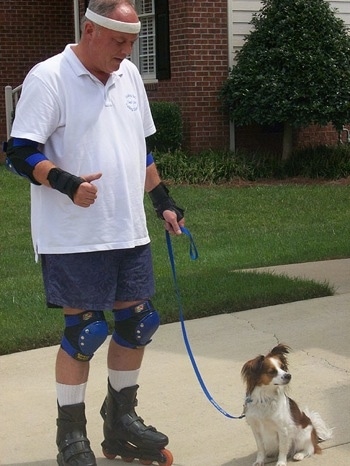 Mickey the Cava-lon heading out rollerblading with this owner—"We walk him in the morning before work, again right after work, after dinner, and we go out with him on a leash in the backyard before going to bed to be sure he "goes." He goes out in our fenced-in backyard to chase squirrels and bunnies at his convenience when we're home. Our biggest issue is that he gets very excited and hard to calm down. That has been our goal, learning how to get him into a calm state during walks, or rather, how to keep him from escalating. That's on us, not Mickey! It has been going great! We can introduce him to other dogs now (that used to be a huge issue) without barking or biting! Our most effective tool has been to walk into him, stand directly in front of him and back him up (while he's barking at another dog walker). That gets him to look up at ME and stop looking at the other dog. It reinforces that I'm the pack leader, it backs him up into a sitting position, and he stops barking. I don't have to say a word. But I only do that when he gets nuts, mostly he has accepted that other dogs pass by. The worst is if a jogger or bicycle comes up quickly from behind us. If I hear them coming I stop and turn him around so he doesn't get surprised, then he's fine."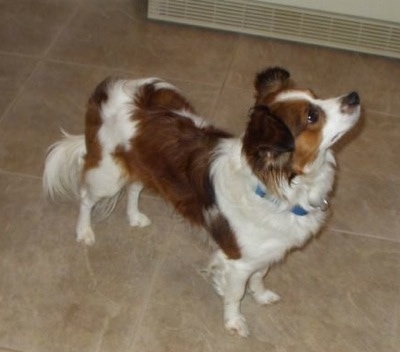 Mickey the Cava-lon—"Overall, he is a great little dog! My wife holds and cuddles him, and dresses him up for Halloween (he gives me a look when she's putting a costume on him that says, "Help me?"). I don't ever let him on my lap or pick him up (and he NEVER gets on our bed!). But he likes to lie on the floor on top of my foot and chew his rawhide stick or (stuffing-less) doll. I sit on the floor and play with him and his fox (doll with no stuffing) just about every night, figuring he needs attention after being alone all day while we're at work."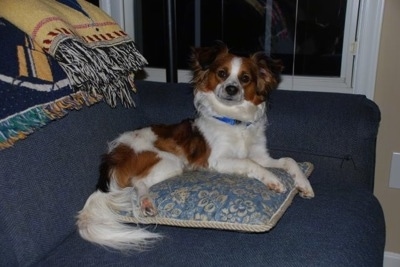 Mickey the Cava-lon at about 2 years old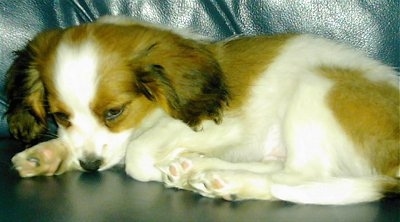 10-week-old Cava-lon puppy taking a nap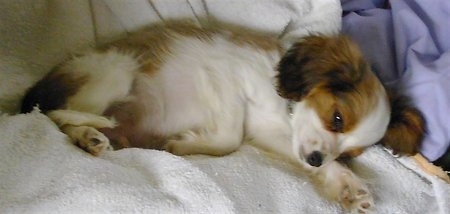 10-week-old Cava-lon puppy resting
10-week-old Cava-lon puppy sitting on the couch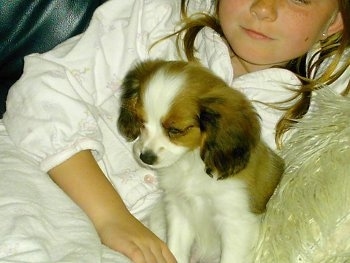 10-week-old Cava-lon puppy hanging out with its owner