Chonzer
Bichon Frise / Miniature Schnauzer Hybrid Dogs
Information and Pictures
Smokey the Chonzer at 2 years old—"He is a mix between a Mini Schnauzer and Bichon Frise. He is very loving and sweet. He loves to curl up in your lap when we watch TV. He likes to go in the car and on the boat. He is an excellent swimmer. He was very easy to housetrain and has never made a mess since he was 3 - 4 months old. He likes to play with our outside cat and chase birds. He usually listens very well. He is wild and sometimes ignores you when he doesn't want to come inside."
Description
The Chonzer is not a purebred dog. It is a cross between the Miniature Schnauzer and the Bichon Frise. The best way to determine the temperament of a mixed breed is to look up all breeds in the cross and know you can get any combination of any of the characteristics found in either breed. Not all of these designer hybrid dogs being bred are 50% purebred to 50% purebred. It is very common for breeders to breed multi-generation crosses.
Recognition
ACHC = American Canine Hybrid Club
DDKC = Designer Dogs Kennel Club
DRA = Dog Registry of America, Inc.
IDCR = International Designer Canine Registry®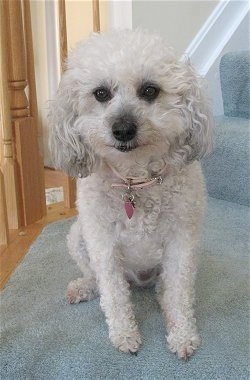 "This is my Bichon / Schnauzer mix. Her name is Candy and she is 7 years old. She has a very human-like temperament. She is also very prissy and likes to pose and only sleeps on the softest pillows or blankets. Candy is very attached to me and always needs my attention. This makes her also very jealous. One time I was petting my cat and Candy came up and knocked the cat off the bed with her butt! Her coat is like a Bichon's but she has sprouts of wiry hairs. It is not pure white but sort of this indescribable off-white color. It's very hard to manage and only looks nice at about a half-inch length. Her mother was a pedigree Bichon who was one of my pets. Candy is like my sidekick, we are always together. I like to walk her around with her fuzzy pink marabou leash. We are a good pair because she's white (kind of) and I have white blonde hair."
Sprocket the Chonzer (Bichon Frise / Mini Schnauzer mix breed dog)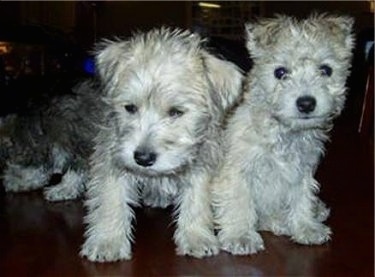 Chonzer puppies Reece and Maddox; ½ Schnauzer ½ Bichon Frise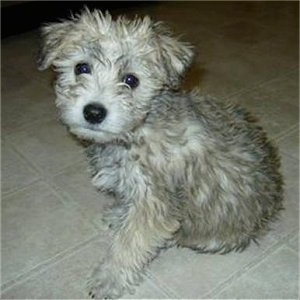 Reece the Chonzer (Bichon Frise / Schnauzer hybrid puppy)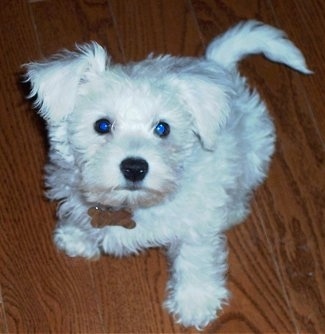 Jalen the Chonzer (Bichon / Mini Schnauzer hybrid puppy) at 10 weeks old