Cock-A-Mo
American Eskimo / Cocker Spaniel Hybrid Dogs
Information and Pictures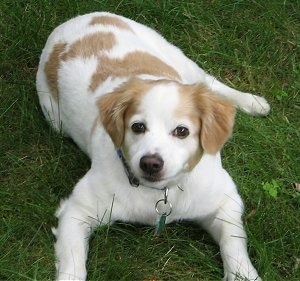 Max the Cockamo is very feisty and loves to play outside. He is 9 years old in this photo but acts like a puppy!
Other Names
Cockamo
Description
The Cock-A-Mo is not a purebred dog. It is a cross between the American Eskimo and the Cocker Spaniel. The best way to determine the temperament of a mixed breed is to look up all breeds in the cross and know you can get any combination of any of the characteristics found in either breed. Not all of these designer hybrid dogs being bred are 50% purebred to 50% purebred. It is very common for breeders to breed multi-generation crosses.
Recognition
ACHC = American Canine Hybrid Club
DDKC = Designer Dogs Kennel Club
DRA = Dog Registry of America, Inc.
IDCR = International Designer Canine Registry®
Recognized Names
American Canine Hybrid Club = Cock-A-Mo
Designer Dogs Kennel Club = Cock-A-Mo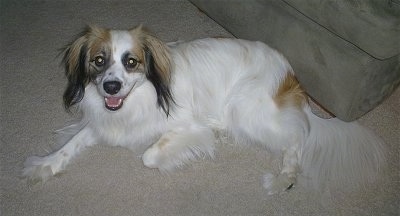 "Suggie (pronounced "Shoogy", derived from Sugar ;-) is a 2½-year-old-bundle of love. He's a Cock-A-Mo (American Cocker Spaniel x American Eskimo). He was all alone sitting in a cage in a boring old pet store. He was the cutest dog I'd seen in a while so I went over and tapped on the glass. He was an older puppy, about 5 months at the time. The clerk told me that he's been there for a while and he wasn't selling because people wanted a little, younger puppy. Since I wasn't looking for a dog, just picking kitty supplies, I walked away. (Also, my husband didn't want a dog.) Something kept drawing my eyes over to the little cutie so I went back over and asked to see him. The moment he ran up to me and peed on my foot, I knew he was the one! Despite my better judgment, I bought him on the spot. I was NOT prepared to be a puppy parent. The pet store workers were so eager to see him go they let me take him home for $199. I've always been against buying a dog from a pet store, but I couldn't imagine his fate if I left him there any longer.
Love at first sight really does exist. My husband saw me pull up and take the dog out of my car and he was smitten. We have the most affectionate, obedient, sweetest dog on the planet. He was our baby. Then we got pregnant with our second child. We were so worried that there'd be insane jealousy but it was quite the opposite. Suggie was easy to train (despite being in a cage for the first 5 months of his life) and loves children. His only vice: He also loves to escape when we leave the door cracked. He runs around the neighbors' yards until we lure him in with a treat. Oh well, nobody is perfect!!! But Suggie is close!"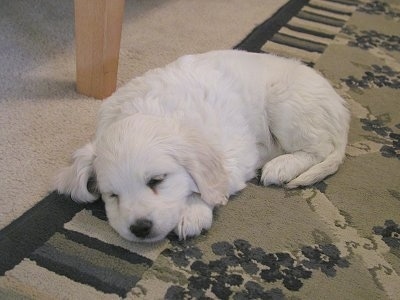 Cosmo the Cockamo puppy
Foxie the American Eskimo / Cocker Spaniel mix (Cock-A-Mo)—"Foxie is a fabulous little girl. She is also a dog actor. She shot a feature length movie which was shown at the Sundance Film Festival and stars Tom Waits."