Crested Malt
Chinese Crested / Maltese Hybrid Dogs
Information and Pictures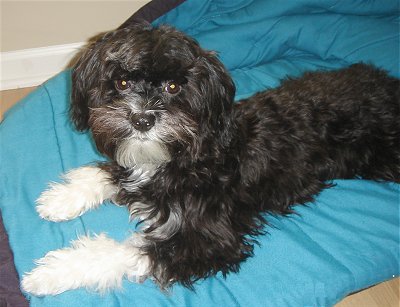 This is Rocky Balboa, a black-and-white tuxedo pattern Chinese Crested powder puff / Maltese mix (Crested Malt) at 11 months old and about 11 pounds. "He is SO playful and SO affectionate, and is the happiest when he's cuddling up against you or on top of you!! He got his name because when I first saw him, he was standing on his hind legs pumping his front paws at the other dogs and everyone around...hence the white paws were his boxing gloves. He still does this everywhere he goes and gives quite a performance for everyone!"
Other Names
Crestese
Chinese Crestese
Crested Maltese
Description
The Crested Malt is not a purebred dog. It is a cross between the Chinese Crested and the Maltese. The best way to determine the temperament of a mixed breed is to look up all breeds in the cross and know you can get any combination of any of the characteristics found in either breed. Not all of these designer hybrid dogs being bred are 50% purebred to 50% purebred. It is very common for breeders to breed multi-generation crosses.
Recognition
ACHC = American Canine Hybrid Club
DDKC = Designer Dogs Kennel Club
DRA = Dog Registry of America, Inc.
IDCR = International Designer Canine Registry
Recognized Names
American Canine Hybrid Club = Crested Malt
Designer Dogs Kennel Club = Crested Malt
International Designer Canine Registry® = Crested Maltese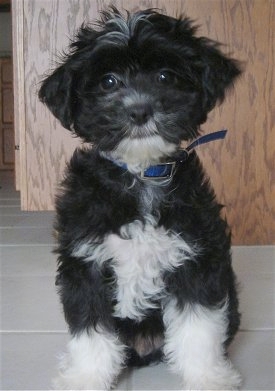 Rocky Balboa the Crested Malt puppy at 3 months old and 3½ pounds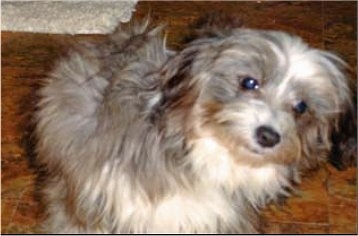 7-month-old Crested Malt named Jumbalaya, Jumbo for short—his owner says, "His mother is a registered powder puff Chinese Crested and his dad a registered Maltese. Not only is he the cutest little thing, but he has the best personality. He blended immediately with his new family of 2 Greyhounds, a Golden Retriever mix and a terrier mix. He weighs in at just under 6 pounds now and is anticipated to mature to about 7 pounds."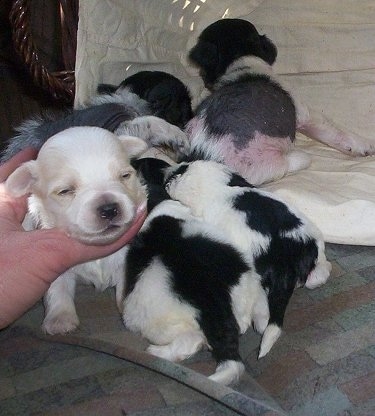 A litter of Chinese Crestese puppies, photo courtesy of Burr Oaks Kennels
A litter of Chinese Crestese puppies, photo courtesy of Burr Oaks Kennels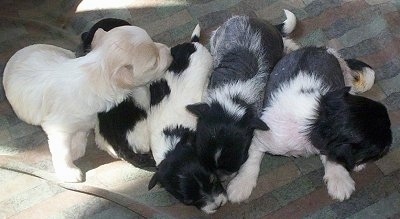 A litter of Chinese Crestese puppies, photo courtesy of Burr Oaks Kennels