Dachsador
Dachshund / Labrador Retriever Hybrid Dogs
Information and Pictures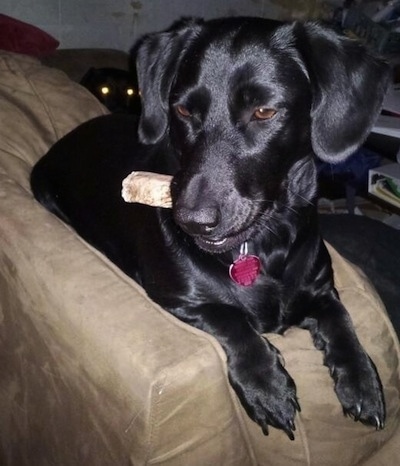 Bitsy the Dachsador (Labrador Retriever / Dachshund mix) at 2 1/2 years old—"Bitsy is a very loving dog. My friend rescued her and her sister off the side of the road where someone left them in a box on a street corner for hours one summer. Since we've had her she started off shy, but now is an attention hog. She never turns a treat down, if she isn't hungry she will hoard her treats for later. She makes a great cuddle buddy, and if your upset she will be the first to comfort you and lay by your side until you feel better. She also loves to explore, play, chase other animals (besides dogs), and is full of puppy kisses. She also loves her big sister Paris (a Bassador)."
Other Names
Doxador
Doxidor
Weinerdor
Description
The Dachsador is not a purebred dog. It is a cross between the Dachshund and the Labrador Retriever. The best way to determine the temperament of a mixed breed is to look up all breeds in the cross and know you can get any combination of any of the characteristics found in either breed. Not all of these designer hybrid dogs being bred are 50% purebred to 50% purebred. It is very common for breeders to breed multi-generation crosses.
Recognition
DRA = Dog Registry of America, Inc.
Bitsy the Dachsador (Labrador Retriever / Dachshund mix) at 2 1/2 years old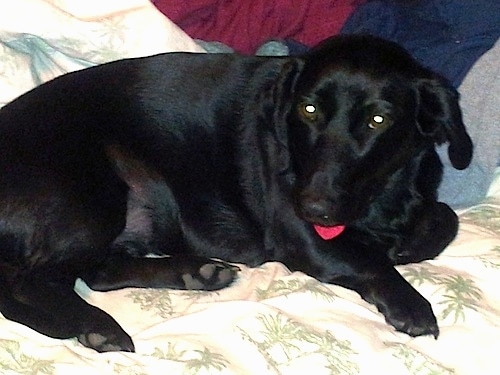 Bitsy the Dachsador (Labrador Retriever / Dachshund mix) at 2 1/2 years old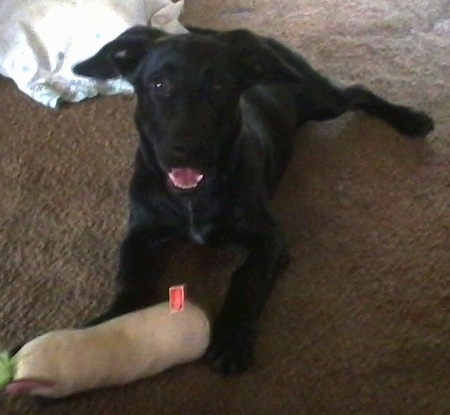 Bella the Dachsador (Labrador Retriever / Dachshund mix) at 6 months old—"My dog is a Dachshund / Lab mix. Her name is Bella and she is about 6 months old in this picture. Her body is long and big, and her front and back legs are short like a Dachshund. She may be odd looking but she is cute. She loves to play fetch, is very energetic and is housebroken. I love to watch the Dog Whisperer. I use some of his techniques such as; Tsst. I think it works or maybe I'm not doing it right. When ever my 8 and 10 year old kids play with her she tends to bite there ankles. I tell her no. I should probably go over to her and discipline her."
Buster the Dachsador at 1 1/2 years old —"Buster is a Labrador / Dachshund mix that was rescued from the streets. He is about a year and a half and full grown at 40 lbs in this picture. He looks like a midget Lab. He just has short legs. Buster seems like he will never grow out of the puppy stage. He is well mannered, was easy to train and potty train, and loves to play with any dog of any size. He loves playing games, but he is a little trickster! He will fetch a ball and drop it at my feet, but when I reach down to get it, he grabs it in his mouth and runs away again, wanting me to chase him. He used to chew things (random papers, sandals, headphones, etc.) when I left him home alone, but by the time he was about a year old he grew out of that bad habit. He loves running around outside. He loves the water like a Labrador, and he is quick at chasing animals and digging, just like the Dachshund was bred to do. He thinks he is a lap dog, but he is just too big for that."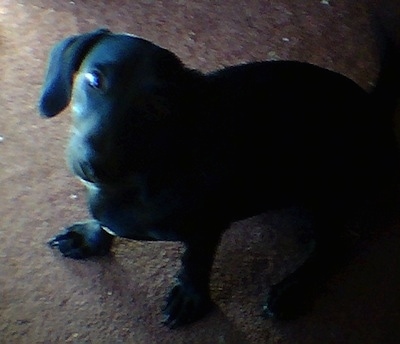 Marion the Dachshund / Labrador Retriever mix at 6 months old