Double Doodle
Goldendoodle / Labradoodle or Golden Retriever / Labrador Retriever / Poodle Hybrid Dogs
Information and Pictures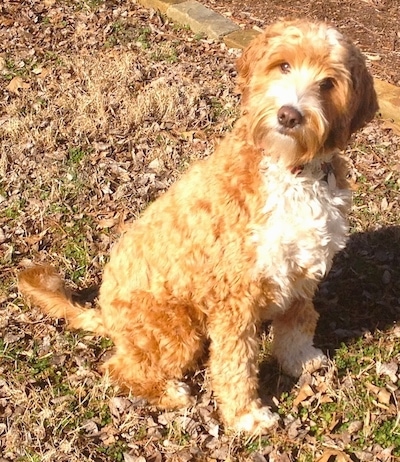 Charlie the Double Doodle at 1 1/2 years old—"Charlie is a true Double Doodle. His mother was a Labradoodle and his father a Goldendoodle -- each multi-generation. He has an incredible personality and is full of love, intelligence, and fun. He loves other animals and people. Charlie can play with you at 100 miles per hour or lounge all day on the couch. Zero shedding. He weighs 35 pounds, though they come in various sizes. Great family dog!!"
Other Names
Double Doodlepoo
North American Retriever
Golden Labradoodle
Description
The Double Doodle is not a purebred dog. It is a cross between the Goldendoodle and the Labradoodle or various combinations of the Golden Retriever, Labrador Retriever and the Poodle. The Goldendoodle is a Golden Retriever crossed with a Poodle and the Labradoodle is a cross between the Labrador Retriever and the Poodle. Not all of these designer hybrid dogs being bred are 50% purebred to 50% purebred. It is very common for breeders to breed multi-generation crosses. As a result, even when crossed as a Goldendoodle and Labradoodle, the Double Doodle is not always 1/4 Golden Retriever, 1/4 Labrador Retriever and 1/2 Poodle. It all depends on what generation dogs the parents were. They can be various combinations of Labrador Retriever, Golden Retriever and Poodle. The mix has been called various names, such as Double Doodle, North American Retriever and Golden Labradoodle. The best way to determine the temperament of a mixed breed is to look up all breeds in the cross and know you can get any combination of any of the characteristics found in any breed.
Recognition
DRA = Dog Registry of America, Inc.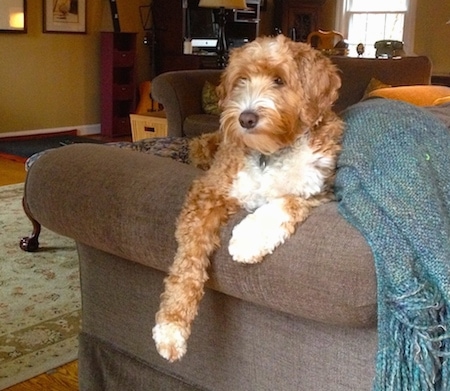 Charlie the Double Doodle at 1 1/2 years old hanging out on the couch.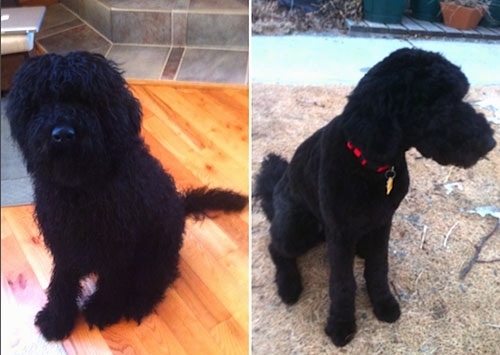 Banshee the Double Doodle at 7 and a half months old—"Her mom is a chocolate Labradoodle and her dad is a blonde Goldendoodle. All of the puppies turned out pitch black. Her hair is very wooly. I decided to get her groomed and it was like they gave me back a different dog!"