Danish Broholmer
Information and Pictures
Elmedals Kvaser, photo courtesy of Charlotte Kristensen
Other Names
Broholmer
Pronunciation
--
Description
A Mastiff-type dog of large size, rectangular and strongly built, with composed and powerful movement, its appearance is dominated by powerful forequarters. The head is massive and wide, the neck is sturdy with some loose skin, and the chest is broad and deep. At rest, the head is carried rather low and stooping, and the tail hangs down sabre-like. When moving, the tail is carried higher, but not over the topline. When the dog is attentive or aroused, the head is carried higher and the tail is raised above horizontal. The coat is short and close lying, with a thick undercoat. The coat comes in yellow with black mask, golden red and black. White markings on chest, feet and tip of tail are optional.
Temperament
Calm, good tempered, friendly, yet watchful, the owner of the Broholmer must show great self-confidence. The objective in training this dog is to achieve pack leader status. It is a natural instinct for a dog to have an order in their pack. When we humans live with dogs, we become their pack. The entire pack cooperates under a single leader; lines are clearly defined and rules are set. Because a dog communicates his displeasure with growling and eventually biting, all other humans MUST be higher up in the order than the dog. The humans must be the ones making the decisions, not the dogs. That is the only way your relationship with your dog can be a complete success.
Height, Weight
Height: 22 - 30 inches (70 - 75 cm)
Weight: 87 - 176 pounds (40 - 80 kg)
Health Problems
--
Living Conditions
The Broholmer will do okay in an apartment if it is sufficiently exercised. They are relatively inactive indoors and a small yard will do.
Exercise
This breed needs a daily, long walk, where the dog is made to heel beside or behind the human holding the lead. Never in front. Like many other giant breeds it is important to remember that too much forced, vigorous exercise is not good for a young dog's growth and development, so watch your puppy for any signs, but it still instinctually needs a daily walk.
Life Expectancy
About 6-11 years
Litter Size
About 4 to 10 puppies
Grooming
Seasonal heavy shedder
Origin
The Danish Broholmer originated in Denmark. As a type this breed has been known since the Middle Ages, when it was used for hunting (stag-hunting). Later on it was used mainly as a guard dog for large farms and manors. At the end of the18th century these dogs were breeding pure and increased in number thanks to the royal game keeper Sehested of Broholm, from where the breed inherited its name. After the Second World War the breed almost became extinct, but around 1975 a group of committed people organized a group called "The Society for Reconstruction of the Broholmer Breed." They were supported by the Danish Kennel Club and began the work of reviving the breed.
Group
Mastiff type
Recognition
ACA = American Canine Association Inc.
AKC/FSS = American Kennel Club Foundation Stock Service® Program
DRA = Dog Registry of America, Inc.
FCI = Fédération Cynologique Internationale
UKC = United Kennel Club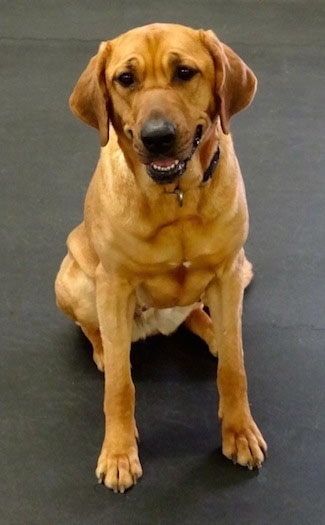 Honor the Danish Broholmer at 3 years old—"Honor is the rarest breed in the USA. She is a beautiful "sweet as pie" Danish Broholmer. She is a big girl, at 28 inches at the withers and 120 pounds. She thinks she is a lap dog and loves giving kisses to whomever she meets. She needs moderate exercise and loves long walks. She is easy to train and is just full of love, although her size and bark would scare any intruder. We plan on breeding our first US born litter with Honor this year."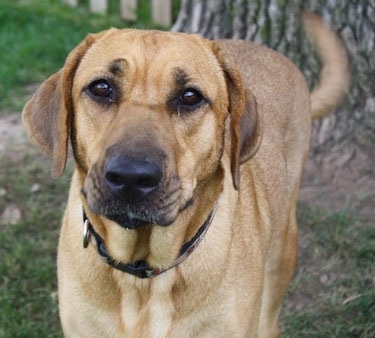 Honor the Danish Broholmer at 3 years old
Honor the Danish Broholmer at 3 years old
Aslan the Danish Broholmer as a 4-month-old puppy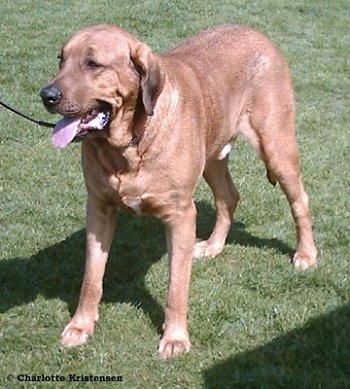 Dani, photo courtesy of Charlotte Kristensen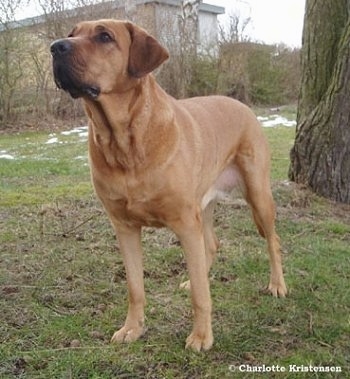 Signe, photo courtesy of Charlotte Kristensen
Elmedals Kvaser at almost 3 years of age, photo courtesy of Charlotte Kristensen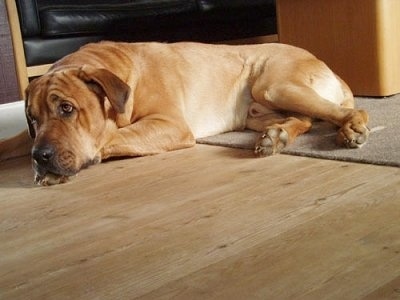 Resting like a real Broholmer. Photo courtesy of Charlotte Kristensen