Dorkie
Dachshund / Yorkie Hybrid Dogs
Information and Pictures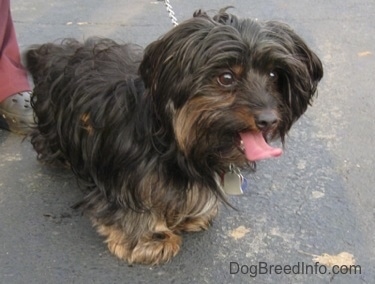 Barney the Doxie / Yorkie mix—realizing Barney had developed Small Dog Syndrome, as most small dogs do, the owners started working on getting Barney to heel on a lead while out on a walk. When Barney realized he was no longer in charge he could relax. It's very stressful for such a small dog to have to run an entire pack of humans! Barney proved to be rather submissive once it was communicated he was no longer in charge. He willingly gave up the position and the owners will need to be consistent with him in order to keep it away from him.
Other Names
Dorkie Terrier
Description
The Dorkie is not a purebred dog. It is a cross between the Dachshund and the Yorkshire Terrier. The best way to determine the temperament of a mixed breed is to look up all breeds in the cross and know you can get any combination of any of the characteristics found in either breed. Not all of these designer hybrid dogs being bred are 50% purebred to 50% purebred. It is very common for breeders to breed multi-generation crosses.
Recognition
ACHC = American Canine Hybrid Club
DBR = Designer Breed Registry
DDKC = Designer Dogs Kennel Club
DRA = Dog Registry of America, Inc.
IDCR = International Designer Canine Registry®
Recognized Names
American Canine Hybrid Club = Dorkie
Designer Breed Registry = Dorkie
Designer Dogs Kennel Club = Dorkie
International Designer Canine Registry® = Dorkie Terrier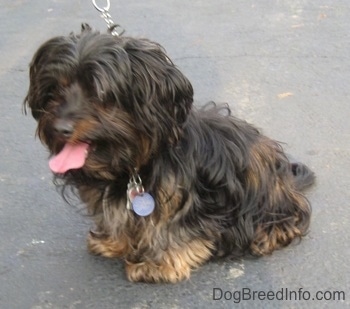 Barney the Doxie / Yorkie mix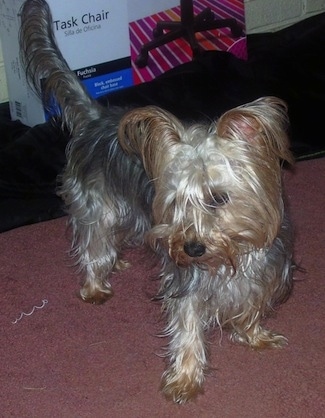 "This is Little SissyGoof. She is a 2-year-old Yorkie / Dachshund mix. She was the only puppy from her litter that was silver. Her hair changes colors depending on the weather. When it starts to warm up in the spring, her hair turns blond, but maintains much of the silver. She is very energetic and loves to play. She has a playmate who is a Lab / Shepherd mix; Chloe is eight times as big as Sissy and it is fun to watch them play together. Sissy enjoys playing with her toys and cuddling up to people."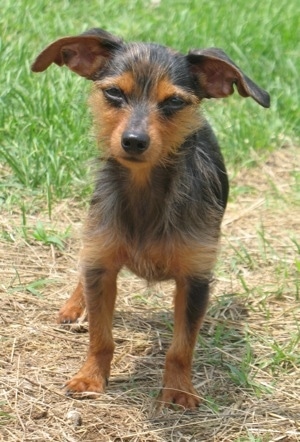 "This is Winston, my wonderful little Dorkie. I took this picture of him when he was playing on my parents' farm. He is a very smart little man. We use many of Cesar's training techniques with Winston, and they definitely work. I can now take him on long walks that would normally provide lots of distractions without even using a leash and he stays right next to me, waiting for the word on what is next (of course this is on the farm, not in the middle of town with cars). He knows many basic commands like sit, lie down, roll over, stand, and even crawl (he crawls under things on his belly). He also LOVES to play fetch. And best of all, he's the birthday boy. He will be turning two on June 14th."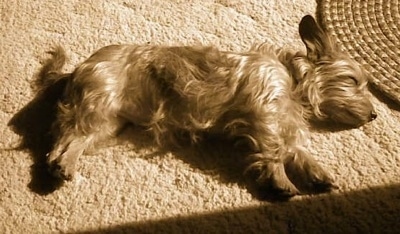 "This is Lana Mable, she's a 5½-year-old Yorkie / Dachshund mix. She loves to be outside to chase birds and squirrels, and she loves to play and wrestle with my other dog Fred (Golden Retriever / Siberian Husky mix). She's very submissive and loveable!"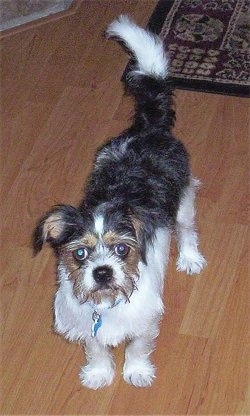 Eli the Dorkie (Dachshund / Yorkie cross)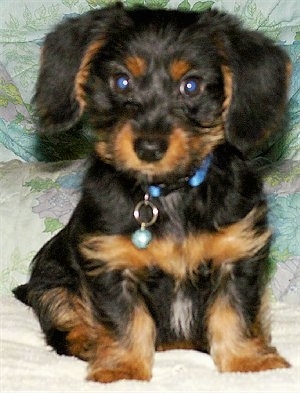 "Reno Sir Longfello, the 12–week-old Dorkie puppy—his mother was an 8-pound red, longhaired mini Dachshund and his daddy was a 7-pound Yorkie. Around here his "breed" is also called a Dach-Shire. His favorite toys are cat toys..... Favorite fruit, bananas.... And his best friend in the whole world is his "brother," a 3-year-old red Min Pin named Chance."