Toy Foxy Russell
Jack Russell Terrier / Toy Fox Terrier Hybrid Dogs
Information and Pictures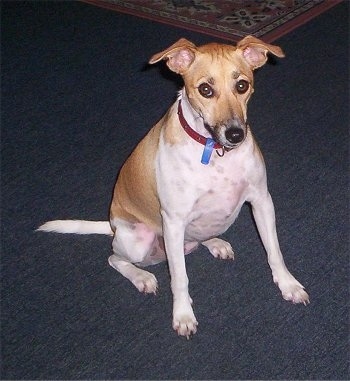 "This is our dog Gemma. She is a Jack Russell x Foxy. Gemma is 18 months old in this picture and loves her food. She is an active dog and good watchdog. She loves playing with her toys and going for rides in the car. She dislikes airplanes flying over and thinks it's her job to chase them away. Gemma loves bath time and sleeps in her beanbag when she is tired. We love her and she is part of our family."
Other Names
Foxy Russell
Description
The Toy Foxy Russell is not a purebred dog. It is a cross between the Jack Russell Terrier and the Toy Fox Terrier. The best way to determine the temperament of a mixed breed is to look up all breeds in the cross and know you can get any combination of any of the characteristics found in either breed. Not all of these designer hybrid dogs being bred are 50% purebred to 50% purebred. It is very common for breeders to breedmulti-generation crosses.
Recognition
ACHC = American Canine Hybrid Club
DBR = Designer Breed Registry
DDKC = Designer Dogs Kennel Club
DRA = Dog Registry of America, Inc.
IDCR = International Designer Canine Registry®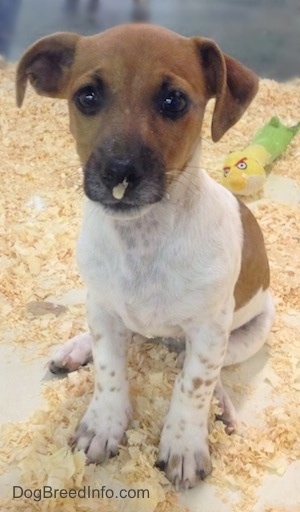 Chibbs the Toy Foxy Russell puppy at 3 months old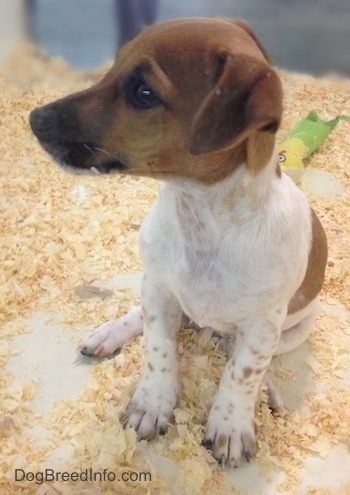 Chibbs the Toy Foxy Russell puppy at 3 months old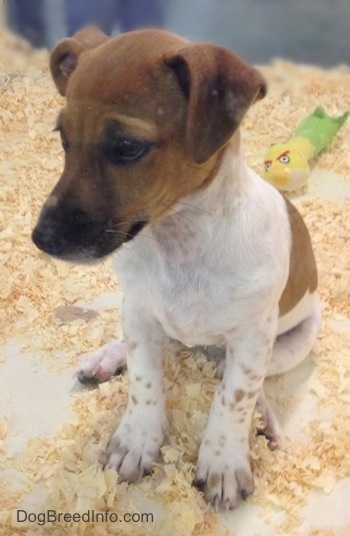 Chibbs the Toy Foxy Russell puppy at 3 months old