Havapeke
Havanese / Pekingese Hybrid Dog
Information and Pictures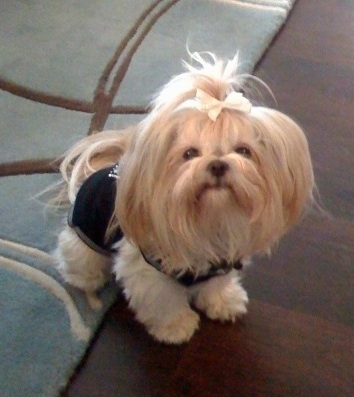 "This is my Havapeke Gigi. She is one and half years old and weighs in at less than 5 lbs. She has a wonderful, calm temperament, but still loves to run around and be chased. She's very intelligent and knows all her favorite treats and toys by name such as cookie, chicken, doggy. She's very well socialized because I have been taking her everywhere with me since she was a puppy. She likes to go on walks and for drives, but hates to be contained in a carrier. I have NEVER had any trouble with her chewing on shoes or furniture, but paper training was a little tough although she does make it near the pad. I took her to local dog training courses and she did really well and learned commands quickly. She is a wonderful companion who gets along with all ages."
Description
The Havapeke is not a purebred dog. It is a cross between the Havanese and the Pekingese. The best way to determine the temperament of a mixed breed is to look up all breeds in the cross and know you can get any combination of any of the characteristics found in either breed. Not all of these designer hybrid dogs being bred are 50% purebred to 50% purebred. It is very common for breeders to breed multi-generation crosses.
Recognition
ACHC = American Canine Hybrid Club
DBR = Designer Breed Registry
DDKC = Designer Dogs Kennel Club
DRA = Dog Registry of America, Inc.
IDCR = International Designer Canine Registry®