Himalayan Chamba Gaddi Dog
Information and Pictures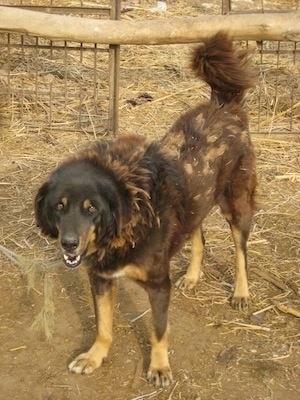 "This particular dog in the picture is a fine specimen of a breed developed by Gaddi (Hindu) tribesmen of Chamba region, Himachal Pardesh, India." Photo courtesy of Gurinder Partap Singh Basra
Description
--
Temperament
--
Height, Weight
--
Health Problems
--
Living Conditions
This breed can live in an apartment if it is very well exercised. These dogs are not very active indoors.
Exercise
The Himalayan Chamba Gaddi Dog needs to be taken on daily walks. While out on the walk the dog must be made to heel beside or behind the person holding the lead, as in a dog's mind the leader leads the way, and that leader needs to be the human. Be careful that the bones, muscles and joints of the young dog are not overworked during the growing stage by not overdoing the physical side of its life. However, they will still need to walk each day to satisfy their migration instinct.
Life Expectancy
About 9 to 14 years
Litter Size
--
Grooming
The Himalayan Chamba Gaddi Dog should be brushed regularly. In the winter the coat has an abundance of very thick hair, which sheds once a year for the duration of a month, when the weather gets warmer. During this time your dog should be brushed and combed every day.
Origin
The Himalayan Chamba Gaddi Dog breed was developed for guarding encampments and livestock from predators. It was developed from Tibetan Mastiff stock. "Gaddi dog" is a generic term used for the majority of the big dogs found in the Himalayas, although there is no one particular kind of Gaddi dog as they vary from place to place and are bred for various purposes. The distinguishing characteristic of Chamba Gaddi dogs is their long pointed muzzle without any Molloser semblance. They also have a wide forehead, pendulum ears and a maned neck similar to that of a purebred Tibetan Mastiff. These dogs are big and have a deep bark similar to a Tibetan Mastiff. The tail is not as curly and heavily feathered as a Tibetan Mastiff. This breed, like many indigenous breeds, is at the verge of extinction due to dilution in the gene pool and lack of dedicated breeders and breeding programs.
Group
Guard Dog
Recognition
--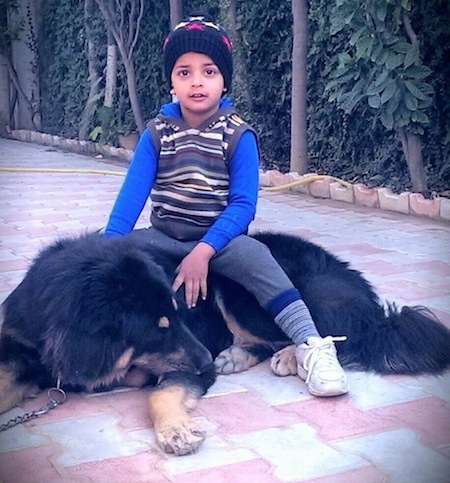 Tiger the Himalayan Chamba Gaddi Dog at 11 months old with a child sitting on his back— "This native Himalayan breed is a guardian by nature."