Huskimo
Siberian Husky / American Eskimo Hybrid Dogs
Information and Pictures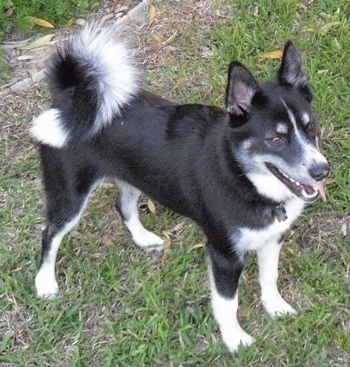 "This is Mya, a Huskimo (American Eskimo and Siberian Husky mix). She loves to go on walks and acts like she's always pulling a sled. To keep her from pulling is a challenge. The Dog Whisperer would love to have her pull him on his skates. She is extremely affectionate to everyone. She is curious and very intelligent. She does listen to commands. She loves all kinds of treats and was easy to train using treats. She is 37 lbs. of moving energy. She can run extremely fast and can jump extremely high. Her favorite hobby is chewing on her toys. We haven't been able to find any toys she cannot chew into little pieces."
Description
The Huskimo is not a purebred dog. It is a cross between the Siberian Husky and the American Eskimo. The best way to determine the temperament of a mixed breed is to look up all breeds in the cross and know you can get any combination of any of the characteristics found in either breed. Not all of these designer hybrid dogs being bred are 50% purebred to 50% purebred. It is very common for breeders to breed multi-generation crosses.
Recognition
ACHC = American Canine Hybrid Club
DRA = Dog Registry of America, Inc.
IDCR = International Designer Canine Registry®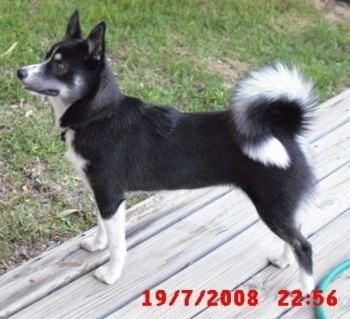 Mya, a Huskimo (American Eskimo / Siberian Husky mix breed dog)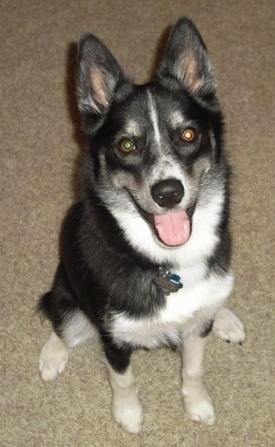 Mya, a Huskimo (American Eskimo / Siberian Husky mix breed dog)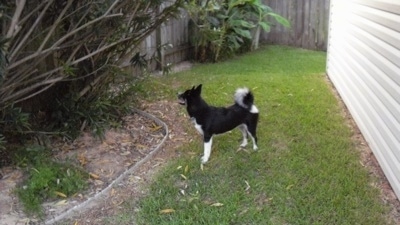 Mya, a Huskimo (American Eskimo / Siberian Husky mix breed dog)