Italian Grey Min Pin
Italian Greyhound / Miniature Pinscher Hybrid Dogs
Information and Pictures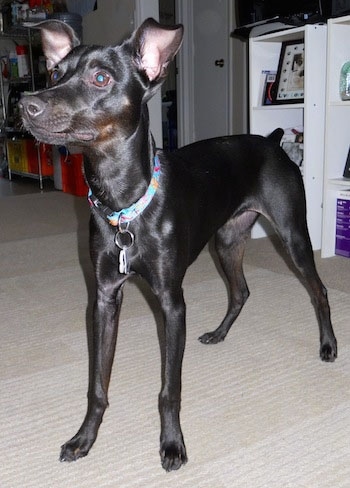 "Digger the Min Pin / Italian Greyhound hybrid dog at 10 months old—he definitely has the legs of a Greyhound :-)."
Description
The Italian Grey Min Pin is not a purebred dog. It is a cross between the Italian Greyhound and the Min Pin. The best way to determine the temperament of a mixed breed is to look up all breeds in the cross and know you can get any combination of any of the characteristics found in either breed. Not all of these designer hybrid dogs being bred are 50% purebred to 50% purebred. It is very common for breeders to breed multi-generation crosses.
Recognition
ACHC = American Canine Hybrid Club
DRA = Dog Registry of America, Inc.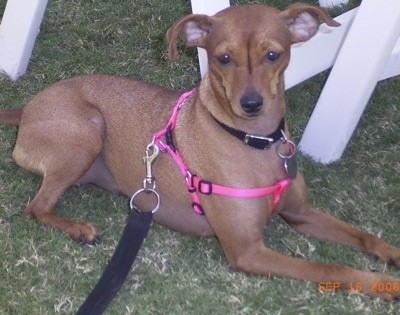 "Sandy the Italian Grey Min Pin at 1 1/2 years old is a mix of Min Pin and Italian Greyhound. She has the legs and speed of the Greyhound and the face of a Min Pin."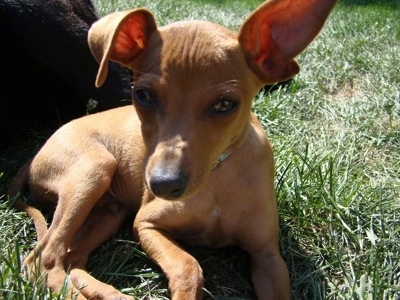 "Hello there, this little boy's name is Stitch. His father was an Italian Greyhound and mother a Miniature Pinscher. In this picture he is 12 1/2 weeks old. He hates the cold and loves just cuddling up in laps and sleeping. So he was very hard to housetrain because he hated going outside in the cold! He is a little shy when he first meets a new dog but when he is comfortable, he is very bouncy and playful. He is very nice toward people and other dogs and rarely barks."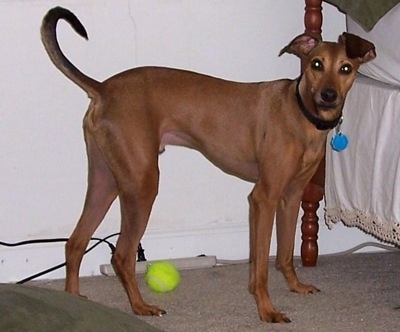 "This is Guido. He is about 3 years old in this picture. This is a photo that I took of Guido in my bedroom. By the time he was 8 years old he had mellowed out quite a bit. He has some definite anxious tendencies, but I don't know that I would attribute that to the breed mix or just to his particular personality. If you asked Cesar, he would probably attribute the anxiousness to me!"
"Although he has been a bit difficult at times, he is always eager to please and often looks to me for my approval when I am asking him to perform, i.e. heel, not pull on the leash, etc."
"Aside from an allergic reaction to his 2nd Parvo vaccination, he has been very healthy. The only time he has required a vet visit is at his annual vaccinations."
Digger the Italian Grey Min Pin as a puppy at 4 months old—"Digger is very much like both breeds…he can tend to be a tad mouthy and very quick to chase things. He loves to snuggle and be in blankets and sit on the pillows."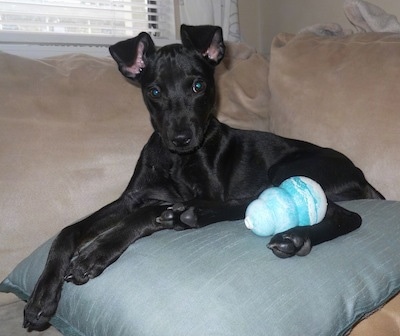 Digger the Italian Grey Min Pin as a puppy at 4 months old up on the sofa with his toy—"We got Digger off Craigslist at 10 weeks old. He looks like an all-black Min Pin, but in the sun you can see his tan markings."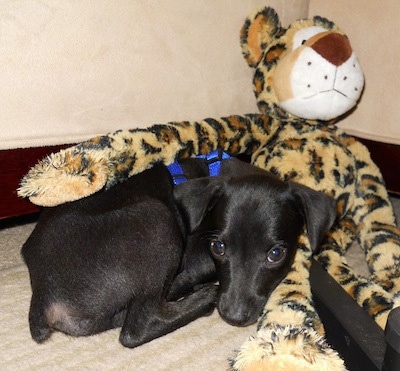 Digger the Italian Grey Min Pin as a puppy at 12 weeks old snuggling up with the stuffed leopard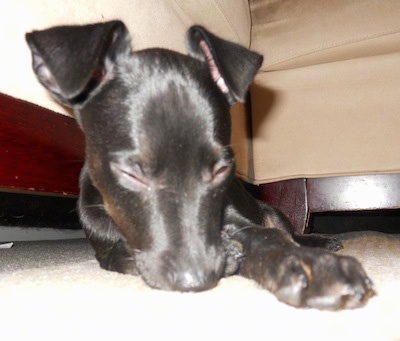 Digger the Italian Grey Min Pin as a puppy at 12 weeks old sleeping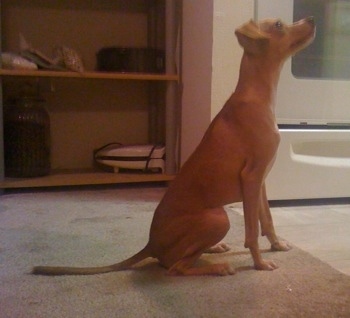 "Jonny the Italian Greyhound / Min Pin cross has to be exercised daily or he will keep you up all night. Extremely fast and agile. Cannot tolerate cold or cool air. Highly intelligent and obsessed with birds, squirrels, cats and anything that moves fast. Body of an Italian Greyhound...face like a Min Pin."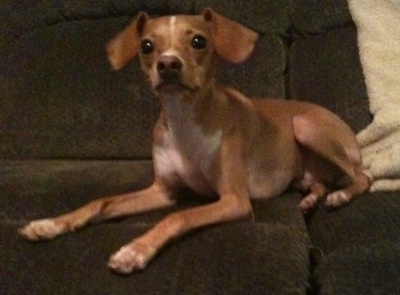 Jonny the Italian Greyhound / Min Pin cross laying down on the sofa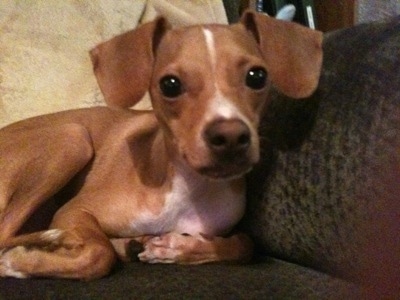 Jonny the Italian Greyhound / Min Pin cross laying down on the sofa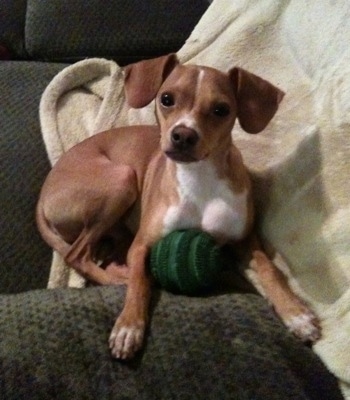 Jonny the Italian Greyhound / Min Pin cross up on the sofa with his toy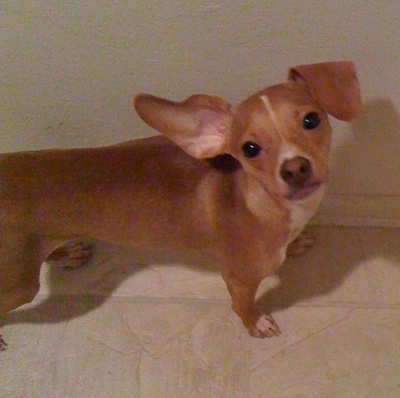 Jonny the Italian Greyhound / Min Pin cross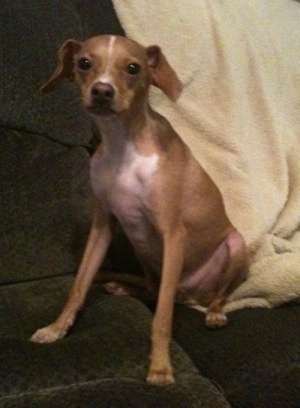 Jonny the Italian Greyhound / Min Pin cross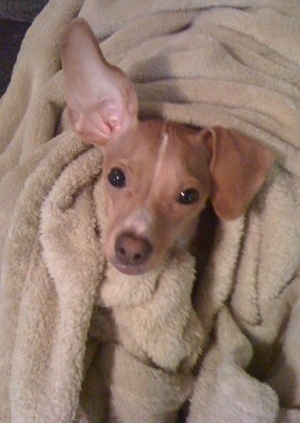 Jonny the Italian Greyhound / Min Pin cross under a blanket showing off his big ear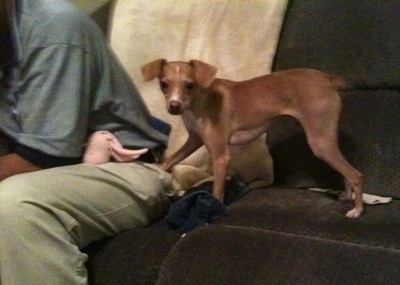 Jonny the Italian Greyhound / Min Pin cross up on the sofa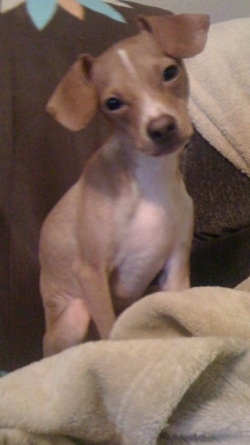 Jonny the Italian Greyhound / Min Pin cross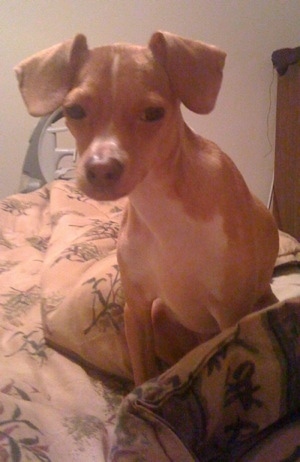 Jonny the Italian Greyhound / Min Pin cross sitting up on the bed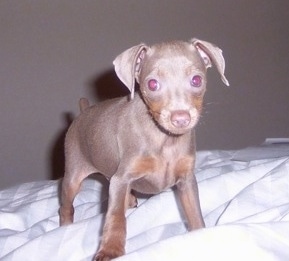 Mack the Italian Greyhound x Miniature Pinscher (Italian Grey Min Pin) as a puppy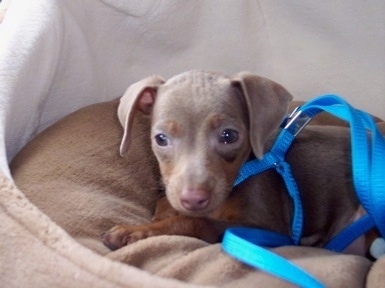 Mack the Italian Greyhound x Miniature Pinscher (Italian Grey Min Pin) as a puppy wearing his blue leash and harness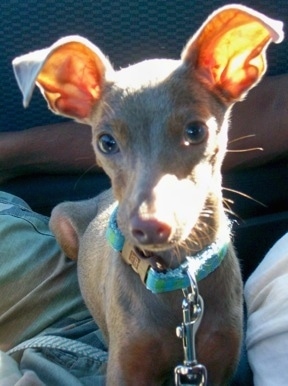 Mack the Italian Greyhound x Miniature Pinscher (Italian Grey Min Pin)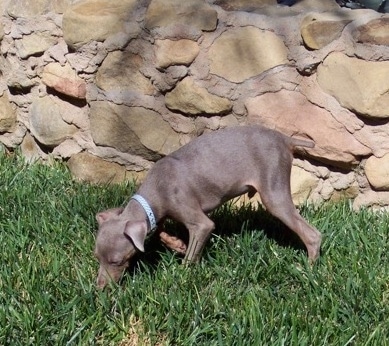 Mack the Italian Greyhound x Miniature Pinscher (Italian Grey Min Pin) smelling the ground
Mack the Italian Greyhound x Miniature Pinscher (Italian Grey Min Pin) wearing his blue shirt