Jack Chi
Chihuahua / Jack Russell Terrier Hybrid Dogs
Information and Pictures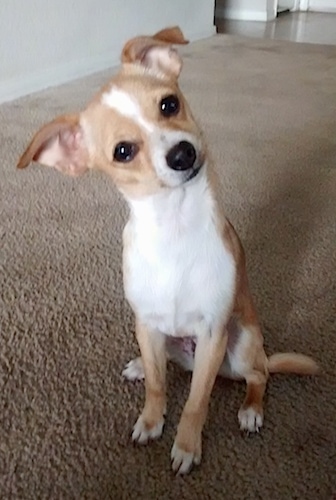 Cici the Jack Chi at 1 years old—"Cici is the love of my life. She is smart, well-trained, loving and great with kids... xo"
Other Names
Jack-Chi
Jackahuahua
Jackhuahua
Description
The Jack Chi is not a purebred dog. It is a cross between the Chihuahua and the Jack Russell Terrier. The best way to determine the temperament of a mixed breed is to look up all breeds in the cross and know you can get any combination of any of the characteristics found in either breed. Not all of these designer hybrid dogs being bred are 50% purebred to 50% purebred. It is very common for breeders to breed multi-generation crosses.
Recognition
ACHC = American Canine Hybrid Club
DDKC = Designer Dogs Kennel Club
DRA = Dog Registry of America, Inc.
IDCR = International Designer Canine Registry®
Recognized Names
American Canine Hybrid Club = Jack Chi
Designer Dogs Kennel Club = Jack Chi
International Designer Canine Registry® = Jack Chi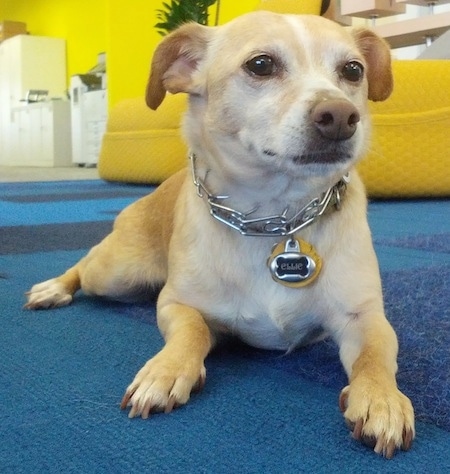 Ellie the Jack Chi at 5 years old—"Ellie's a 5-year old Jack Chi, and we're pretty sure she's a cat trapped in a dog's body given the contrast between her usually ultra-mellow demeanor and her attitude and sass when she gets feisty. She hangs out at the Google office frequently where she loves getting belly rubs and playing with our other G-dogs (Marco & Moose). She's a rescue dog and we truly hit the jackpot with her; couldn't ask for a better addition to our family!"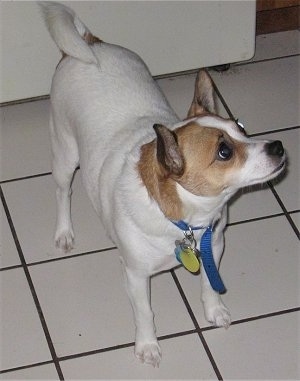 Sid the Jack Chi at 3 years old—"Sid is a Jack Russell / Chihuahua Mix. He is the best little guy ever! Sid fits the description of a Jack Russell and a Chihuahua perfectly. Sid is "a big dog in a little body." He just loves people and attention. His favorite things to do are look out the window, sit in the sun, cuddle on the couch and go for walks. Sid is very friendly and loves people as well as other dogs. He also enjoys going to the dog park, where he works as "security." He keeps the big dogs in line by chasing them and yelling at them. Sid is very intelligent and loves to learn new things. He is a big love and my "little man.""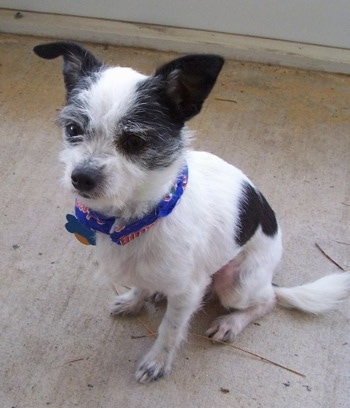 "This is Bojangles aka Bo-Bo. We have recently adopted him from the humane society. He is one of the best dogs I can hope for. He hardly barks unless he sees a cat or someone he does not know. The only thing he chews is his little chew toy and he responds to a special noise I make as a "come here" signal. His speed surprised me the first time. His leash slipped out of my hand when chasing a cat and it was a hassle trying to catch up, even though he stopped when the cat went into the woods. We recently bought a Chihuahua puppy and after a while of playing tough love, Bo-Bo came to accept and act as a parent figure to our little Onyx. He is a wonderful family member."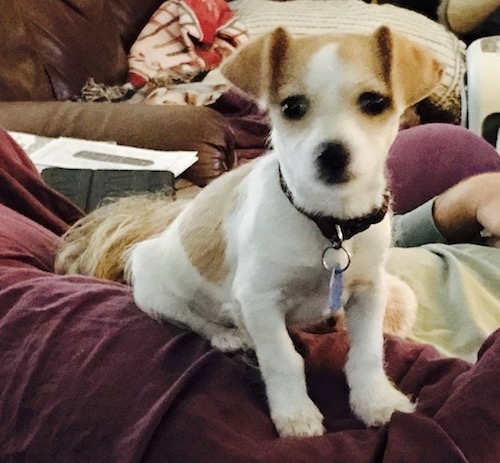 "This is my Pepper, a Jack Russell / Chihuahua mix breed dog that I rescued from the pound. She is a 16-week-old puppy in this picture."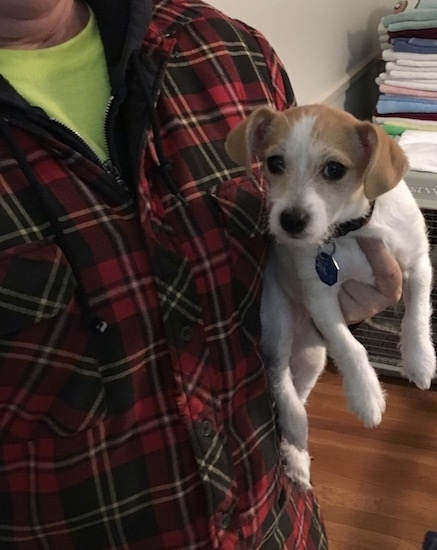 Pepper the Jack Russell / Chihuahua mix breed dog rescued from the pound at 16 weeks old.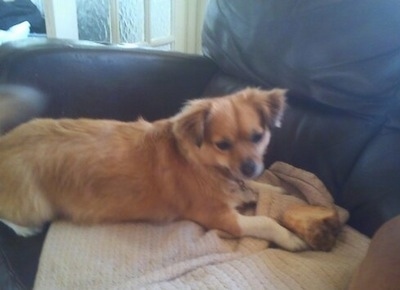 "This is my little baby Pip. She is a longhaired Chihuahua x Jack Russell. She is a lovely dog. She is 2 years old in these pictures. Such a joy to have. She is great with kids and other dogs—clever and playful!"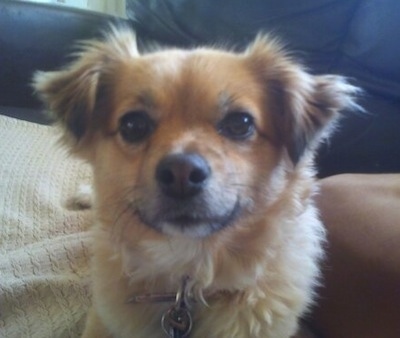 Pip the Jack Chi at 2 years old (longhaired Chihuahua x Jack Russell Terrier mix).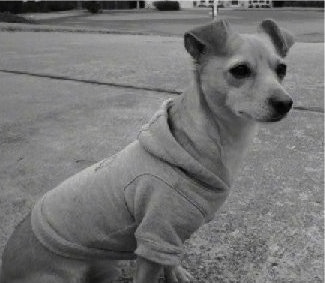 Elmo the Jack Chi or Jackhuahua, as his owner calls him, at 2 ½ years old—his owner says, "He is honestly the best dog I've ever had in my life. He has a very 'go with the flow' kind of personality. He does whatever I want to do, whenever I want to do it. He never complains. He's always wagging his tail. He is extremely trainable and amazingly smart and capable. He seems to have contracted the best qualities in each breed. He's not yappy, nippy, aggressive toward children, shaky, timid, excessively hyper or distrustful. He's always just the happiest boy around anyone. He loves other animals even if they don't like him, and he wants to be everyone's friend. He also loves to pose for pictures...he's a total ham! We adopted him from a shelter nearby us (Atlanta, GA) almost a year ago, and we haven't had a single problem with him ever. He is really a perfect mix between the two breeds. He literally got every single good quality of both breeds. I have only seen one other Jackhuahua, but he was also cute as a button and fun to be around."
Mini Me the Jack Chi or Jackhuahua, as her owners call her, at 6 months old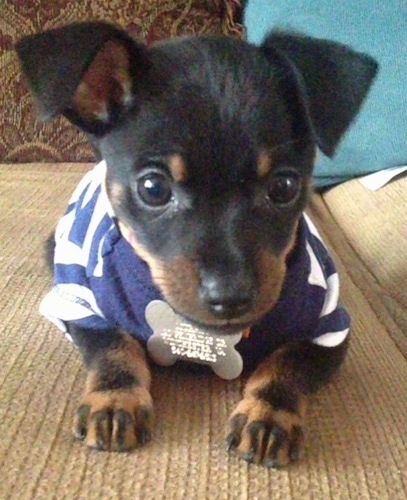 Murphy the Jack Chi as an 8-week-old puppy—"This is our Jack Russell / Chihuahua mix. He has been a wonderful addition to our family. He was an early Christmas present for our two daughters! We love our Murph Dog very much."
Murphy the Jack Chi as an 8-week-old puppy wearing a blue sweater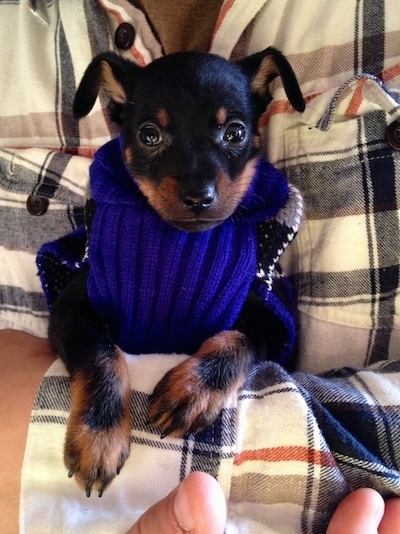 Murphy the Jack Chi as an 8-week-old tiny puppy wearing a blue sweater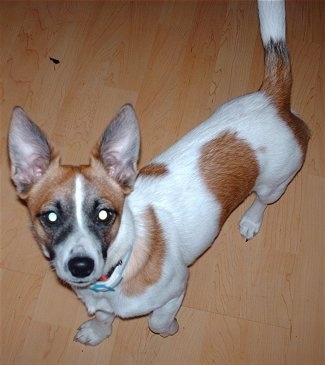 Luke the white and tan Jack Chi at 9 months old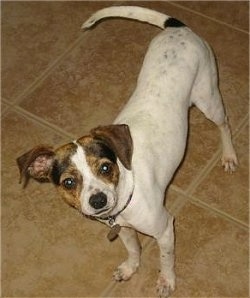 Niko the Jack Russell / Chihuahua mix (Jack Chi)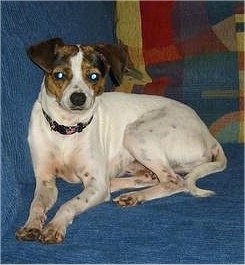 Niko the Jack Russell / Chihuahua mix (Jack Chi)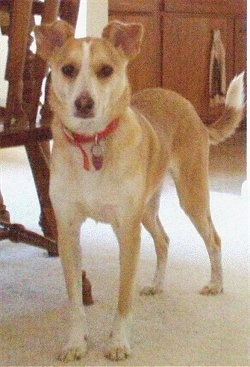 "This is our girl, Sadie. She is a Jack Chi (Jack Russell / Chihuahua mix). She is 5 years old and weighs 27 pounds. She obeys well, walks on the leash with absolutely no tugging. She follows commands very well and is extremely well behaved. She is a quiet dog; never, never barks just to be barking. However, she will aggressively alert when someone approaches the home or the car while we are occupying them. She has never chewed on the furniture or anything in the home. She loves adults and children. Sadie is great about letting us know if she needs to go out to relieve her and then only goes to a designated area, not just anywhere in the yard. She alerts us if her water or food is becoming low. If she is done playing with a toy she brings it to us and will indicate which toy she would like to replace it with. We really find this amusing because she just never has more than one out at any given time. Sadie is high energy and loves to play. She could play fetch all day but patiently waits by your side when you are busy and not available to play. She does shed and needs to be brushed daily. She loves rabbits and squirrels; she will stand and point when she comes upon them, if they run she will pursue them. If they are within 100 feet of her and they have 50 feet to go to get to safety she has the speed to catch them. No one I know can believe how quick she is for a small dog. Fortunately she stops when I tell her to. On the leash she is no problem. She does not like other dogs or people whom she does not know or who we have not acknowledged to approach her back side. She will act aggressive if they do. My parents had a neighbor's full-grown Rottweiler come into their yard and approach us in an aggressive manner and Sadie immediately went offensive. I was totally shocked because she is so peaceful and quiet. She stood her ground and the Rottweiler, which outweighed her by 75 to 100 pounds, put his tail between his legs and left the area. Overall, Sadie is a Lady!"