Labahoula
Labrador Retriever / Louisiana Catahoula Leopard Dog Hybrid Dogs
Information and Pictures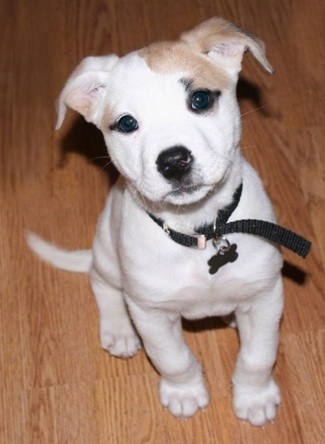 "This is our Labahoula puppy named Jersey. Her mother is a yellow Labrador and her father is a Louisiana Catahoula Leopard Dog. In this photo she is 10 weeks old. She is a very quick student. At 10 weeks she learned how to sit, shake paw and lie down. At 16 weeks she learned to ring the bells hanging on the door when she needed to go out to relieve herself. She sits pretty and dances. I have a full-grown black Lab who is very intelligent and have never owned a Catahoula so I'm not 100% sure if these two breeds are equally intelligent but it's a great combination. Jersey at 4 months has shown signs of territorial strengths she will bark at strangers. She is very loving to the kids and me. She is one of the most animated pups I've ever seen. She does like to chew, but show me a puppy that doesn't. She gets a lot of exercise keeping up with Cinder (our Lab), but loves to go out skating on the lake that we live on with the kids and loves our trollops in the woods. I can't wait until summer to see what she will do in the water. I do need to work on keeping her from jumping up on us when we come home. I definitely watch Cesar! Love him. I do have a hard time with some of the training offered because I just want to hug and love on Jersey all the time, but I know she needs more than that!"
Description
The Labahoula is not a purebred dog. It is a cross between the Labrador Retriever and the Louisiana Catahoula Leopard Dog. The best way to determine the temperament of a mixed breed is to look up all breeds in the cross and know you can get any combination of any of the characteristics found in either breed. Not all of these designer hybrid dogs being bred are 50% purebred to 50% purebred. It is very common for breeders to breed multi-generation crosses.
Recognition
DRA = Dog Registry of America, Inc.