Labrottie
Labrador Retriever / Rottweiler Hybrid Dogs
Information and Pictures
Kami the Labrottie—"Her mother was a Lab, her dad was a Rottweiler. She's got the personality of a kitten, though."
Other Names
Rottador
Rottwador
Labweiler
Rott'n Lab
Rotten Lab
Description
The Labrottie is not a purebred dog. It is a cross between the Labrador Retriever and the Rottweiler. The best way to determine the temperament of a mixed breed is to look up all breeds in the cross and know you can get any combination of any of the characteristics found in either breed. This hybrid cross is recognized by the American Canine Hybrid Club as the Labrottie. Not all of these designer hybrid dogs being bred are 50% purebred to 50% purebred. It is very common for breeders to breed multi-generation crosses.
Recognition
ACHC = American Canine Hybrid Club
DBR = Designer Breed Registry
DDKC = Designer Dogs Kennel Club
DRA = Dog Registry of America, Inc.
IDCR = International Designer Canine Registry®
Recognized Names
American Canine Hybrid Club = Labrottie
Designer Breed Registry = Labweiller or Labrottie
Designer Dogs Kennel Club = Labrottie
International Designer Canine Registry® = Labrottie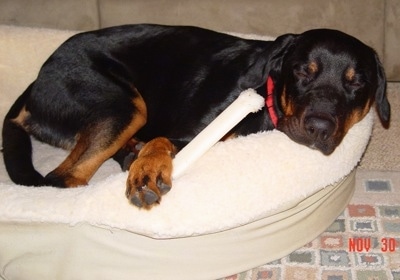 "Ginger is a Rotti / Lab mix, shown here at 2 years old. She has been very hyper most of her life, but she has been settling down since she has a new doggy friend! She loves people and my 18-month-old son! They share everything with each other. Ginger also loves our cat! Her temperament is NOT aggressive and she is very sweet. We use to call her Tigger because she never walked, she would just bounce around! She's the greatest, sweetest Rotti I have ever known! She has the bad habit of always wanting to eat!!!! She can eat until her stomach blows! Our Guide Dogs that we have trained would do that too, so I think it's a Lab trait. She also snores really loud! I would love to watch more of the Dog Whisperer, but we don't have cable :(. I have applied his tip on having your own "space." Ginger used to jump on everybody and the back door! But I tried his jumping technique and she has stopped jumping on people and things!"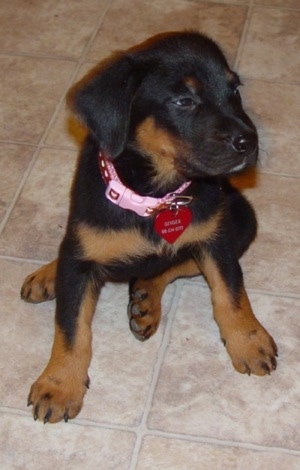 Ginger the Rotti / Lab mix as a puppy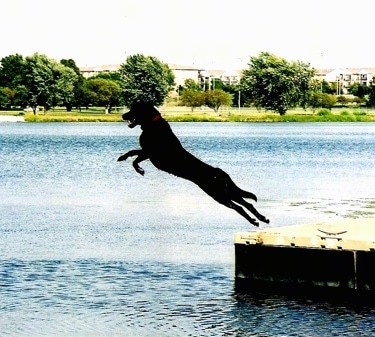 "My dog Pounder was a pound puppy 11 years ago. Although he is turning a little gray, he still leaps like a kangaroo and can scale 6-foot fences. He is completely devoted to me and quite balanced. I trained him early on to voice commands and hand signals. I can take him almost anywhere without a leash. Once, we were walking past the local elementary school just as they let out for the day. The street was lined with mothers waiting to pick up their kids and Pounder was not on a leash. I slowly started repeating his "with me" heel command while giving him the finger snap hand signal. He fell in beside me and for the next 50 feet, he didn't waiver despite dozens of screaming 2nd and 3rd graders and lots of petting and patting. I was never quite so proud of him and I'm sure that there were some mothers watching that were duly impressed. This picture was taken 3 years ago at his favorite fishing dock where he could take flight in chasing his Kong-on-a-rope. In the days before digital cameras I had to take a full roll of film hoping to get the right shot. This was the only photo on the roll that came out right. I love the Dog Whisperer and had already incorporated many of the same behavioral concepts into Pounder's training. I enjoy turning friends on to Cesar's methods so their dogs can thrive."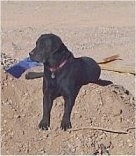 Belle the Rottie / Lab hybrid at 3 years old—"Her mom was the Rottie, dad was the Lab. She acts all Lab."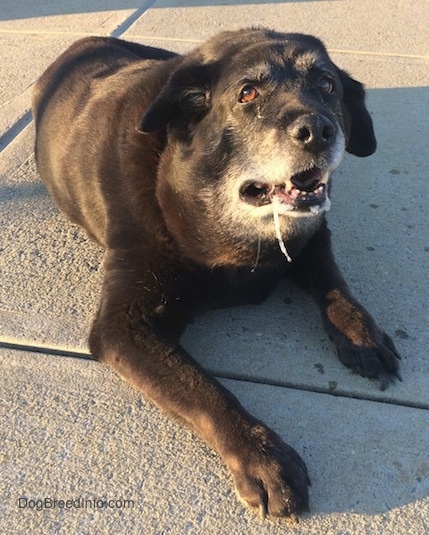 Tamara the Labrador Retriever / Rottweiler mix at 10 years old. Sadly, she has lymphoma cancer, hence the lump in her neck. But she still enjoys going to the dog park to see her friends.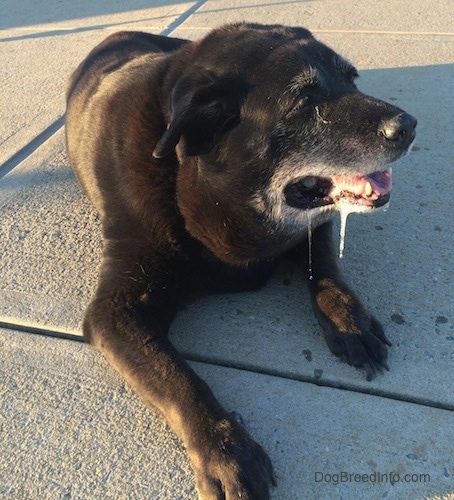 Tamara the Labrador Retriever / Rottweiler mix at 10 years old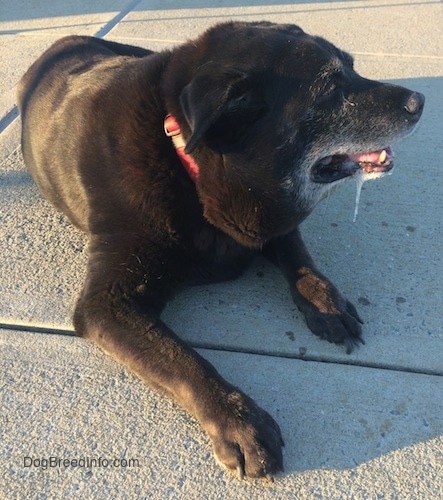 Tamara the Labrador Retriever / Rottweiler mix at 10 years old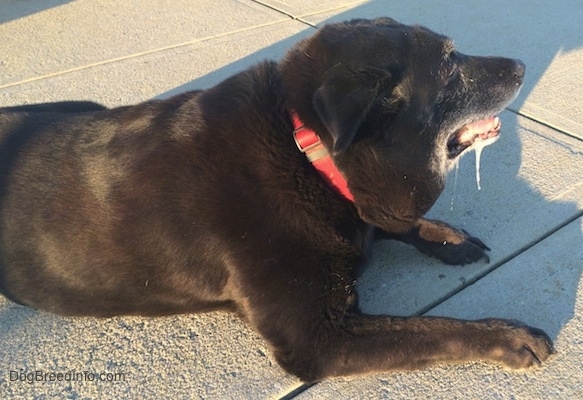 Tamara the Labrador Retriever / Rottweiler mix at 10 years old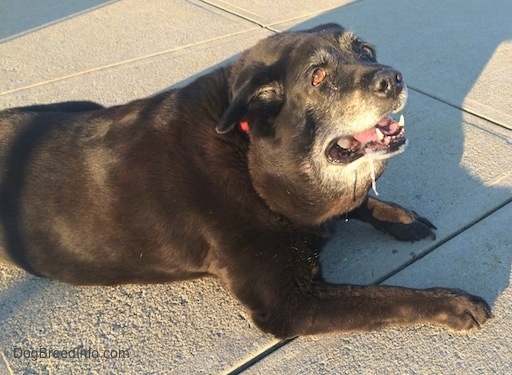 Tamara the Labrador Retriever / Rottweiler mix at 10 years old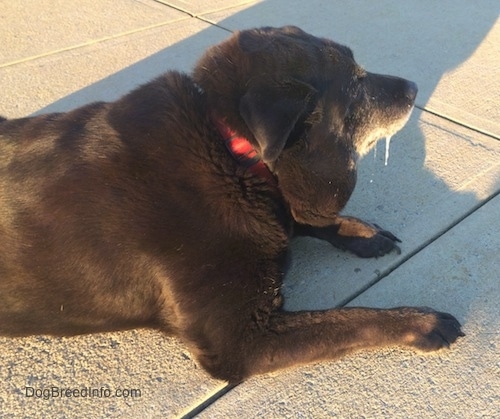 Tamara the Labrador Retriever / Rottweiler mix at 10 years old
Tamara the Labrador Retriever / Rottweiler mix at 10 years old