La Pom
Pomeranian / Lhasa Apso Hybrid Dogs
Information and Pictures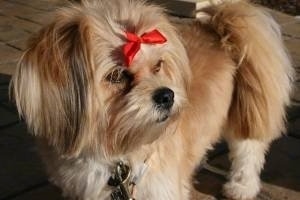 "Bella is 2.5 years old and weighs approx. 14 pounds in this picture. She definitely has the temperament of a Lhasa, meaning she thinks that she is a large dog trapped in a small dog's body. She is extremely calm, but is ready to play whenever I am. Bella absolutely loves other dogs and people. As soon as she sees another dog or a person she just has to say hello. Bella is very low shedding...I could almost say she doesn't shed at all but every once in a while she will have a little shedding. I've tried letting her hair grow out like a Lhasa, however, the Pom in her keeps her hair from getting long enough. She almost never barks. Also she is extremely intelligent. Another thing that she has in common with the Lhasa is that she will not tell you when she has to go potty. She would never go in the house but will hold it until I let her out. Unlike my Lab who barks at the door when he needs out."
Description
The La Pom is not a purebred dog. It is a cross between the Pomeranian and the Lhasa Apso. The best way to determine the temperament of a mixed breed is to look up all breeds in the cross and know you can get any combination of any of the characteristics found in either breed. Not all of these designer hybrid dogs being bred are 50% purebred to 50% purebred. It is very common for breeders to breed multi-generation crosses.
Recognition
ACHC = American Canine Hybrid Club
DBR = Designer Breed Registry
DDKC = Designer Dogs Kennel Club
DRA = Dog Registry of America, Inc.
IDCR = International Designer Canine Registry®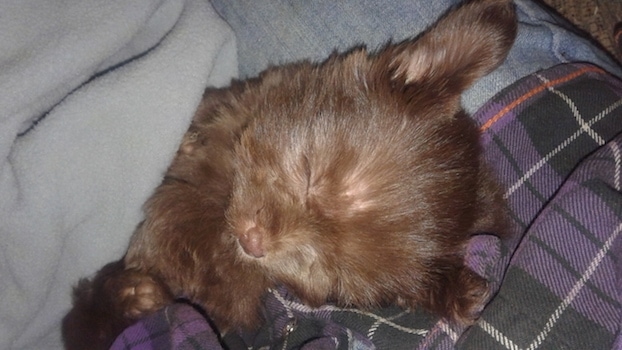 Navi the La Pom (Lhasa Apso / Pomeranian mix) as a puppy at 7 weeks old—"When Navi was born, she found her way into a tiny box. Her mother lied on this box through the birth of her 3 other siblings, cutting off Navi's air supply. It was 4 hours before I'd found where the faint whining was coming from, to find Navi. From this complication, she's only half the size of her 2 brothers and 1 sister. But she's smarter, the first to start walking, potty trained herself, has come to her name since she started coming out of the basket and gets what ever she wants from our guests with her pure adorableness."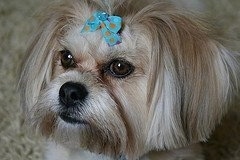 Bella the La Pom (Lhasa Apso / Pomeranian mix) at 2½ years old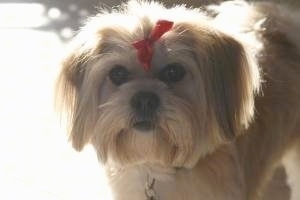 Bella the La Pom (Lhasa Apso / Pomeranian mix) at 2½ years old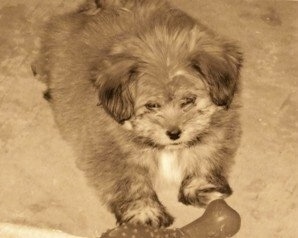 Bella the La Pom (Lhasa Apso / Pomeranian mix) as a puppy
2-week-old La Pom puppy (Pom / Lhasa Apso mix)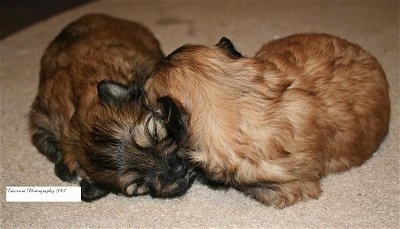 "Two male La Poms that have a blonde/red toy Pomeranian father, and tan/black/white/blonde Lhasa Apso mother—They stay small and usually no more than 10 lbs. for the fattest ones."