Labmaraner
Labrador Retriever / Weimaraner Hybrid Dogs
Information and Pictures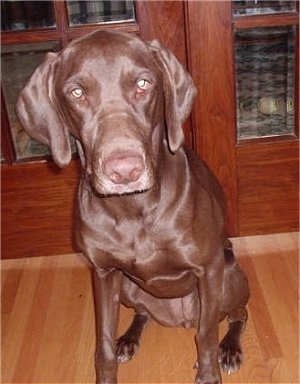 Hahli (this name comes from a children's movie and is pronounced Harley) the F1b hybrid Labmaraner at 2 ½years old—"She is ¾ Weimaraner and ¼ yellow Lab. Her mother was 50/50 Weimaraner / yellow Lab and her father pure Weimaraner. We are constantly getting stopped by people to ask what type she is. Some recognize the Weimaraner in her, however most people don't have a clue. Although she can be a handful, she is a truly beautiful and lovely girl."
Other Names
Weimador
Labraraner
Description
The Labmaraner is not a purebred dog. It is a cross between the Labrador Retriever and the Weimaraner. The best way to determine the temperament of a mixed breed is to look up all breeds in the cross and know you can get any combination of any of the characteristics found in either breed. Not all of these designer hybrid dogs being bred are 50% purebred to 50% purebred. It is very common for breeders to breed multi-generation crosses.
Recognition
ACHC = American Canine Hybrid Club
DBR = Designer Breed Registry
DDKC = Designer Dogs Kennel Club
DRA = Dog Registry of America, Inc.
IDCR = International Designer Canine Registry®
Recognized Names
American Canine Hybrid Club = Labmaraner
Designer Breed Registry = Labraraner
Designer Dogs Kennel Club = Labmaraner
International Designer Canine Registry® = Labmaraner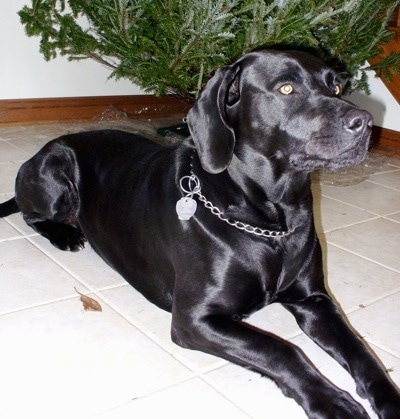 "This is my dog Coletrane, a Weimador at five years old. He has been a member of my family since he was a puppy and his first couple years with us were rough. I don't think we realized how much exercise and discipline he needed every day. He was very smart and learned all of the normal commands in a short period of time, but he was also showing a lot of dominant dog behaviors right from the beginning. Even after we started walking him every single day, behaviors continued. He would often bark and whine for what he wanted, he had bad leash manners, he would jump when strangers visited, and worst of all he would growl if you disturbed him sleeping on his bed or if he got a hold of something he shouldn't have. There was a lot of difference in opinion with how to deal with the issues and by then I was no longer living at home. My father tried a lot of yelling and shouting, removing him from the room, and eventually a shock collar. My mother tried loving him more and repeating commands over and over to no avail. Needless to say, he was NOT getting consistent and appropriate direction. While the shock collar admittedly seemed to work for a while, it was only when he was wearing it (you shouldn't leave it on 24 hours a day, or when it needs charged) and it didn't solve the underlying issues or make Coletrane a more balanced, happy dog. When I moved back home to help take care of my grandmother who lives with my parents now, I started to feel that there had to be a better way. I began to read a lot of dog training books, and eventually found out about Cesar. I started to apply his techniques and have been amazed. My relationship with our dog has really changed. I lead him on pack walks every day with little to no corrections, he respects me and rarely if ever challenges the rules and boundaries I set for him. The second picture is Coletrane as calm as can be around two one-year-old cousins. I wish I could say the rest of the family was as consistent as I try to be. While I have not entirely won them over to Cesar's ways, the difference with how the dog responds to me versus them is apparent and it's slowly bringing them (and Coletrane) around."
"Our life with Coletrane certainly hasn't always been a walk in the park, and there is still a lot of work to be done. I wouldn't recommend this hybrid to someone who wants a guaranteed easy-going companion. He's energetic, willful at times, and may always test his owners (what makes the consistency so very important). But he is also loving, loyal, intelligent, and one of the most beautiful dogs in town! He will always be a member of our family, and I will continue to follow Cesar's methods to ensure that he has a happy, balanced life in our home."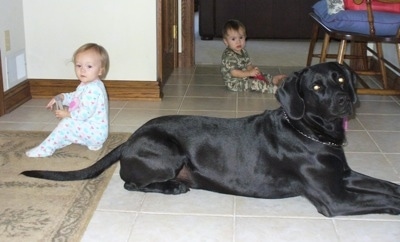 Coletrane the Weimador (Labmaraner) at five years old, as calm as can be around two one-year-old cousins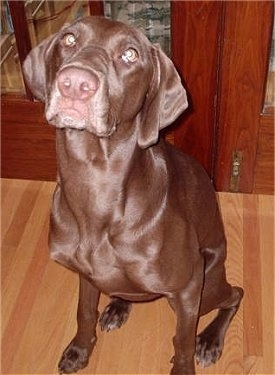 Hahli the Labmaraner at 2 ½ years old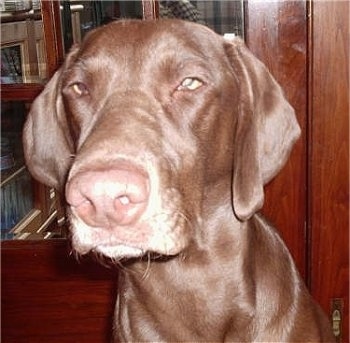 Hahli the Labmaraner at 2 ½ years old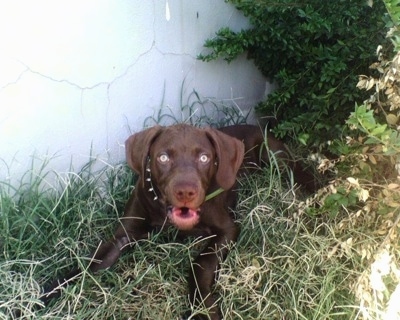 "I took this picture right after I brought Dolche home for the first time. Dolche is a 15-week-old Labmaraner, who is absolutely great with children and very vocal. He has a great temperament and doesn't get too rambunctious around the house, unless he has not been walked for the day. He does however require a lot of chew toys (his favorite is a stuffed panther). I feel that with training he could be a great jog partner, and I do believe he is balanced because I'm trying to help him learn his boundaries. I watch the Dog Whisperer and I try to apply his techniques and after a while I see real results."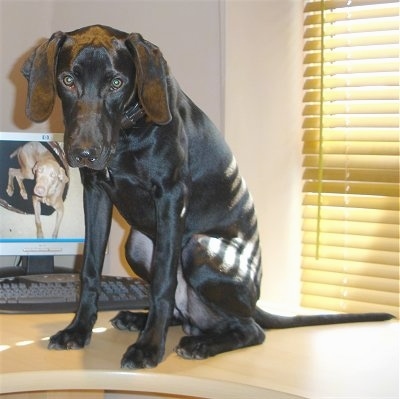 Boris the Labmaraner (Weimaraner x Lab cross) puppy at 5 months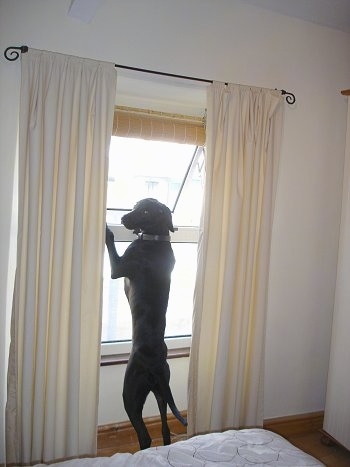 Boris the Labmaraner (Weimaraner x Lab cross) puppy at 5 months peeking out the window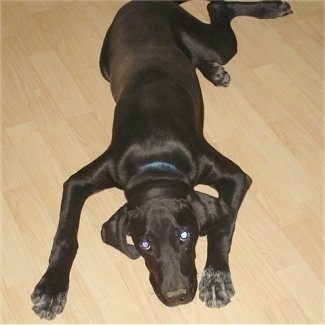 Rosco the Lab / Weimaraner mix (Labmaraner) puppy at about 5 ½ months old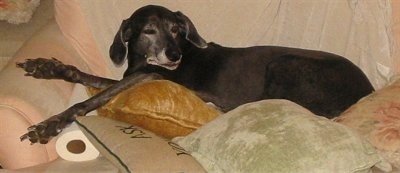 Nike the Labmaraner (Weimaraner x Lab mix) at 10 years old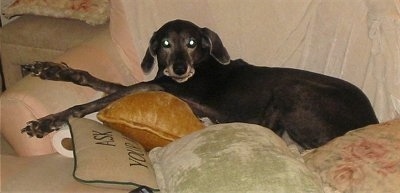 Nike the Labmaraner (Weimaraner x Lab mix) at 10 years old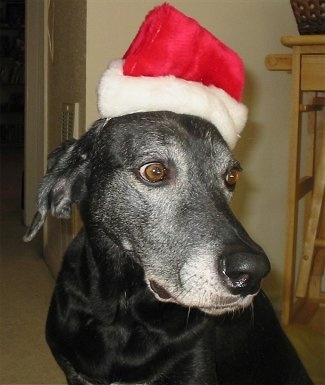 Nike the Labmaraner (Weimaraner x Lab mix) at 10 years old wearing a Santa hat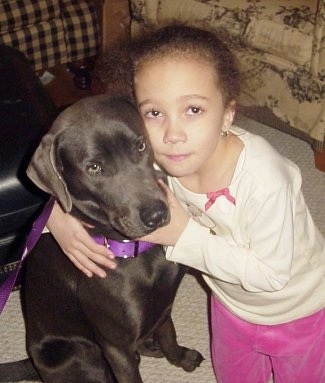 Duncan and Mik—Duncan is a Chocolate Lab / Weim mix (Labmaraner)—"Duncan was approximately 1 year old when we adopted him and took these photos. He's a bit hyper, and tends to have a little separation anxiety issue, but he's a beautiful dog, very friendly and gentle. He's great with kids. Every time we go to the dog park, everyone asks what he is and comments on how beautiful he is!"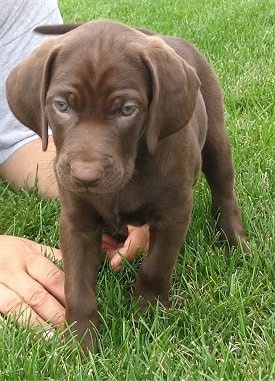 Casey the Labmaraner puppy at 6 weeks old— "Her mother is a purebred chocolate Lab and her father is a purebred Weimaraner . She is a DOLL!!!!"
Casey the Labmaraner puppy at 6 weeks old (Lab / Weim cross)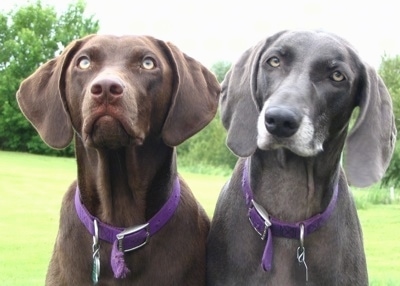 Casey (left) the Labmaraner hybrid (Labrador / Weimaraner mix) all grown up at 1 year old, with Ezra (right) the purebred blue Weimaraner)