La-Chon
Bichon Frise / Lhasa Apso Hybrid Dogs
Information and Pictures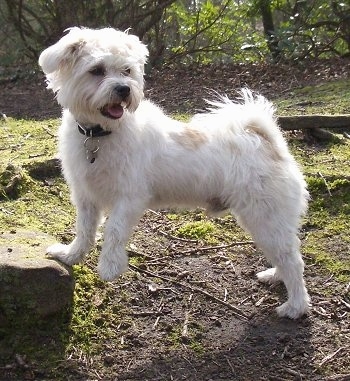 "Josh the La-Chon all grown up at 12 months old and still a handful!"
Other Names
Lachon
Lhasa-Chon
Lhasachon
Description
The La-Chon is not a purebred dog. It is a cross between the Bichon Frise and the Lhasa Apso. The best way to determine the temperament of a mixed breed is to look up all breeds in the cross and know you can get any combination of any of the characteristics found in either breed. Not all of these designer hybrid dogs being bred are 50% purebred to 50% purebred. It is very common for breeders to breed multi-generation crosses.
Recognition
ACHC = American Canine Hybrid Club
DDKC = Designer Dogs Kennel Club
DRA = Dog Registry of America, Inc.
IDCR = International Designer Canine Registry®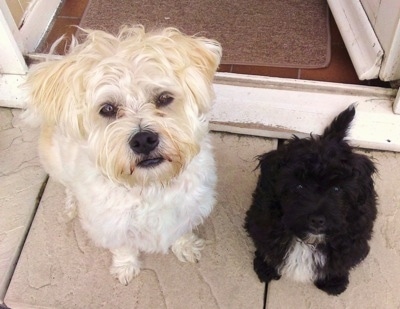 "Josh the La-Chon at 3 years old with his new little brother Jake the La-Chon puppy at 3 months old—I can't believe how quickly this hybrid picks things up; they are such smart little dogs. Jake is housetrained and can do sit, finish and lie down. I think it has something to do with loving food so much! LOL!"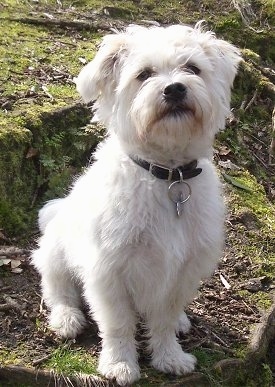 Josh the white La-Chon (Bichon Frise / Lhasa Apso mix) all grown up at 12 months old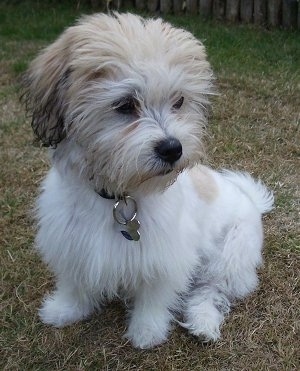 Josh the La-Chon (Bichon Frise / Lhasa Apso mix) at 7 months old— "Josh is always up to mischief and is a little character. We had no problems in housetraining him, and found him to be very smart. By 4 months old we had him trained to sit, give his paw and lie down; he is very food-oriented so training simple things was easy. Even calling him back to the house was easy if he thought a treat was to be had! Now he's going through his willful stage and taking him for a walk is a real pain; he just will not come back when called if there are other dogs about, as all he wants to do is play; not even a treat will tempt him! I'm sure with more training and a bit of maturity he'll get there in the end. One thing about this hybrid, you have to watch out for its 'hairy ears'! If you don't pluck them regularly it can lead to all sorts of problems." See video clip of Josh.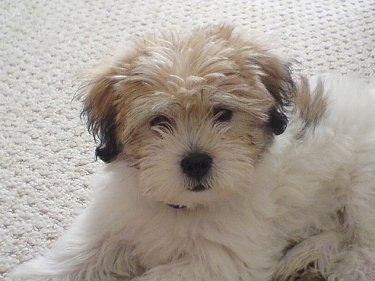 Josh the La-Chon (Bichon Frise / Lhasa Apso mix) puppy at 12 weeks old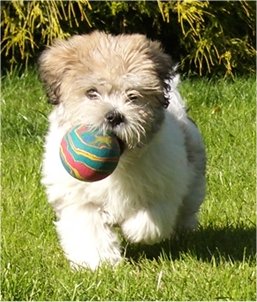 Josh the La-Chon (Bichon Frise / Lhasa Apso mix) puppy at 11 weeks old carrying a ball in his mouth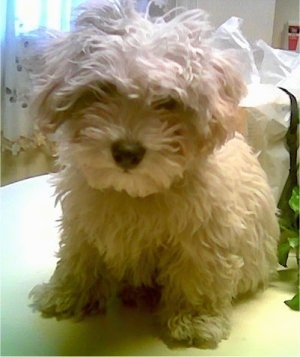 Lyfe the Bichon / Lhasa (La-Chon) as a puppy at 4 months old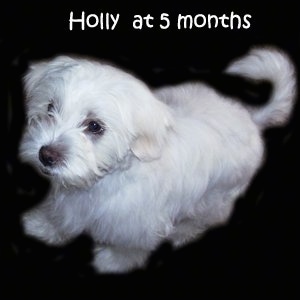 Holly the La-Chon as a puppy at 5 months old (Bichon Frise / Lhasa Apso mix)—her owner says, "This picture was taken right after her bath. She's very white and she gets dirty so easily. At 5 months she weighs 10 lbs. and is 18" long (not including her tail) and 10" to the shoulder. She still looks very "puppy" but she's definitely growing. We are just crazy about her. She causes a chorus of "Oohhs and Aahhs" when I take her out with me. We'd love to get her training on an obstacle course—she'd be so good at it. She loves to roughhouse and play. My husband has a couple of bug puppets that "attack" her and she loves it. She's so sweet and lots of fun always. She loves to go on road trips with me and still loves being outdoors. The other day she was teasing my mom's huge cat and the cat got fed up and went after her. Poor Holly flew though the house and jumped into my arms for safety. Still, she loves to tease that cat. Everyone loves her (except the cat). She's a totally picky eater when it comes to dog food. So I mix in a little hamburger with Iams or Science Diet and then she'll eat it."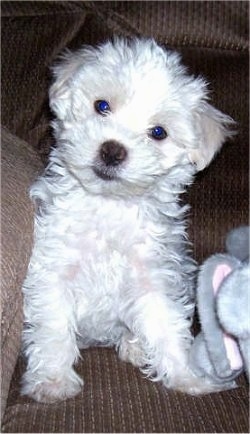 Holly the La-Chon as a puppy at 10 weeks old—"Her mom is a Lhasa and her dad a Bichon. She is extremely smart, absolutely loves people, including children and she's a total joy. She loves to snuggle and loves the outdoors as well. She can run faster than heck and obeys hand signals really well. A little hard to housebreak, but that is coming along. Her eyes always look extremely blue in the pictures, but they are a dark gray-blue in reality."