Lha-Cocker
Lhasa Apso / Cocker Spaniel Hybrid Dogs
Information and Pictures
"Ta-shi is a Lhasa Apso (dam) / Cocker Spaniel (sire) hybrid (Lha-Cocker). Both parents are registered in their respective breed. In this photo Ta-shi is 7 months old. Ta-shi is extremely intelligent and very protective of the small circle of other creatures allowed in her domain. She has a domed head under all that hair and very long ears. Her body is Lhasa long and Cocker wide. Ta-shi lives for her belly, whether it is filling it with food and treats or an hour-long belly rub."
Description
The Lha-Cocker is not a purebred dog. It is a cross between the Lhasa Apso and the Cocker Spaniel. The best way to determine the temperament of a mixed breed is to look up all breeds in the cross and know you can get any combination of any of the characteristics found in either breed. Not all of these designer hybrid dogs being bred are 50% purebred to 50% purebred. It is very common for breeders to breed multi-generation crosses.
Recognition
ACHC = American Canine Hybrid Club
DBR = Designer Breed Registry
DDKC = Designer Dogs Kennel Club
DRA = Dog Registry of America, Inc.
IDCR = International Designer Canine Registry®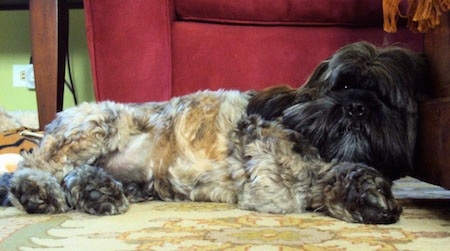 Jack the Lha-Cocker (Lhasa Apso / Cocker Spaniel mix breed dog)—"Jack is hard to capture in photos because his fur is dark, especially on his face. The coloring on his body is really interesting and that is hard to capture as well. It's truly a merle: swirls and stripes of color; black and grey and caramel—and blue in just the right light."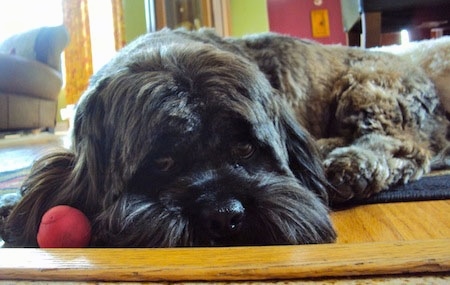 Jack the Lha-Cocker (Lhasa Apso / Cocker Spaniel mix breed dog)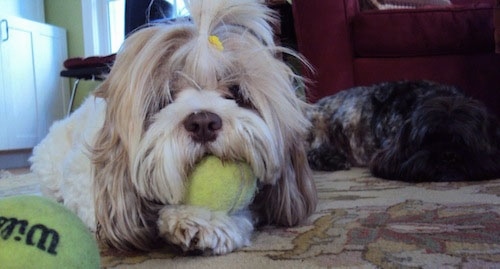 Jill the Lha-Cocker (Lhasa Apso / Cocker Spaniel hybrid dog)—"What you don't see in the photos of our blondie Jill are her truly golden eyes and light (liver-colored) nose. They are a matched set. She has extremely long eyelashes as well (1+ inch when they get trimmed)."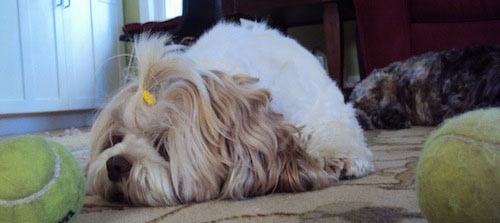 Jill the Lha-Cocker (Lhasa Apso / Cocker Spaniel mix breed dog)
Jack (darker dog) with his sister Jill (lighter dog) the Lha-Cockers (Lhasa Apso / Cocker Spaniel mix breed dogs)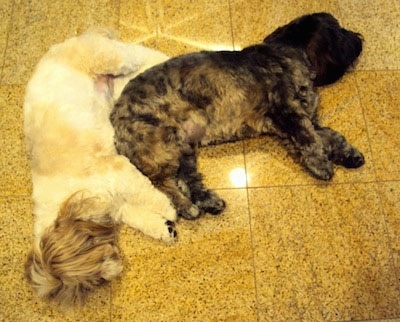 Jack (darker dog) with his sister Jill (lighter dog) the Lha-Cockers (Lhasa Apso / Cocker Spaniel mix breed dogs)