Lhasa-Poo
Lhasa Apso / Poodle Hybrid Dogs
Information and Pictures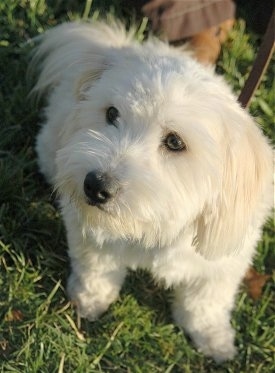 Reggie the Lhasa-Poo at 10 months old—"When he was a puppy, he had to be held ALL the time. He still likes to be held even though he weighs almost 20 pounds. He is great with kids, and is very protective of me. When my husband and I raise our voices for any reason, he shows his displeasure by barking and standing up on his hind legs. He seems to know when I am sick. I suffer from migraines and he will lie on the floor by the couch very quietly and every so often "check on me" by licking my forehead very softly or touching his nose to my face. He is "sneaky"—will look around to make sure my husband is not looking before he gets an ornament off the tree, will tip-toe onto our bed in the morning hoping my husband won't hear him and say "get down!" He just makes us smile all the time."
Other Names
Lapoo
Lhasadoodle
Lhasa Poo
Lhasapoo
Description
The Lhasa-Poo is not a purebred dog. It is a cross between the Lhasa Apso and the Poodle. The best way to determine the temperament of a mixed breed is to look up all breeds in the cross and know you can get any combination of any of the characteristics found in either breed. Not all of these designer hybrid dogs being bred are 50% purebred to 50% purebred. It is very common for breeders to breed multi-generation crosses.
Recognition
ACHC = American Canine Hybrid Club
DBR = Designer Breed Registry
DDKC = Designer Dogs Kennel Club
DRA = Dog Registry of America, Inc.
IDCR = International Designer Canine Registry®
Recognized Names
American Canine Hybrid Club = Lhasa-Poo
Designer Breed Registry = Lhasa Poo
Designer Dogs Kennel Club = Lhasa-Poo
International Designer Canine Registry® = Lhasapoo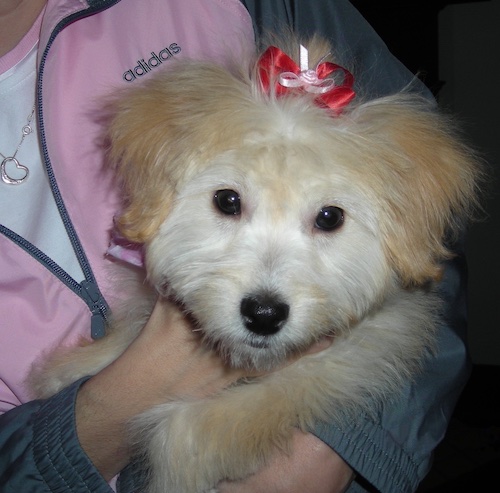 "Holly, our 4-month-old Lhasapoo is full of love! She loves to play, she loves to cuddle, she loves to eat and she loves to bite at your ankles!!! Her housetraining is going well, however she does have the occasional accident when we are not paying enough attention to her signs. She is very smart; whenever she goes outside to do her business, and comes back in the house, she runs right into the kitchen and sits in front of the refrigerator, looking up. We keep the container of treats on top of the refrigerator. Once she has her treat she is on her way! Holly weighs in at about 8 ½ lbs., which is about a pound and a half more than she weighed when we brought her home a little over a month ago."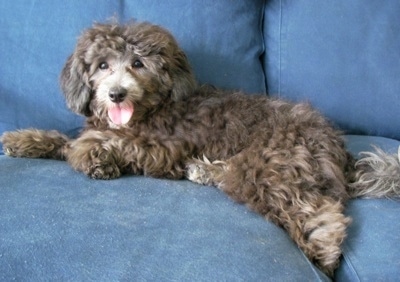 Awit before grooming
"Awit, my hybrid dog at about 1 year old, who is a cross of a Lhasa Apso and a Poodle. Definitely she is not a first-generation hybrid, because her dog-dad and dog-mom are already both Lhasa-Poos. I have no idea about her grandparents, so I can't really say what generation she is of a Lhasa Poo hybrid.
"Awit looks more of a Poodle, her body hair being a little on the curly side, and her body structure and height too are closer to the Poodle than to the Lhasa Apso. But she has streaks of straight hair too, like on her tail and on her head, that's why we can't give her a proper "Poodle-look" crown or afro on top of her head. We do shave her face though, as in Poodle cuts and we maintain her body hair on "summer cut," most of the time using grooming blade # 7, because her hair grows very fast. Her soft, cottony undercoat is also very prone to matting. Awit is a non-shedder but she has very sensitive skin.
"The name Awit is a Filipino word that literally means "to sing" (verb) or "song" (noun). Alternately, the word "awit" is also being used to translate the word "psalm" in the Bible.
"Awit is a very active dog. She loves walk time and play time. Play time means she runs and dares our other dogs to chase her around the house. She can also jump (note: her agility makes her look like she can actually fly) from the floor to the sofa, to the bed, from one bed to another, and back to the floor with ease.
"Awit is also very friendly to other people and other dogs and gentle to children—indeed, a very well-socialized dog, making her very qualified to be the Official K9 Receptionist of Dogbero, our dog grooming salon in the Philippines. Yes, and she gets one 2" chew bone per day or a doggie biscuit that she can munch to her heart's delight.
"Awit is also a fast learner and a very intelligent dog. I tried to do clicker training on her, and she easily picked up the cues "sit" and "down.""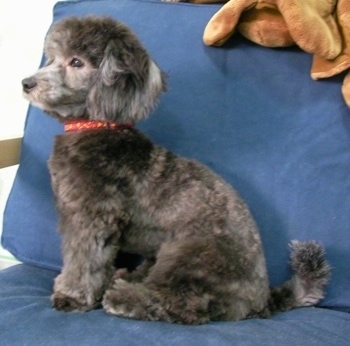 Awit after grooming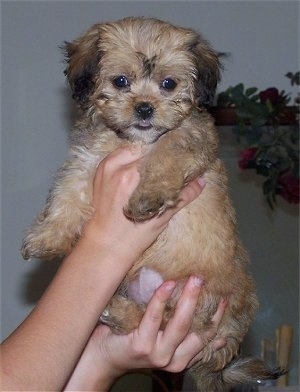 Maya the Lhasapoo puppy at 9 weeks old and 2 pounds— "She's a happy and exuberant puppy."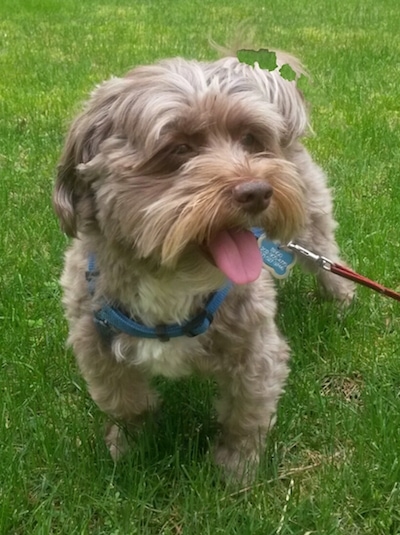 "Bingo is a 6 year old Lhasapoo that I have had since he was a puppy. He is great with kids and tries to sing along with the neighborhood kids that often want to sing the nursery rhyme song "There Was a Farmer, Had a Dog and Bingo Was His Name...," and he puts his head straight up in the air and howls along to the song. He wants to be with me every second of every day and goes with me everywhere that it is feasible to take him. If he thinks he will be left behind he exhibits definite signs of separation-anxiety. He will whine, cry and even try to sit on me to prevent me from leaving. Needless to say he loves being in the car and makes a great travel companion. He is very smart and easy to train. "The Dog Whisperer," has been my source for learning how to be a good pack leader and Bingo responds well to the techniques we have learned i.e. "no touch, no talk, no eye contact." Bingo has been a great addition to our family and gives as much love as he gets."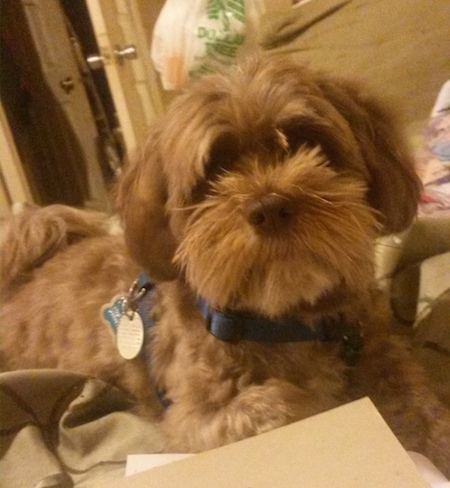 Bingo the Lhasapoo at 6 years old
Bingo the Lhasapoo at 6 years old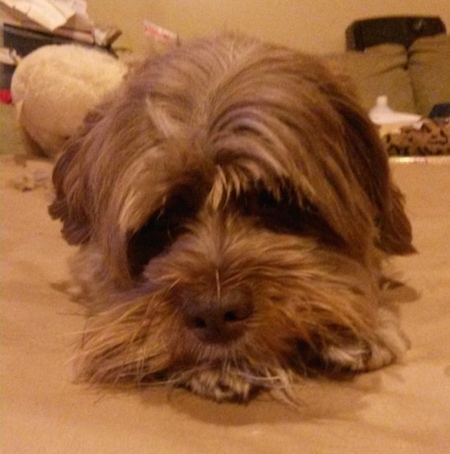 Bingo the Lhasapoo at 6 years old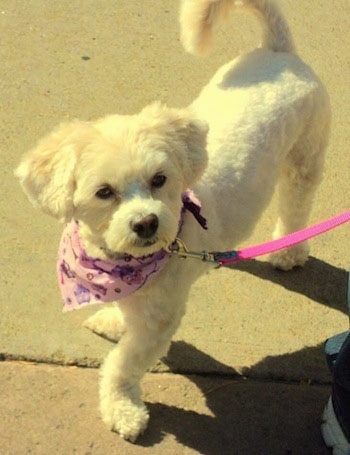 Daisy the Lhasa-Poo at 4 years old—"We got Daisy from a breeder we had previously adopted from. Little did we know that breeder had passed on and someone else illegally took over his license and was starting a "puppy mill". I therefore THANK GOD we got Daisy when we did. She was SUPPOSED to be 10 weeks old, but being my 3rd dog, I knew that she was much younger. She had trouble eating and she seemed to have some sort of sight or neurological issue going on. She would scream, not yelp, but SCREAM if you put a collar on her. The vet checked her over and according to her dentition she was but 6 weeks old. He also discovered that she had no peripheral vision in either eye. The vet did a CT scan and found she had taken blows to the head. I know God sent her to us. After a long 6 months of playing "Doggy mommy mommy mommy", I adapted her to eating and we had to learn to play to maximize her use of central vision. It took a year, but she is now fine on a leash and collar. She is a DELIGHTFULLY happy, vocal, unbelievably smart and sassy little girl. She loves toys and she loves to run and will play with any dog she sees. She is my fuzzy baby and I love her and her crooked paws. This is a fabulous hybrid. Just be SURE that you investigate the breeder. We had him shut down and arrested. Especially out of state you can never be too careful. I'm just glad we were able to rescue her from a house of horrors. She doesn't shed, but for you allergy folks, these doggies carry pollen in their hair, don't forget. It's not the hair, it's the pollen."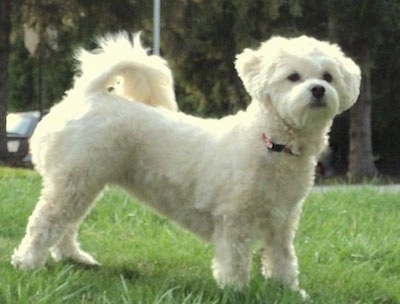 Daisy the Lhasa-Poo at 4 years old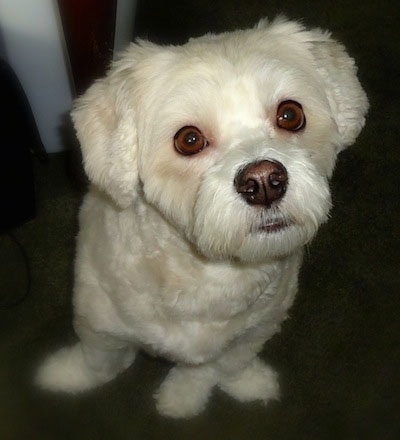 Daisy the Lhasa-Poo at 4 years old—"Ain't she PURTY???"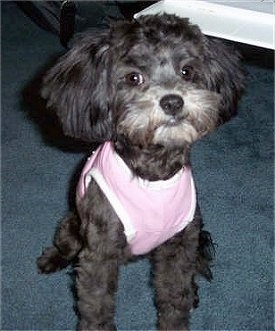 Princess Leia the Lhasapoo is a Lhasa Apso / Poodle mix. She's just about full grown in these photos, weighing in at about 7 pounds (3.2 kg). Her owner says, "Her temperament is very sweet and she's super smart—she could sit, speak and shake hands after I'd had her for only 2 weeks. She's also very athletic and a terrific jumper. Often she makes tremendous leaps around the living room from the furniture. It's kind of her game to not touch the floor."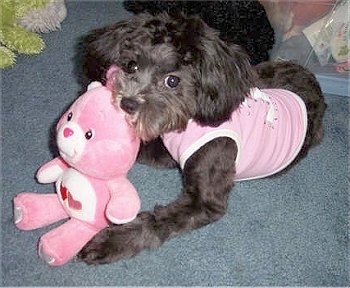 Princess Leia the Lhasapoo just about full grown chewing on her pink Care Bear toy
8-week-old black Lhasa-Poo puppy named Princess Leia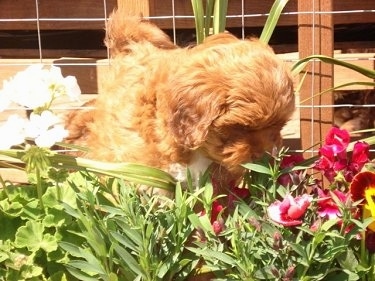 Pandora the Lhasapoo puppy at 8 weeks old (Lhasa Apso / Poodle hybrid)—"Pandora is very loving. She did pretty well with crate training last night, though she cried for a few minutes before falling asleep. She slept with our Dachshund Precious and I think that helped. She already went potty outside by herself, but she also had an accident in the house. She is very smart and seems to learn quickly. Also her fur is so incredibly soft. Pictures just don't do it justice. Overall, she is so far a wonderful dog and addition to our family."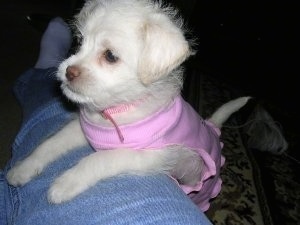 Angel the 9-week-old Lhasa-Poo—"Her mother is Lhasa Apso and her father is a Miniature Poodle. She looks more like her mother, the Lhasa Aspo. Her owner says, "She is very smart, playful and housetrained. She's just like a baby and loves the attention we give her.""