Malinois X
German Shepherd / Belgian Malinois Hybrid Dogs
Information and Pictures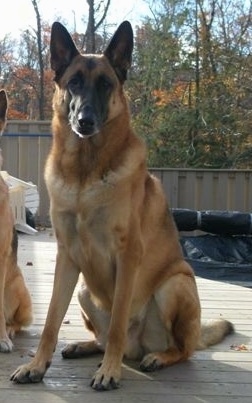 "This is Diesel, my Belgian Malinois / German Shepherd mix. He lives with the rest of his pack: Chopper, an American Pit Bull Terrier and Kaiya, a German Shepherd Dog. They are the best of friends and like to go everywhere together, and always play and sleep together. Trained Cesar's way, and they know who is the boss in the family...ME!!!"
Other Names
German Malinois
Description
The Malinois X is not a purebred dog. It is a cross between the German Shepherd and the Belgian Malinois. The best way to determine the temperament of a mixed breed is to look up all breeds in the cross and know you can get any combination of any of the characteristics found in either breed. Not all of these designer hybrid dogs being bred are 50% purebred to 50% purebred. It is very common for breeders to breed multi-generation crosses.
Recognition
ACHC = American Canine Hybrid Club
DBR = Designer Breed Registry
DDKC = Designer Dogs Kennel Club
DRA = Dog Registry of America, Inc.
Recognized Names
American Canine Hybrid Club = German Malinois
Designer Dogs Kennel Club = Malinois X
Designer Breed Registry = Malinois X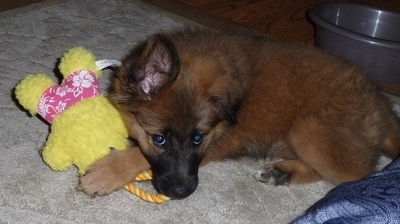 "This is Piper my German Shepherd / Belgian Malinois mix as an 8-week-old puppy. She has the intelligence and loyalty of a Belgian Malinois. She already knows how to sit and lie down, and can walk off the leash."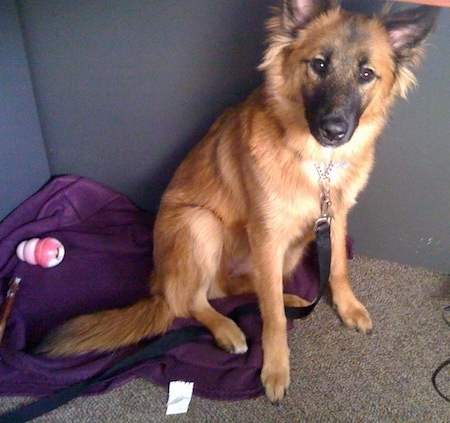 "This is an update of our Piper at 7-months-old. Piper is one of the greatest dogs we have owned. She gets a long with our cats and my young nieces. This is definitely a breed that needs to be brought up with children in order for them to have a good temperament with them. She is loyal and very protective, yet sociable once warmed up to people. She will remain petite, which she got from her dad, the Malinois. She is currently 35lbs and will mature no more than 10 more pounds. She has a double coat and medium-long hair, no shedding though. Still has her puppy hair, especially behind her ears. She loves the water and the snow, and has a very willing temperament. This is a great mix to own as they are a low maintenance and easy keeper. I keep her on a high quality diet, Wellness and Nutro Natural Choice (Lamb & Rice) and she has done exceptionally well. The only problem with her right now is she had a breakout of mange on her muzzle which the vet said is normal and is treatable. It is common to appear on pups around 6 months in age. This is a picture of her under my desk at work. Casual Friday's include bringing your dog to work :)"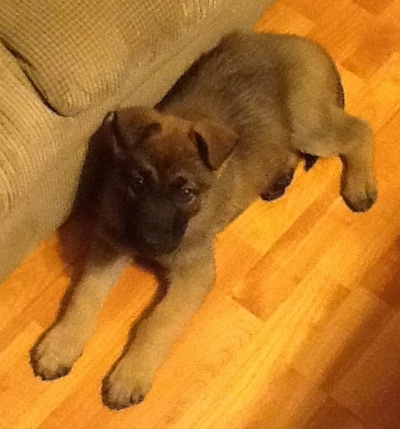 Jackson the German Shepherd / Belgian Malinois mix as a puppy at 3 months old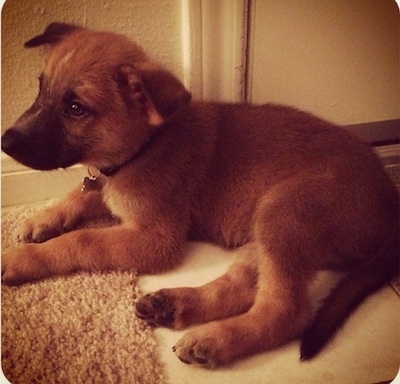 Rhemy the German Malinois as a puppy at 8 weeks old— "Rhemy came from a litter of 8 puppies. His dad is a German Shepherd and his mom is a Belgian Malinois. We've never had a Mal before but we have had a GSD. He's a LOVE like a German and he's insane like a Mal. He loves everyone. He's wary of new people. He loves our 11.5 year old Golden Retriever to pieces and the cats are his buddies. Our GSD was my momma's boy. Rhemy can't pick a favorite! It's really sweet that he loves my husband as much as me! He's full of energy (needs about 3-4 hours of play per day), a little ADHD (SQUIRREL!!!!!) but has the best nose I've ever seen! Tracked himself home on a walk at 3 months old! He's also a GREAT guard dog!"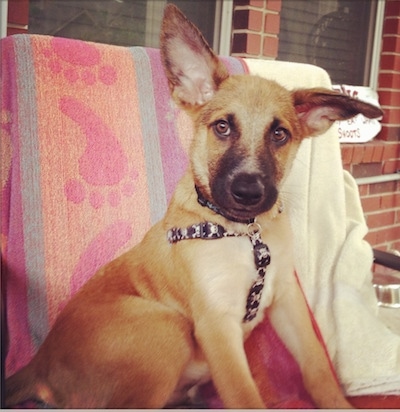 Rhemy the German Malinois as a puppy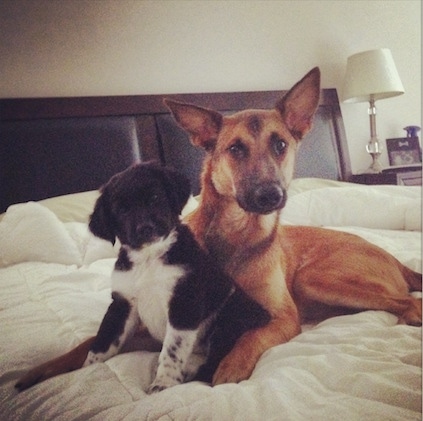 Rhemy the German Malinois at 1 1/2 years old on the bed with his puppy friend
Rhemy the German Malinois at 1 1/2 years old with his football.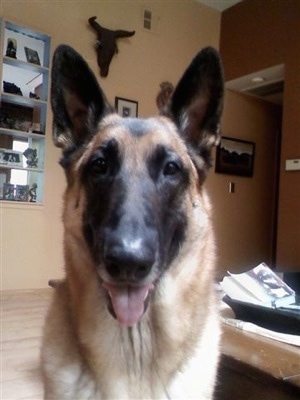 "This is our Belgian Malinois / German Shepherd Diesel again. In the first picture I sent he was about 4 months old, in this picture he is now 4 years old!! Super smart and a real lover boy. Look at that beautiful face!! He came from a breeder in Cream Ridge, NJ. She said he was a "breeder mistake," but we think he is just perfect!!"
"This is our Belgian Malinois / German Shepherd Dog Diesel. He is a real clown and loves to lounge on this blanket. He is 4 months old in this picture and is a real face washer!!"
"Marley as a 4-month-old puppy—her sire (father) was a German Shepherd and her dam (mother) was a Belgian Malinois. She has exceptional intelligence. She understands sit, lie down, shake, speak and high-five by both verbal command and hand signals. We're still working on several other commands, of which 'stay' seems to be the hardest. At 31.4 pounds of extreme energy, she is the Energizer bunny on steroids! She must constantly have something to chew on, otherwise she will shred anything within reach in record time, so rawhide chewbones are a necessity. She also replaced my broken paper shredder. Her herding instincts are very strong and will chase anything that moves, including a leaf blowing across the yard, butterflies, birds, etc. She has a variety of toys, but prefers the stuffed animal ones that squeak or make noise. She loves to play tug-of-war with her toys, be chased and chase you. Her love of water and mud puddles is exceptional and if you have a walk-in shower, don't leave the door open with the water running! She amuses herself by playing with her toys when left alone, but if someone is around, she has to be with them. When she needs to go out, she will find someone and lick their hand (kisses) until they take her out, otherwise she will lick and nip at your toes and heels to get you moving. She's very alert and will bark and growl at anything unfamiliar as long as she is standing behind your legs. Her worst fault is that if she is out in the open, she does not want to come when you call her. She wants you to come after her and just as you get within reach, she bolts off like a jackrabbit, and there's no catching her. We've learned the best way to get her attention is to ignore her and walk off like we're leaving her. The other fault is her constant attempts to get your attention to play with her, especially if you're trying to get ready for work. She waits until you get one leg into your jeans and then grabs the other, making you hop around on one leg trying to get the other pants leg back. As you pull on a sock, she either grabs the end and pulls it off, or she takes off with the other one so you'll have to chase her down. After you've gone through this same scenario with the shoes, she then follows you around pulling the laces to untie them or pulls back the Velcro straps. Her antics are limitless as is her energy level."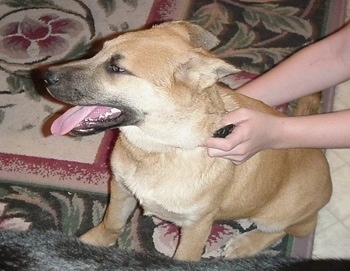 Joey the German Shepherd / Belgian Malinois mix breed dog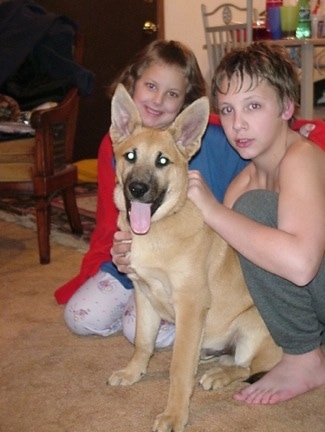 Joey the German Shepherd / Belgian Malinois mix breed dog