Malteagle
Beagle / Maltese Hybrid Dogs
Information and Pictures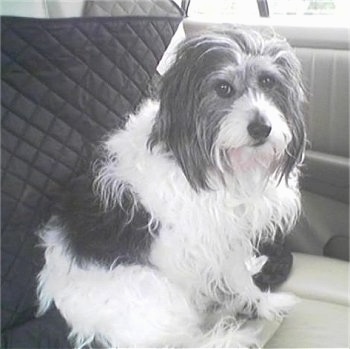 "We adopted Deogee from Second Chance Adoptions. He was bred at a local vet school. He loves people, all people. He is mourning the loss of our older dog. Although he was very close to the older dog, he is not fond of other dogs. Trips to the local dog park usually end up with Deogee greeting all the people as they come through the gate and ignoring other dogs. He does shed all year round. Once a year, he has skin irritations that can require a visit to the vet. Deogee is one of the best dogs we have ever had. He sleeps with us every night. He is not a morning dog—he sleeps more like a teenager. He loves walking the local park trails and sunning on our deck."
Description
The Malteagle is not a purebred dog. It is a cross between the Beagle and the Maltese. The best way to determine the temperament of a mixed breed is to look up all breeds in the cross and know you can get any combination of any of the characteristics found in either breed. Not all of these designer hybrid dogs being bred are 50% purebred to 50% purebred. It is very common for breeders to breed multi-generation crosses.
Recognition
ACHC = American Canine Hybrid Club
DBR = Designer Breed Registry
DDKC = Designer Dogs Kennel Club
DRA = Dog Registry of America, Inc.
IDCR = International Designer Canine Registry®