Mastador
Labrador Retriever / Mastiff Hybrid Dogs
Information and Pictures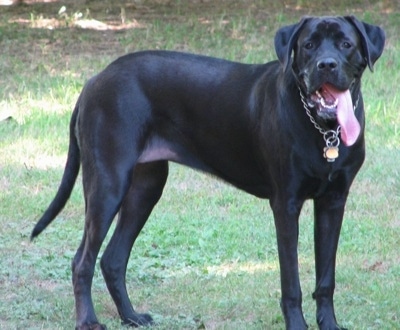 Shadow the Mastador at 15 months old, weighing 101 pounds
Description
The Mastador is not a purebred dog. It is a cross between the Labrador Retriever and the Mastiff. The best way to determine the temperament of a mixed breed is to look up all breeds in the cross and know you can get any combination of any of the characteristics found in either breed. Not all of these designer hybrid dogs being bred are 50% purebred to 50% purebred. It is very common for breeders to breed multi-generation crosses.
Recognition
ACHC = American Canine Hybrid Club
DBR = Designer Breed Registry
DDKC = Designer Dogs Kennel Club
DRA = Dog Registry of America, Inc.
IDCR = International Designer Canine Registry®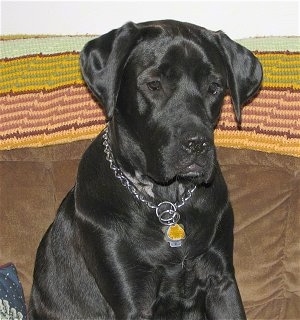 Shadow the Mastador (Lab / Mastiff hybrid)— "My name is Shadow and I am a black Labrador Retriever and an Old English Mastiff mix. My mother was the Old English Mastiff with a light brown body and a dark face and she weighed 90 pounds, and my dad was the black Labrador Retriever and weighed 70 pounds. I weigh 100 pounds at 14 months old. I was a rescue dog my family got from the Animal Rescue League when I was 8 weeks old. I was the "pet of the week" at a local radio station with my picture on their web site as the pet to adopt this week. All this happened when I was only 8 weeks old. My family got a copy of the web page for me. My family lives in Turtle Creek, Pa. I know that they love me very much, because they are always taking my picture and Mom shows them around at work and when she works nights I go for a ride and see some of the people she works with. They are so friendly. They are always checking on my growth. I continue to learn new things and get special treats for doing what I'm supposed to do. I loved the first time I went to the lake with my dad. I also saw my first turtle and he was fun. I like going for car rides, playing with other dogs and taking long walks in the park."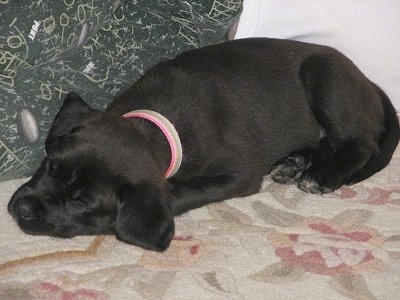 Shadow the Mastador (Lab / Mastiff mix) puppy at 8 weeks old on the first day in her new home.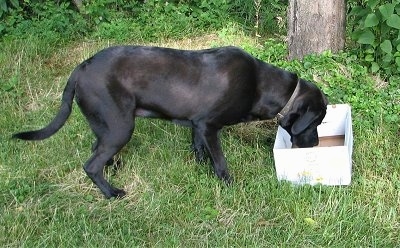 Shadow the Mastador (Lab / Mastiff mix) curious about what is in the box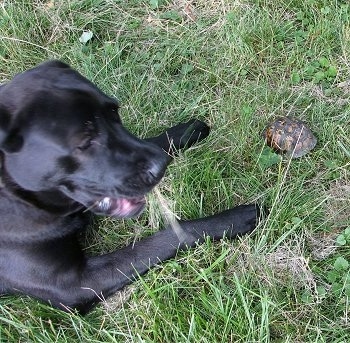 Shadow the Mastador (Lab / Mastiff mix) with the turtle she found.