Miniature Schnauzzie
Miniature Schnauzer / Miniature Australian Shepherd Hybrid Dogs
Information and Pictures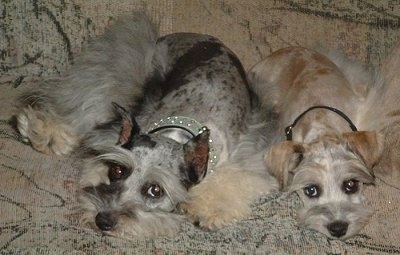 Miss Baby Blue with her little brother Biscuit, both merle Mini Schnauzzies—"Miss Baby Blue is a very loyal girl, always at my side. She enjoys riding our 4-wheeler everyday with me to feed our large herd of horses. She also rides behind me on a few of our horses. She is 11 lbs. and has very long, soft hair. She loves my 3 daughters and plays tag with them daily. Baby Blue gets along well with other animals, but is jealous if any other dogs get too close to me. She is definitely my girl. She has also helped in raising many kittens around our barn. She is sure they are her babies. She will even bring them home in her mouth, even though she gets in trouble for doing it. Baby Blue is very pretty and catches a lot of people's eyes."
Other Names
Miniature Schnauzzi
Merle Schnauzer
Description
The Miniature Schnauzzie is not a purebred dog. It is a cross between the Miniature Schnauzer and the Miniature Australian Shepherd. The best way to determine the temperament of a mixed breed is to look up all breeds in the cross and know you can get any combination of any of the characteristics found in either breed. Not all of these designer hybrid dogs being bred are 50% purebred to 50% purebred. It is very common for breeders to breed multi-generation crosses.
Recognition
ACHC = American Canine Hybrid Club
DBR = Designer Breed Registry
DRA = Dog Registry of America, Inc.
IDCR = International Designer Canine Registry®
Recognized Names
American Canine Hybrid Club = Miniature Schnauzzie
Designer Breed Registry = Miniature Schnauzzi
International Designer Canine Registry = Miniature Schnauzzie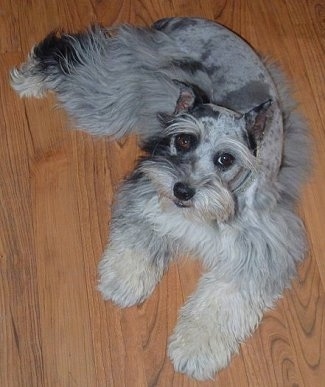 Miss Baby Blue, a merle Mini Schnauzzie (Miniature Schnauzer / Miniature Australian Shepherd mix)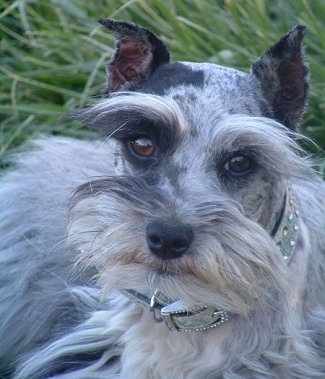 Miss Baby Blue, a merle Mini Schnauzzie (Miniature Schnauzer / Miniature Australian Shepherd mix)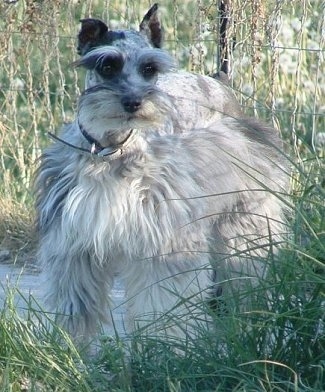 Miss Baby Blue, a merle Mini Schnauzzie (Miniature Schnauzer / Miniature Australian Shepherd mix)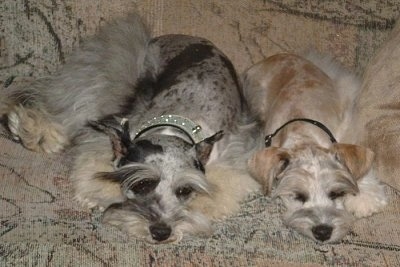 Miss Baby Blue with her little brother Biscuit, both merle Mini Schnauzzies