Miniature Bulldog
Bulldog / Pug Hybrid Dogs
Information and Pictures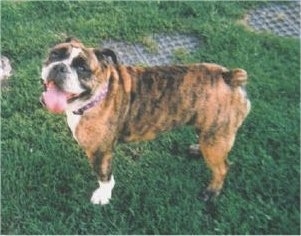 This is Marian. She is a Bull-Pug (English Bulldog / Pug)— "She comes from a line of Bull-Pugs, meaning she does not have a Bulldog mom and a Pug father or vice versa. Her mom is a Bull-Pug and her dad is an English Bulldog."
Other Names
Bull-Pug
Mini-Bulldog
Description
The Miniature Bulldog is not a purebred dog. It is a cross between the Bulldog and the Pug or the Olde Bulldog and the Pug. The best way to determine the temperament of a mixed breed is to look up all breeds in the cross and know you can get any combination of any of the characteristics found in any of the breeds in the hybrid. Not all of these designer hybrid dogs being bred are 50% purebred to 50% purebred. It is very common for breeders to breed multi-generation crosses.
The Miniature Bulldog should not be confused with the Miniature English Bulldog, which is the purebred English Bulldog being bred down in size and called Miniature by some breeders.
Recognition
ACHC = American Canine Hybrid Club
DBR = Designer Breed Registry
DDKC = Designer Dogs Kennel Club
DRA = Dog Registry of America, Inc.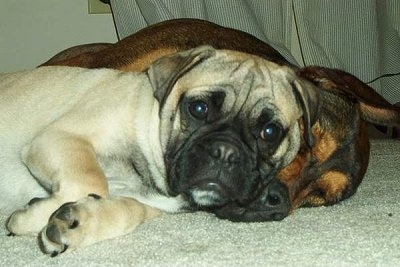 Brutus, a Bulldog / Pug mix (Mini Bulldog)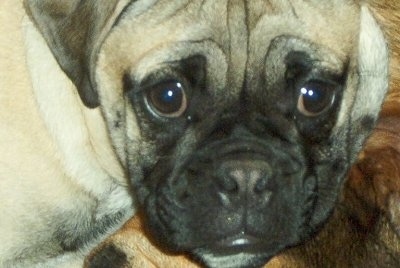 Brutus, a Bulldog / Pug mix (Mini Bulldog)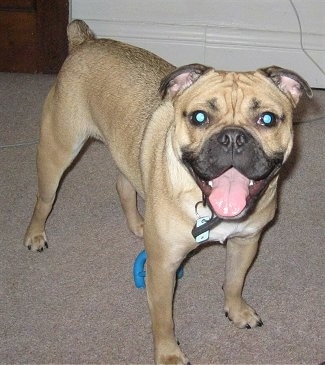 Roscoe, the Miniature Bulldog (Bulldog / Pug hybrid) at 2 years old and 43 pounds—"Roscoe is an F1b hybrid. He is ¾ English Bulldog ¼ Pug. His mother is a ½ Bulldog and ½ Pug, and Father a purebred English Bulldog. Parents of his mother are: female purebred Pug, male purebred Bulldog.

"There were 7 puppies in Roscoe's litter, 6 males and 1 female: 3 males were Pug-colored, 3 males were more Bulldog (white and fawn), and the female had more of a bulldog look (white and fawn).

"Roscoe was chosen because he had the undershot jaw, no tail and wiggly butt. His rear-end is about 2" above the nape of his neck. He has the shuffling, rolling walk. He runs with his legs to the sides because his front is too short with his barrel chest and he can't run with the spring run of a quick dog; he runs like a little bear. He's about 12" at the front shoulder, 14" at the top of the butt and 15.5" at the top of his head, weighing between 39 and 43 pounds. Extremely muscle bound."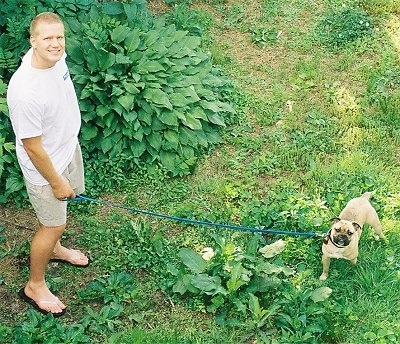 Roscoe the F1b Miniature Bulldog (Bulldog / Pug mix) at 2 years old and 43 pounds with his owner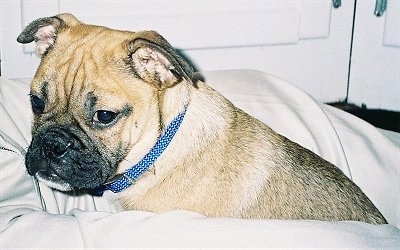 Roscoe the F1b Miniature Bulldog (Bulldog / Pug mix) at 12 weeks and 10 pounds