Nortese
Norwich Terrier / Maltese Hybrid Dogs
Information and Pictures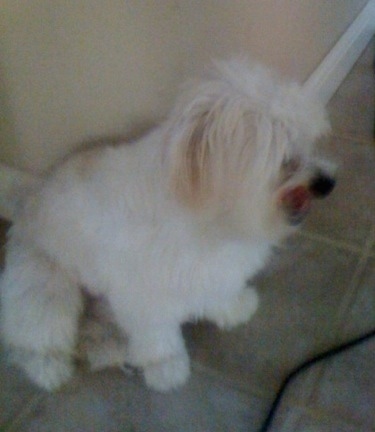 "Although we have never heard the breed referred to as a "Nortese"—we made up "Terramal"—our dog Scruffy had a Maltese dad and a Norwich Terrier mom. Scruffy was tiny as a puppy. Now he weighs 22 pounds and is a moose. He is absolutely the sweetest, most playful and most friendly dog in the history of dogs with very soft hair and a very pleasant disposition. Unlike our Lhasa Apso—who we also love to bits—and my brother Timmy, he never smells and is very healthy. He was brown and white as a puppy. Now he is snow white all over. He was the dog chosen on the first season of "Groomer Has It" on Animal Planet for the cover of "Groomer" magazine."
Description
The Nortese is not a purebred dog. It is a cross between the Norwich Terrier and the Maltese. The best way to determine the temperament of a mixed breed is to look up all breeds in the cross and know you can get any combination of any of the characteristics found in either breed. Not all of these designer hybrid dogs being bred are 50% purebred to 50% purebred. It is very common for breeders to breed multi-generation crosses.
Recognition
ACHC = American Canine Hybrid Club
DRA = Dog Registry of America, Inc.
IDCR = International Designer Canine Registry®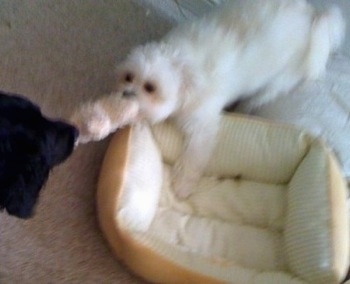 Scruffy the Norwich Terrier / Maltese mix as a full-grown adult dog playing tug-of-war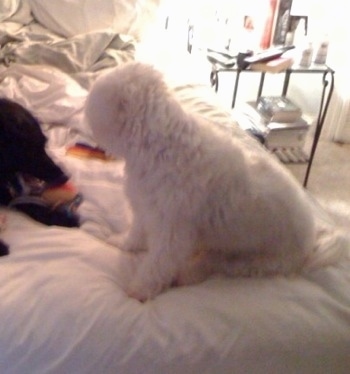 Scruffy the Norwich Terrier / Maltese mix as a full-grown adult dog up on the bed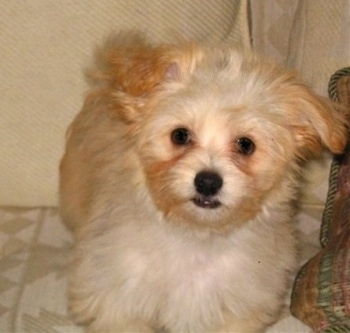 Scruffy the Norwich Terrier / Maltese mix as a puppy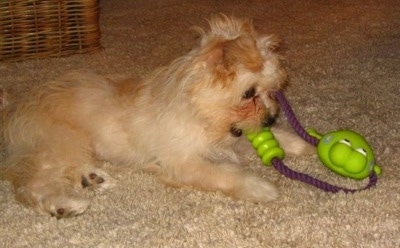 Scruffy the Norwich Terrier / Maltese mix as a puppy playing with a dog toy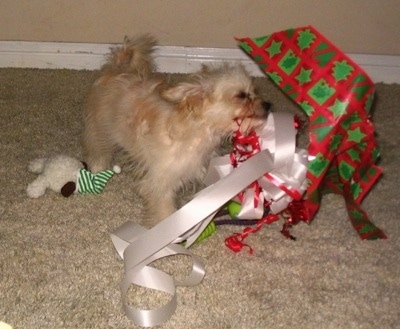 Scruffy the Norwich Terrier / Maltese mix as a puppy chewing up all the Christmas wrapping paper