Olde Boston Bulldogge
Information and Pictures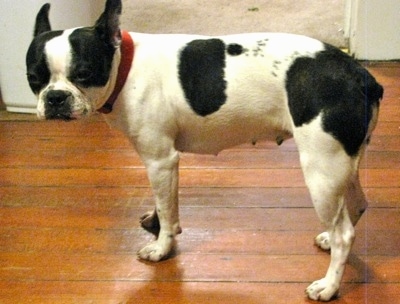 "Agnes is sired by FMR's Cody, and her dam is FMR's Baby. Both parents are pure Henley blood that has been held to a high standard for many years. Agnes is the perfect example of dynamite coming in a small package. Her drive and intensity are out of this world. Athletic and durable, Agnes is a tough little dog that loves adventure. She climbs trees with the grace of a Sherman Tank, and is absolutely fearless. Agnes is as sweet a dog in the house as can be, and has been known to sleep in 'til noon! She cherishes every moment with people, and loves children. Agnes has a great old Boston look that literally stops people in their tracks. A really fun little dog! 22 lbs." Photo courtesy of Noble Boston Bulldogges
Other Names
Boston Bull
Boston Bulldog
Old Boston Bulldog
Description
--
Temperament
The Olde Boston Bulldogge is very affectionate and bonds well with the family. This working dog is easy to train and loves to please. He craves leadership and an understanding of what is expected of him. Owners should decide upon the rules of the house and stick to them.
Height, Weight
Weight: 25 - 45 pounds (11.3 - 20.3 kg)
Health Problems
--
Living Conditions
Olde Boston Bulldogges are good for apartment as well as country living. They are relatively inactive indoors and do okay without a yard. This breed is sensitive to weather extremes.
Exercise
This breed needs to be taken on a long daily walk.
Life Expectancy
About 10 to 12 years
Litter Size
About 3 to 5 puppies
Grooming
The smooth, shorthaired coat is easy to groom. Comb and brush with a firm bristle brush and bathe only when necessary. Wipe the face with a damp cloth every day and clean the prominent eyes carefully. Check both the ears and eyes for grass seeds. Ticks may also lurk in the ears. The nails should be clipped from time to time. This breed is an average shedder.
Origin
The Olde Boston Bulldogge is the original Boston Bull, the breed which the Boston Terrier developed from, therefore the early history of the Olde Boston Bulldogge is the same as for the Boston Terrier. It is the original type and form of the breed once known as "The round-headed Bull and Terrier" of Boston, USA (the old type Boston Terrier). The Olde Boston Bulldogge is a separate breed from the Boston Terrier.
Group
--
Recognition
APRI = American Pet Registry, Inc.
IOEBA = Olde English Bulldogge Association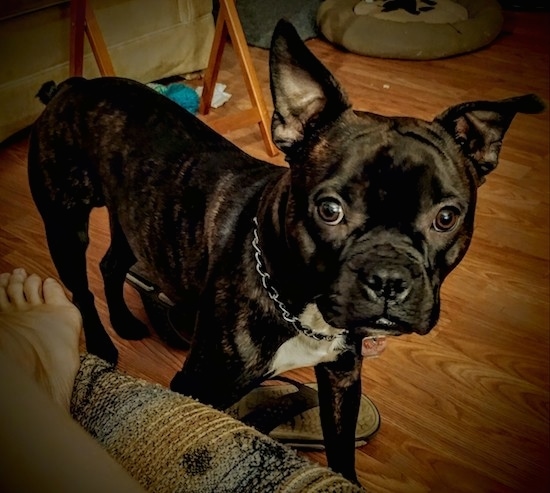 "This is Loki the one year old Olde Boston Bulldogge. He is from Rutan, FMR and O'klassic line's. He is super driven and so eager and willing to please! We get tons of compliments on his look and physique everywhere we go."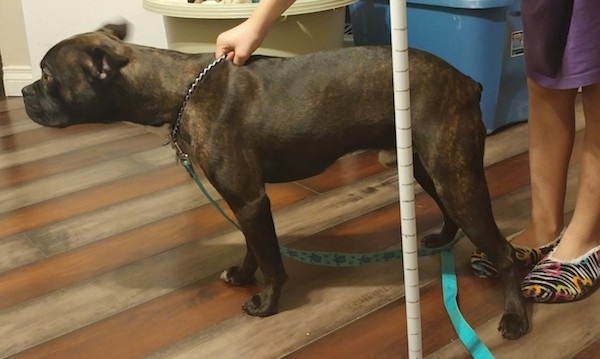 Loki the Olde Boston Bulldogge at 1 year old from Rutan, FMR and O'klassic line's.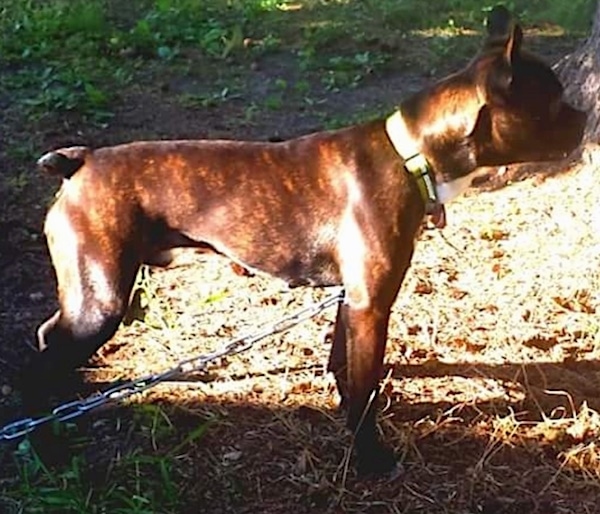 Loki the Olde Boston Bulldogge at 1 year old from Rutan, FMR and O'klassic line's.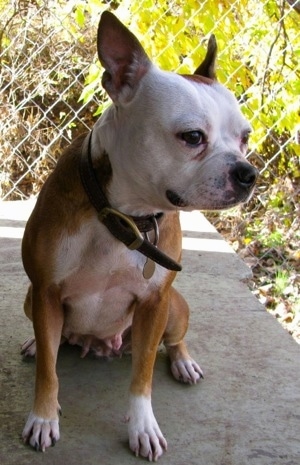 "Kaw was sired by Goodtime Kennels' top stud Clyde. Clyde is a big boy with heavy bone and a great Olde Boston look. Kaw's dam is the natural athlete and producer of athletes, Goodtime's Daisy. Kaw is Canadian bred and born, and has made a positive impact here in the U.S. Kaw is a gritty and athletic girl that can go-go-go. Sweet and mindful in the house, she is a joy to be around. 28 lbs." Photo courtesy of Noble Boston Bulldogges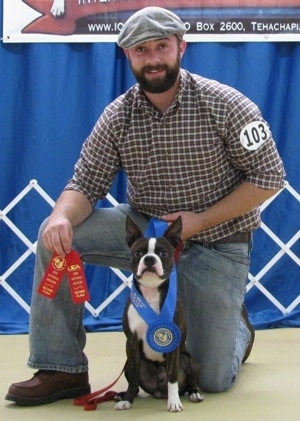 "Willie was sired by the highly respected GrCh Kodiak. Willie's dam is our Kaw, who was bred by Goodtime Kennels. Kaw is a proven producer of high-calibre canine athletes; Willie being an excellent example. Bred down from the best of the best of the modern Boston Bulldogges, Willie is a flawless reincarnation of the old Boston Bull and Terrier type. Naturally long-winded and powerful for his size, Willie's drive and desire to work and play has to be seen to be believed. He's very social and loves all people—especially children. 30 lbs." Photo courtesy of Noble Boston Bulldogges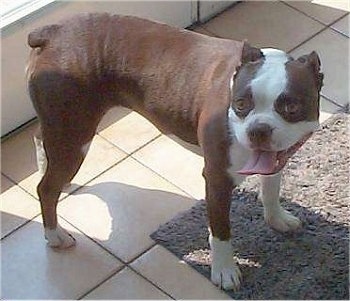 Meet Madison! "She is the talk of the town. 2 ½ years and a true round head. She comes from the original Boston Bulls prior to being bred down. She is a slim, well-muscled lady of 31 pounds (14 kg)."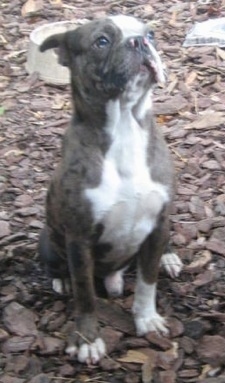 "This is a blue merle, male OBB named BigBully Kennel's Rebel."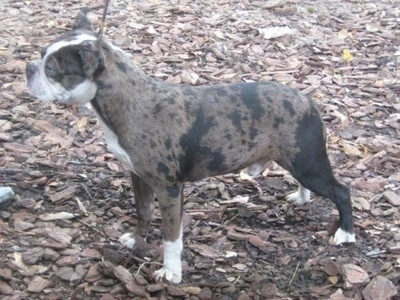 "Blue merle, male Olde Boston Bulldogge named BigBully Kennel's Rebel."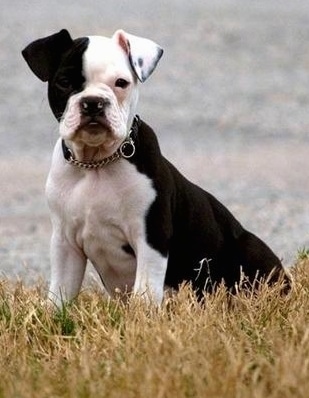 "This is Tonka, a 3.5-month-old Olde Boston Bulldogge puppy from BigBully Kennels."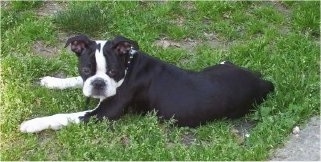 Fletcher the black and white Olde Boston Bulldogge as a puppy at 4 months old resting in the grass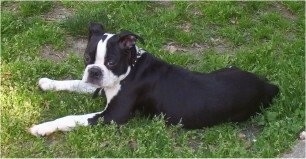 Fletcher the black and white Olde Boston Bulldogge as a puppy at 4 months old resting in the grass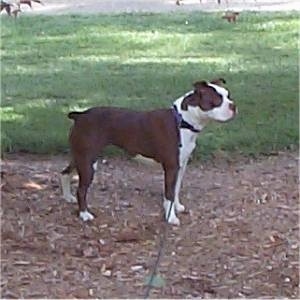 Madison the brown and white Olde Boston Bulldogge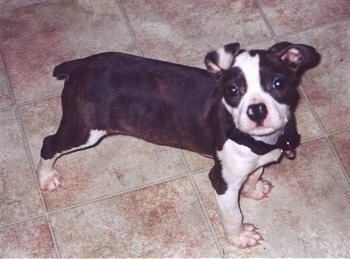 Murphy the brown brindle and white Olde Boston Bulldogge puppy at 4 months old