Pug-Coton
Pug / Coton de Tulear Hybrid Dogs
Information and Pictures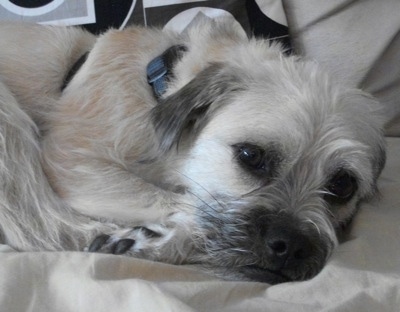 "This is a picture I took of my dog Vargas. He is a Pug / Coton de Tulear mix and is 1 year and 3 months old in this picture. He was one of eight puppies. The father was a champion Pug and his mother was a champion Coton de Tulear, and is registered with the CKC. He is a wonderful dog. Some of his best qualities are that he is a very loyal, friendly, even-tempered dog that gets along well with other dogs and cats. He loves to do agility courses; it helps to curb some of his energy. He has eye problems; already he has had a cherry eye and tear staining, but with regular face washing it keeps that in check."

"Before getting our dogs, my husband and I watched a lot of the Dog Whisperer. We really took to heart what to look for in a dog's personality to match our own and after 3 years of looking we found the perfect dog for our lifestyle. Overall, I love this mix; he is just the right amount of energy and personality to fit our active family. Would love to find another Pug-Coton mix!"
Description
The Pug-Coton is not a purebred dog. It is a cross between the Pug and the Coton de Tulear. The best way to determine the temperament of a mixed breed is to look up all breeds in the cross and know you can get any combination of any of the characteristics found in either breed. Not all of these designer hybrid dogs being bred are 50% purebred to 50% purebred. It is very common for breeders to breed multi-generation crosses.
Recognition
ACHC = American Canine Hybrid Club
DDKC = Designer Dogs Kennel Club
DRA = Dog Registry of America, Inc.
Vargas the Pug / Coton de Tulear mix breed dog (Pug-Coton)