Puggit
Italian Greyhound / Pug Hybrid Dogs
Information and Pictures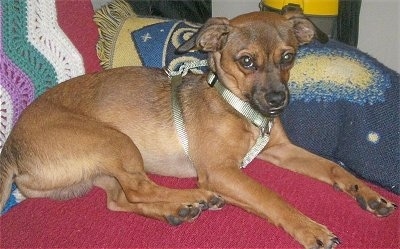 "This is Crash. This picture was taken at eight months old. His mother is an Italian Greyhound and his father is a Pug (both purebred). I don't know if you can tell from this picture, but because of the difference in muzzle lengths of both breeds, he has a pretty severe under bite—it looks like he's always smiling. He's a good puppy, very easy to housebreak. And he's quiet, good in our apartment. He's a very active dog as well, he loves to go for walks and play tug-of-war...and he likes to cuddle, especially at night."
Other Names
Italian Pughund
Description
The Puggit is not a purebred dog. It is a cross between the Italian Greyhound and the Pug. The best way to determine the temperament of a mixed breed is to look up all breeds in the cross and know you can get any combination of any of the characteristics found in either breed. Not all of these designer hybrid dogs being bred are 50% purebred to 50% purebred. It is very common for breeders to breed multi-generation crosses.
Recognition
ACHC = American Canine Hybrid Club
DBR = Designer Breed Registry
DDKC = Designer Dogs Kennel Club
DRA = Dog Registry of America, Inc.
IDCR = International Designer Canine Registry®